Fight the Miseducation of the American People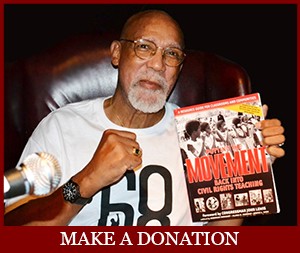 Like you, we are outraged by the crises in the world today and the responses fueled by ignorance and hatred. That is why at Teaching for Change, we are fighting the miseducation of the American people.
Please join us. Make your year-end donation today.
On our 25th anniversary, we are proud of the many ways we help students learn the truth about history and their vital role as informed and active citizens. For example, our Zinn Education Project (with Rethinking Schools) brings people's history lessons to more than 55,000 teachers across the country:
There's no way I could be as effective in pushing students' thinking and getting them to critically question the otherwise accepted narrative of history without the resources and ideas provided by the Zinn Education Project.–Greg Smith, teacher
Next year, with your help, we will provide teachers with new tools to teach about the history of race, racism, and resistance through the history of the Civil Rights Movement. These lessons will help students recognize the long history of the struggle to make #BlackLivesMatter and be prepared to resist the divide and conquer tactics of today.
Teaching for Change's lessons help students see beyond the "master narrative" about the struggle for voting and civil rights. I urge teachers to use these resources.–Julian Bond, SNCC veteran
We need your help to get an expanded and revised edition of our award-winning book Putting the Movement Back into Civil Rights Teaching into teachers' hands across the country. Why?
Putting the Movement Back into Civil Rights Teaching will help teachers "serve as midwives" for a more just and caring society.–Linda Darling-Hammond, professor
Fight the miseducation of the American people with us. Give today.
For a donation of $100 or more, we will acknowledge your support in the new edition and website for Putting the Movement Back into Civil Rights Teaching.
Posted: December 28, 2015