Teach Central America Workshop Engages Teachers Nationally
On August 25, 2020, educators, librarians, caregivers, and school leaders across the country gathered virtually for the first national Teach Central America workshop.
To prepare for the second annual Teach Central America Week (October 5-11), participants explored the initiative's Introduction to Central America mixer lesson. This lesson is designed to introduce students to several brief biographical sketches of figures in twentieth-century Central American history. It then builds knowledge of key concepts and themes which define contemporary Central American politics and society, U.S. foreign policy in Central America, and the push factors leading to Central American migration to the United States.
To support remote instruction, we created a role assignment template. This form digitally links to the lesson's role play biographies and allows instructors to assign students roles by entering each of their names. Using breakout rooms via Zoom, workshop participants engaged in the interactive lesson virtually.
Following the activity, participants shared questions with guest speakers and Teach Central America advisors, Ingrid Colon and Eric Hershberg. Colon and Hershberg shared their expertise on the history of the region, additional historical figures, ways to support recently arrived students, and pedagogical approaches to center joy when teaching about Central America.
---
Speaker Information
| | |
| --- | --- |
| | Ingrid Colón is the Education Research Program Manager at UnidosUS and is a proud immigrant from El Salvador and an English learner herself. Colón's research focuses on the experiences of recently arrived immigrant families and their children in public schools; English learners; culturally and linguistically responsive classrooms; whole student approaches to learning, and dual language education. |
| | Eric Hershberg is a political scientist at American University, where he directs the Center for Latin American and Latino Studies. He has published widely about Central American politics and society, as well as on Central American migration to the United States. |
---
Workshop participants shared:
I LOVE THIS. I FINALLY FEEL SEEN, HEARD, VALUED. PLEASE DO THIS AGAIN.
The intro activity was very helpful and gave me a realistic framework to be able to implement this activity into my classroom.
I loved the activity based on important people from Central America. I learned a lot. Also, Ingrid gave a lot of insightful information and places to continue my education of my home country and that of my students.
I feel inspired to use the resources presented in this webinar but most importantly, I like the message of making students the center of learning.
I really liked the combination of modeling classroom activities we could do and having a panel of speakers on the topic. I think that was a great way to both break up the session and exemplify the work your organization does.
I loved the activity presented and am excited to use it in my class this fall. My biggest take away, though, was to celebrate with joy Central American culture and life. Students from this area may be carrying around trauma, whether witnessed first or second hand, due to some of the hardships Central American countries have faced. I'm excited to celebrate the heart, the hope, and the joy in these countries and communities in order to uplift my students.
---
Teach Central America Week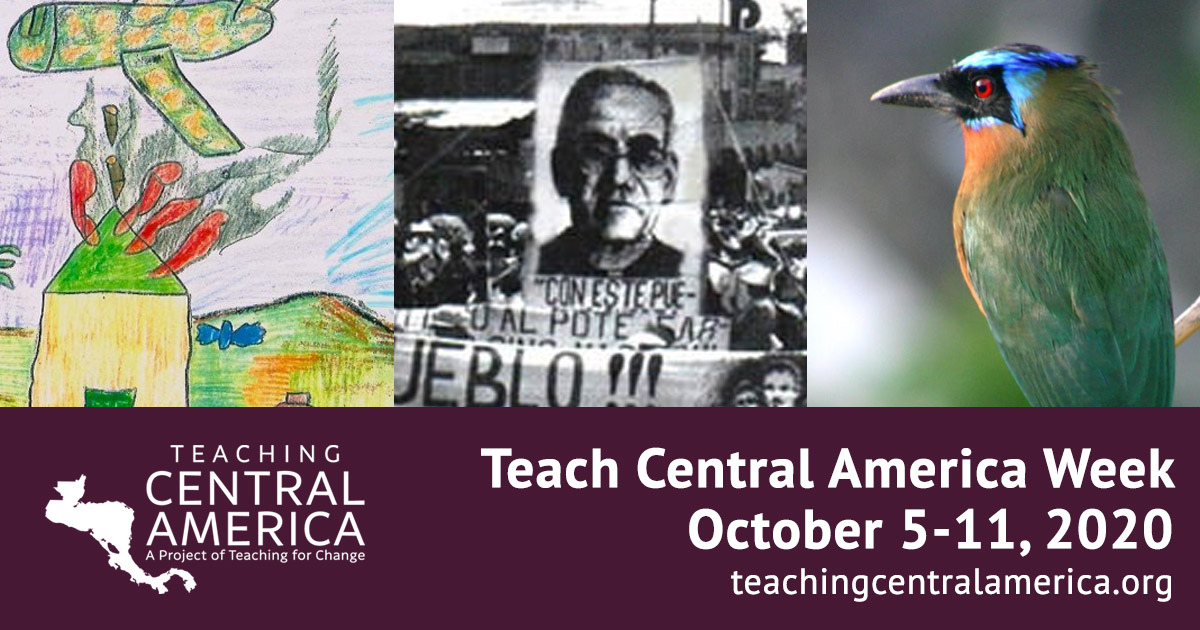 Teach Central America Week aims to uplift Central American history in classrooms and provide a set of free resources for classroom teachers, including lessons, book lists, biographies of noted historical figures, and readings. These resources can be found here. Below are additional resources we hope you'll explore:
For questions, email rreyes@teachingforchange.org.
Posted: September 18, 2020