For Love of Children Book Festival
Teaching for Change is pleased to partner with the D.C area afterschool program called For Love of Children (FLOC). FLOC runs a Neighborhood Tutoring Program, Scholars Program, and Outdoor Education Center. As a result of active participation in FLOC programs, students gain an average of one year of grade level equivalency in reading skills in just four months.
On November 15, 2014, For Love of Children (FLOC) is hosting their Eighth Annual Book Festival for FLOC students and their families. The festival includes literacy activities and each family will receive more than a dozen books to take home.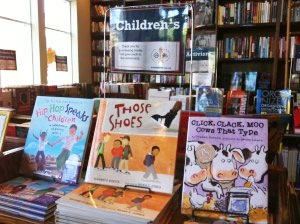 This year, FLOC selected the titles for the book festival from the Teaching for Change recommended booklists. "We wanted to provide our students with inspirational and thought-provoking books featuring stories about diverse young people making a difference in their families, communities and the world," explained FLOC deputy director Robyn Lingo.
To support FLOC's Book Festival, you can purchase and donate a children's book at the Teaching for Change Bookstore at the 14th & V Streets location of Busboys and Poets or order any of the titles online. Here is the list. (If you purchase a book to donate to FLOC at our bookstore, you will receive a 10% discount on your total in-store book purchase.) Donations welcome anytime before November 15.
Students will be able to select brand new books to bring home and add to their own personal collection thanks to your generosity.