History After Hours at the African American Civil War Museum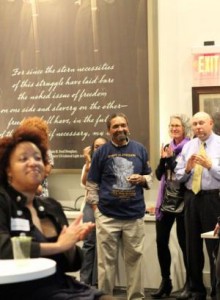 There is a museum in Washington, D.C., in which the exhibits do not include the voices of any scholars. "If you were not there in the making of the history, you do not get a quote in our exhibit," proclaims Hari Jones, curator of the African American Civil War Museum. "We tell the story from the perspective of these American history makers."
On Oct. 25, Teaching for Change hosted an after-hours event at the newly reopened African American Civil War Museum (AACWM.) In a warm and convivial atmosphere, Teaching for Change staff and board members welcomed funders and supporters to view the permanent exhibit at AACWM, Glorious March to Liberty: The Contributions of African Americans in the Civil War. Attendees strolled through the museum, conversed with colleagues and friends, and learned about the invaluable efforts of under-sung soldiers. (Photos above: [top] Museum founder and director Dr. Frank Smith and attendees; [bottom] Teaching for Change board members.)
During a brief formal presentation, veteran high school history teacher Kevin Fox vocalized the sentiments of the evening when he juxtaposed the three lines in his U.S. history textbook that mention African American soldiers in the Civil War against the breadth and depth of the museum exhibit. Charles County middle school principal Robert Babiak shared why he donates to Teaching for Change and Birmingham native Amber Massey explained why she volunteers on our CivilRightsTeaching.org website.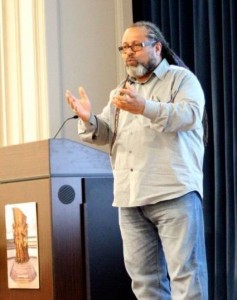 Museum curator and tour guide par excellence Hari Jones (pictured on left) delivered a rousing presentation about how mainstream media and histories misrepresent the contribution of U.S. Colored Troops (USCT) to the Civil War. The exhibit reflects only the voices of soldiers and support personnel that were drawn from primary sources in the National Archives, the Library of Congress, and private collections (such as the Gladstone Collection). AACWM tells the unheard story of USCT commitment to freedom and heroism in battle. (Video of the presentation below.)
Attendees were also privileged to meet the founder of the African American Civil War Memorial Freedom Foundation and Museum, Dr. Frank Smith, who spoke with guests throughout the evening. AACWM offers the kind of fully realized history that we champion at Teaching for Change, and "History After Hours" proved to be an enjoyable and uplifting event.
In addition to many special guests from the D.C. area, we were honored to be joined by visitors from out of town. The staff of the Margaret Walker Center (MWC) at Jackson State University were in town for meetings about museums and African American history. Former D.C. teacher Waahida Mbatha was in town for meetings about the new school she is opening in South Africa.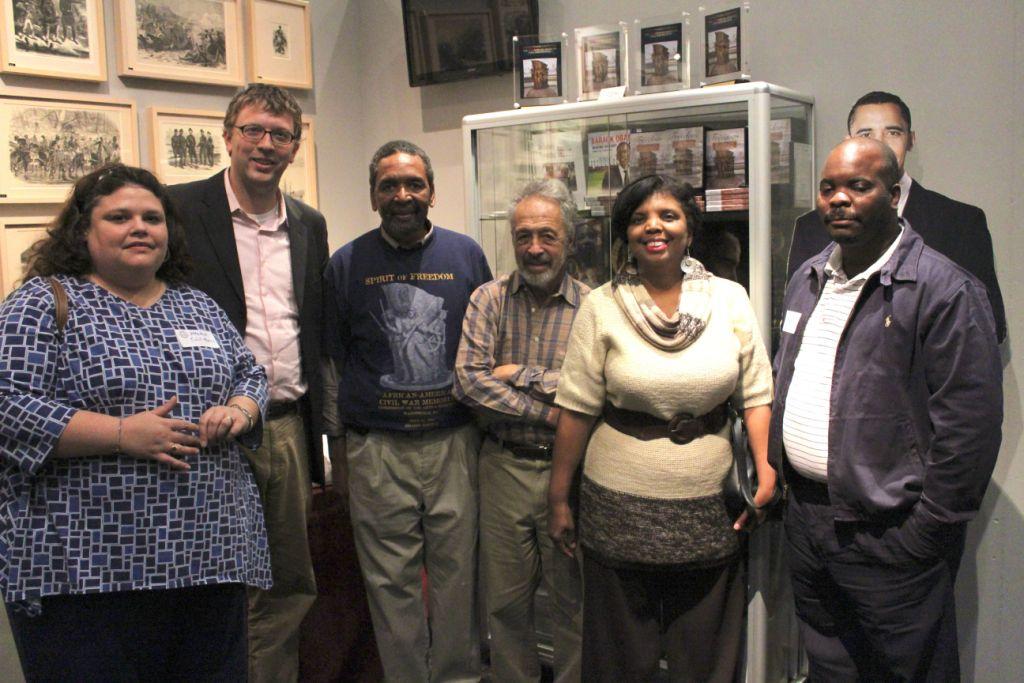 We thank AACWM staff members for their generosity and support. AACWM is an essential ally in public education because of their commitment to presenting the contributions of everyday people in history. We also appreciate the local establishments that graciously donated food and drink for the event: Chix, The Greek Spot, Italian Kitchen on U, Oohhs and Aahhs Soul Food Restaurant, and Yes! Organic Markets.
---
Photography courtesy of Anthony C. Njoku, Blue Lightning Photography.  See more photos from the event.
---
Below is a video clip of the presentation by curator Hari Jones. Watch it and we know you will want to visit to the African American Civil War Memorial and Museum soon!