How to Build a Better Parent-Teacher Night

For many schools, parent-teacher conferences, back-to-school night, and report card day are the only attempts to bring parents and teachers together. Typically, these meetings do little to foster sustainable parental engagement and sometimes the format even hinders meaningful collaboration.
Teaching for Change's Tellin' Stories initiative offers a powerful alternative with its signature activity, parent-teacher grade level dialogues. Grade level dialogues are structured conversations between parents and teachers regarding students' academic success. In this format, teachers across a grade level host a communal meeting to exchange information with parents and find ways to support each other. Teachers share what the children are learning, how they are learning the content, and what strategies parents can use at home to encourage their child's academic success.
The first grade teachers at Thomson Elementary School in Northwest Washington, D.C. host a dialogue every month. With the help of Mandarin and Spanish interpretation services via headset, their December gathering began with laughs and levity as the group of three teachers, 25 parents, and their children shared holiday memories to break the ice. Teachers Kate Solli, Jennifer Ijeoma Akujuo, and Katy McIntyre briefly explained that students were learning about shapes and asked parents to help collect unneeded 3D shapes around the house (such as tin cans and tissue boxes) for an ongoing project.
The teachers also introduced feedback charts to be sent back and forth between school and home. Solli explained, "We've spent four months with you and your children now. We want to know what's been good for you, and what can we think about changing for the new semester."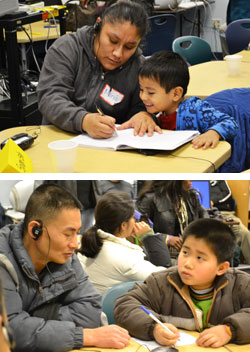 Afterward, the dialogue melted into a pleasant hour of simple holiday arts and crafts to show parents something they could do with their first graders at home over the holiday break.
Miriam Estabrook held her kindergarten dialogue in her classroom earlier in the month. During the hour, Estabrook showed parents examples of the worksheets, learning aids, games, and websites students were using in class. She also shared year-end goals, which included learning to count to 20 forward and backward, learning to recognize words as a foundation for reading, and learning how to write letters properly.
Parents thanked Estabrook for teaching their children but expressed concern that they felt unable to help in the process. One parent commented, "I feel like I'm not prepared to help my son. We try to do school work with him at home, but we don't do a 100 percent job."
Another parent chimed in, saying, "Thanks for everything you do for our kids because at home we want to help them learn, but we're working sometimes and don't have the time."
These and other comments led to an engaging discussion of homework, with some parents in favor and others against. Estabrook shared her own viewpoint, stating, "I think at this stage, what parents can contribute most at home is that their child is happy, well-rested, and ready to come to school. The most important thing in both parenting and teaching is that we do our best to be there for [the children]."

The group reached accord when she agreed to assign homework but suggested that parents regard it as an optional supplement. At the end of the gathering, parents left with individual packets filled with their child's work, a copy of the book the class was currently reading, and information about resources online and at the city's main library.
In November, at the fourth and fifth grade level dialogue at Orr Elementary School in Southeast D.C., parents gathered to hear about their children's math and reading progress. Fourth grade teacher, Carla Grady explained that the goal was to have at least 90 percent of the class at reading proficiency as measured by the standardized DC CAS tests. She displayed and explained the scale on which reading progress was tracked and showed parents a few books their children were reading currently, as well as a few types they should be reading by the end of the year.
Fifth grade teacher, Jamila Thompson taught parents "The Five Finger Rule," a handy trick to identify whether reading material was adequate. Thompson then listened to and answered parent questions, ranging from "Are there websites my child can visit to improve their reading?" to "How often are students tested?"
Next, fourth and fifth grade teacher, Ms. Butler showed parents the tiles and blocks used to help her students understand mathematic concepts, and suggested substituting similarly shaped household items as homework aids.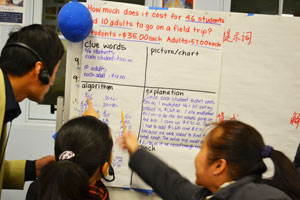 "Math has changed a lot from when I was growing up," she said to everyone. "The way we teach math here in DC is changing, and so many parents across the city are asking, 'What do I do?'"
Thompson picked up where Butler left off and walked parents through a long division problem using the Lattice method, which many parents say previously confused and prevented them from helping their children at home. Fourth and fifth grade teacher, Karla Lockhard subsequently closed the meeting with a mini-story quilting exercise, in which parents created small illustrations depicting what unique traits they contribute as parents, and what unique traits their child contributes as a student.
---
Teaching for Change's spin on the parent-teacher conference offers several advantages over traditional formats, including:
A communal, interactive forum that dispels adversarial or authoritarian undertones, which sometimes taint parent-teacher conferences
Time efficiency for teachers, who no longer have to prepare individual reports for each student
Practical guidelines, tools, and activities that parents can use to help their child excel
Opportunities to collaborate with peers and swap ideas
A supportive community that helps both parents and teachers feel less isolated and more confident
---
When done well, grade level dialogues empower and equip parents to have direct impact on their children's academic outcomes, foster a sense of support between parents and teachers, and encourage parents to get involved in their child's school in other ways.
"It was different from a usual parent meeting," said Ms. Owens, a parent. "There's more parental involvement and questions. Before, I would just meet with the teacher."
The Tellin' Stories Project at Thomson Elementary and Orr Elementary is funded with support from The Morris and Gwendolyn Cafritz Foundation, DC Children and Youth Investment Trust Corporation, the Mayor's Office on Latino Affairs, and an anonymous foundation.
Posted: December 14, 2012