Howard Zinn Birthday Celebration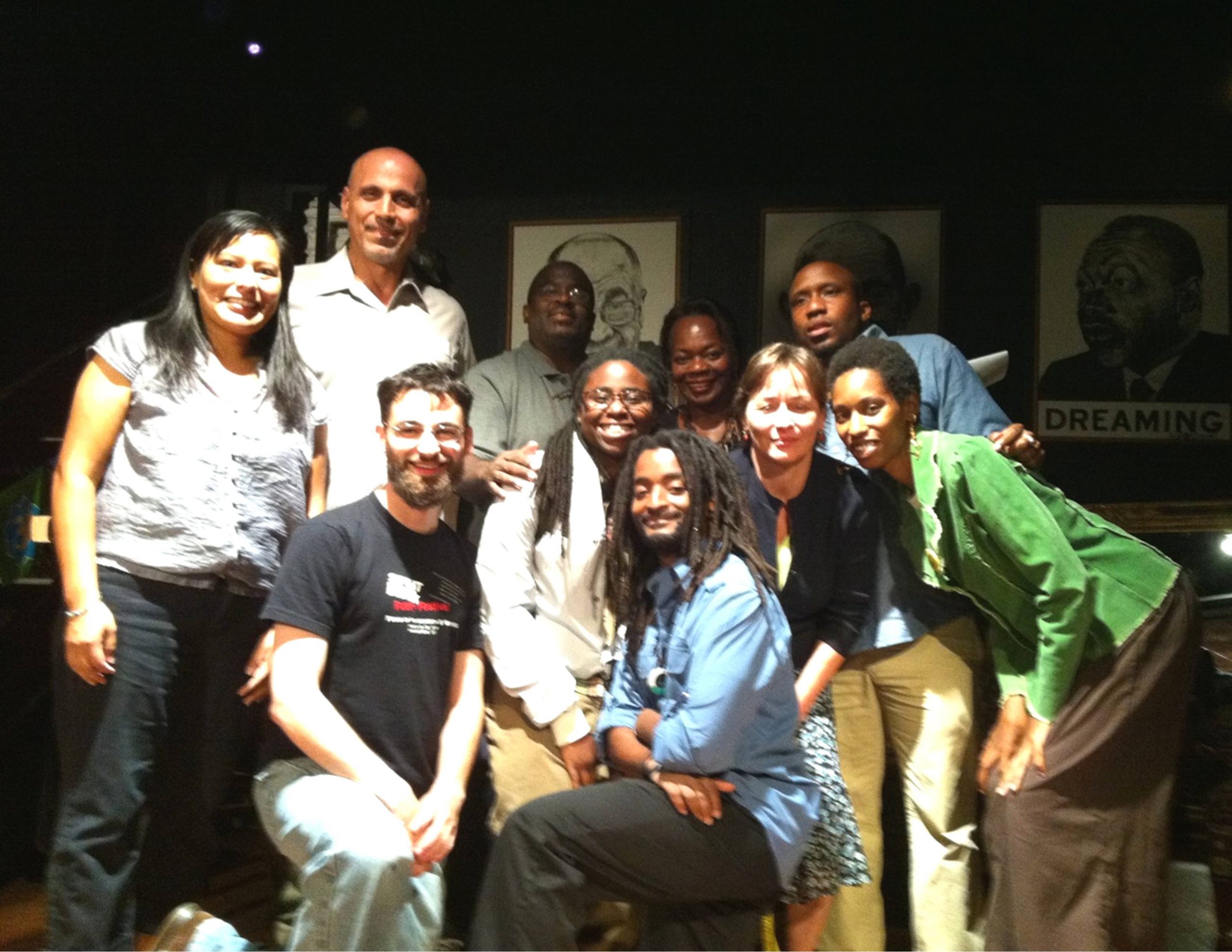 On August 24, 2010, there was an event at Busboys and Poets in Washington, DC, to pay tribute to Howard Zinn (1922-2010) on the anniversary of his birth. The events were co-hosted by Busboys and Poets, Teaching for Change, and the Zinn Education Project.
Poets Dwayne Lawson Brown, Tierra Rich, and Jonathan Tucker read original pieces about people's history. Poet Bruce Leal performed a spoken word piece titled Our Mana about the cultural imperialism and takeover of his native Hawai'i. Dwayne opened the show singing a Gil Scott Heron song before delving into a personal poem dealing with the problems facing youth. Tierra read a remarkable piece she just wrote, critiquing certain rappers and their glorification of gangster life, asking poignant questions about what freedom fighters like Fannie Lou Hamer would think about how these commercial artists choose to exercise the freedoms she fought so hard to achieve for us.
Teacher Elizabeth Davis spoke about how Howard Zinn influenced her work with students at Sousa Middle School in D.C. — teaching her to make sure students take their education and activism outside school walls like Zinn did at Spelman — leading her to work with Sousa students to protect their school (a historic site as one of the schools in Brown v. Board) from demolition. Zinn Education Project Coordinator Lauren Cooper spoke about her personal connection to the work of Zinn and the success of the project in bringing people's history to middle and high school classrooms across the country.
Sports journalist Dave Zirin provided a humorous description of the indefatigable optimism of Howard Zinn. Reading from his personal correspondence with someone very close to Zinn, Zirin inspired the audience to remain steadfast and hopeful, despite the odds.
Acclaimed local poets Kenneth Carroll, Naomi Ayala, Fred Joiner, and Derrick Weston Brown spoke about the importance of Zinn life's work and applying it to our lives today. Brown, the poet-in-residence at Busboys and Poets, explained his connection to Zinn through those who had him as a teacher. Poets and activists like Marian Wright Edelman and Alice Walker studied with Zinn and have gone on to influence the world by taking his lessons with them outside of academia. Kenneth Carroll read a scathing poem about the racism revealed in response to Hurricane Katrina five years ago and a piece specifically written for Howard Zinn. Joiner, like Brown, recalled learning of Zinn's work through his students and read a poem.
Busboys and Poets owner Andy Shallal told us how he helped Zinn stage one of his plays, Marx in Soho, in DC years ago. Shallal also shared stories about his times with Zinn, the sold-out packed-house events with Zinn at the restaurant, and his personal respect and high regard for the man and his life's work.
The emcee of the evening, Jonathan B. Tucker, closed out the show with a performance poem, This Rock, about an extraordinary woman he met in Selma, Alabama, and the power that her story has had on his life as an educator and activist.