Howard Zinn Room Dedication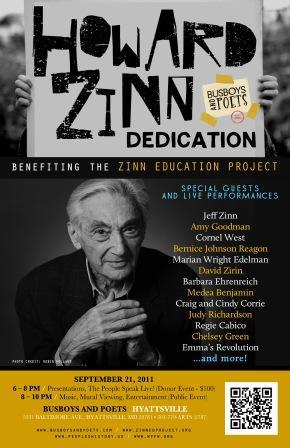 There was a standing-room-only crowd at the new Busboys and Poets in Hyattsville, Md., for the special event on September 21, 2011 to celebrate International Peace Day, dedicate the Zinn Room, and raise funds for the Zinn Education Project.
The date ended up being more significant than could have been imagined. An extraordinary group of people spoke, sang, and read to honor the memory of historian and activist Howard Zinn and to support the Zinn Education Project's efforts to promote teaching people's history in middle and high school classrooms. Read the full story along with quotes from the speakers, photos, and film clips.
Posted: September 22, 2011