2017 Indigenous People's Day Curriculum Night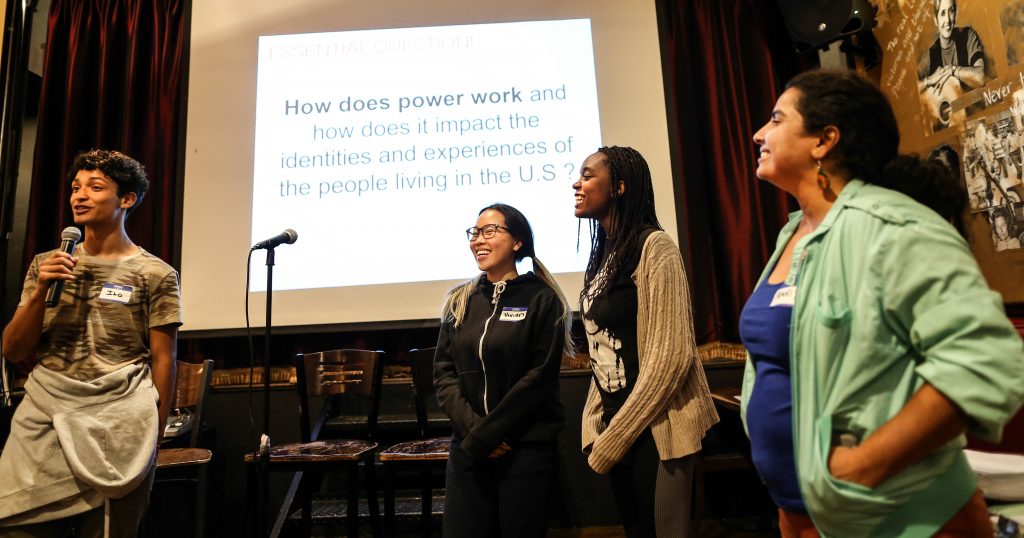 More than thirty teachers gathered on October 2, 2017 for an Indigenous People's Curriculum Night at Busboys and Poets. Hosted by D.C. Area Educators for Social Justice, the event began with a "people bingo" activity that provided educators from various schools and organizations an opportunity to meet and get to know one another. Through a combination of brief presentations and structured discussions, educators shared curriculum ideas and strategies for teaching about Columbus and Indigenous People's history and life today. Presentations by D.C. area teacher and students included:
Here are comments by participants about what they learned and valued from the night's session:
The movement to abolish Columbus Day is growing and the educational resources to teach better about indigenous people are becoming stronger.
I appreciated the role of student voice, and resources from National Museum of the American Indian (NMAI).
It was empowering to hear from students and teachers.
I think teaching using a mock trial works very well to get the interest of the students and think in a deeper way about history.
I appreciated conferencing with other teachers.
Thank you for the resources provided by Teaching for Change, teacher presenters and the NMAI.
I learned some strategies that would help me engage my students. In addition, I loved learning about all the available resources.
I love that the teachers brought handouts. Loved the student participation.
I loved the BINGO! Great way to get to know others.