Interns Explore D.C. Beyond the Monuments
This summer, Teaching for Change benefited greatly from the support of six interns (pictured below) who joined our year-long volunteer, Elena Young.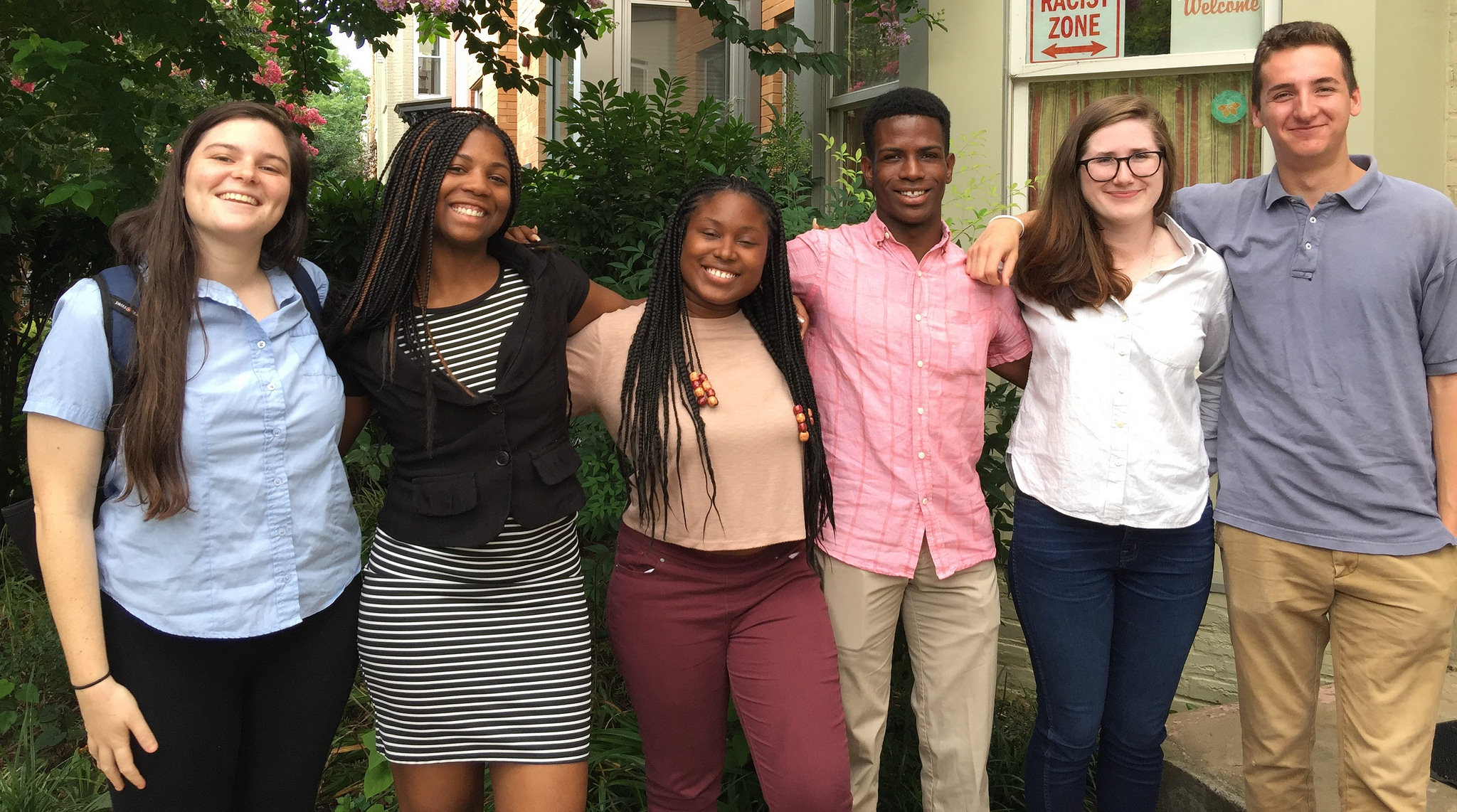 The internship began with our DC History quiz. This was good preparation for a summer of not only contributing to the work of Teaching for Change—but also exploring the city beyond the monuments through trips to forums, schools, universities, and museums.
During lunch time dialogues, the interns met many individuals of note including Howard University professor Greg Carr and SNCC veterans Dorie Lander and Tim Jenkins. They attended book talks and conferences including:
Free Minds, Free People in Baltimore
Breaking the Chokehold: A Radical Approach to Disrupting the Policing System
Diversity and Erasure: Marketing Gentrification facilitated by ONE DC
Woke! Black Resistance to U.S. Domestic and Foreign Policy
The Color of Law with author Richard Rothstein, Representative Gwen Moore (D-Wisc.) and Ted Shaw, former president of the NAACP Legal Defense and Educational Fund
and many more.
Throughout the summer, the interns took turns writing weekly updates on their activities. 

Week One (June 5 – 11)
By Katelyn Campbell
This year's Teaching for Change summer interns spent our first week getting to learn about everything from the stories of Black female domestic workers fighting for fair wages to the ways community schools support youth, teachers, and parents alike. Here are highlights from the week and what we're learning about the District and beyond.
Monday: Community School Awards and Symposium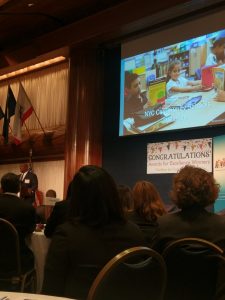 Interns Marvin, Matt, and I kicked off the week at the Coalition for Community Schools and the Institute for Educational Leadership's celebration of community schools around the United States. The symposium highlighted the ways six schools have provided fully-rounded services to their students in the midst of budget cuts, changing demographics, and increasing threats to immigrant student safety, all while keeping in mind the constant push to improve test scores. But, as Pennsylvania Secretary of Education Pedro Rivera pointed out, "In education, we've become too reliant on single measures to identify success and failure."
According to the Coalition, "A community school is both a place and a set of partnerships between the school and other community resources. Its integrated focus on academics, health and social services, youth and community development and community engagement leads to improved student learning, stronger families and healthier communities."  
Community schools exist around the United States, and continue to demonstrate the power of successful community-school partnerships. Marvin shared,
Since my junior year in high school I've wanted to affect change in the public education system without knowing how exactly. Learning about the community school model, its benefits, successes, and most importantly the people behind them brought me one step closer to the answer.
Also a highlight — Marvin, a native of the Bronx, got the opportunity to meet New York's Deputy Mayor, Richard Buery.
---
Tuesday: African American Civil War Museum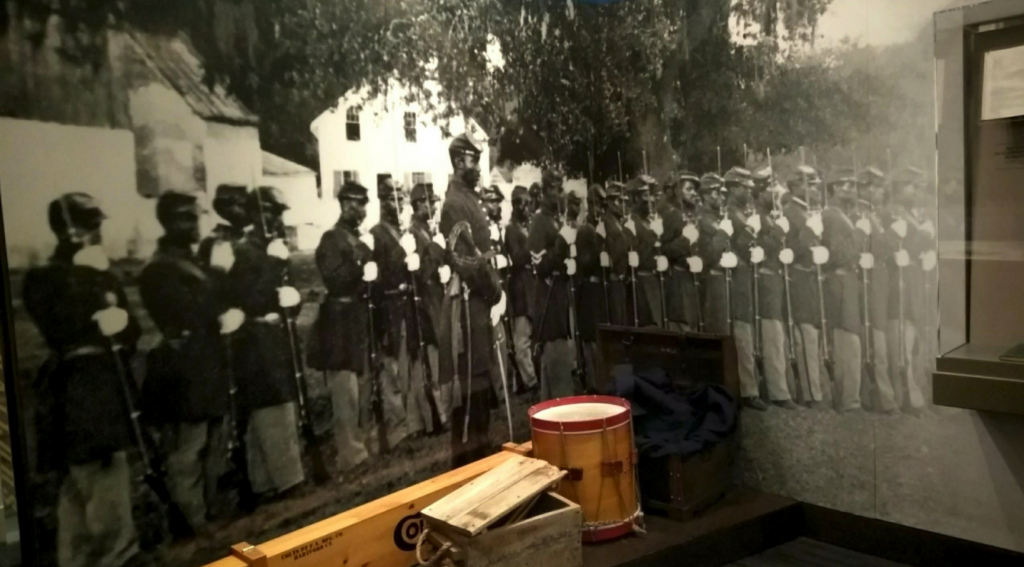 One of DC's huge assets is its strong neighborhoods. On Tuesday, Marvin and I set out to explore the U Street neighborhood around the Teaching for Change office. We spent part of the afternoon just a few blocks away at the African American Civil War Museum. This pocket of history doesn't pull any punches — it honestly chronicles the lives and struggles of African Americans from the first years of slavery in the Americas through the Civil Rights Movement. I was particularly excited when we reached one of the panels about Reconstruction, which referred to efforts by white supremacists to suppress Black voters' rights as terrorism. Where often Reconstruction is glossed over in high school history classes as a failure led by forgettable presidents not worth mentioning, this panel in particular illuminated a vital portion of the violent history of voter suppression in the United States.
---
Wednesday: State of Black Workers in America Conference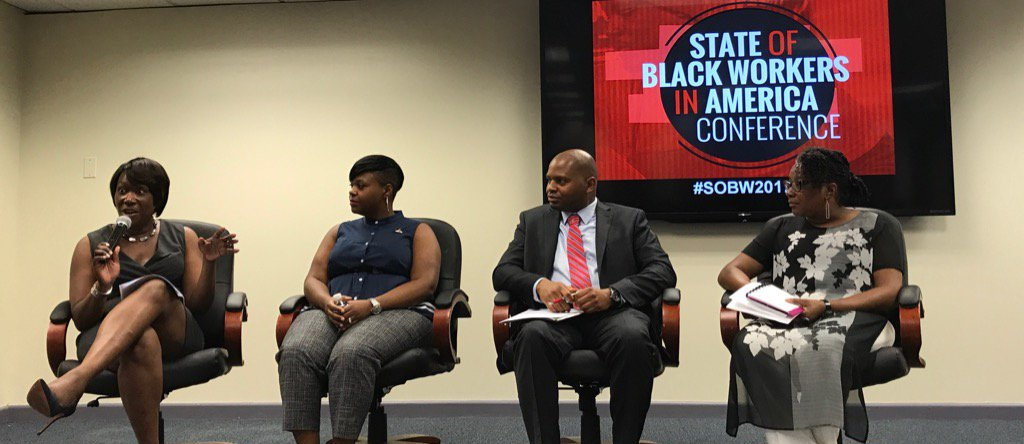 What could be a better Wednesday than a day spent hearing panels moderated by the likes of Alicia Garza, Joy-Ann Reid, and Tom Perez and including the voices of Black female domestic workers, labor organizers, and experts in the field? These were the speakers at the State of Black Workers in America conference at Howard University. Throughout the day, we learned about the systemic devaluation of the labor of Black women domestic workers' jobs, the promise and complications of apprenticeship programs in the United States, and about racism within labor unions. But, as former AFL-CIO Racial Justice Committee member Carmen Berkley said, "The state of Black workers is resilient because we don't have a choice."
Some retweet-worthy quotes from the conference:
In my profession we've done a bad job — we've been chasing Trump supporters around asking are you sorry yet? — Joy-Ann Reid.
Slavery is not a thing of the past. Slavery continues today. Slavery is not just about chains and whips. Slavery is about power. — Alicia Garza.
I don't like the term "second chance" because it implies that you had a fair first chance. — Tom Perez.
There is no difference between civil rights and labor rights. They are the same thing. — Derrick Johnson.
---
Thursday: The Color of Law and World in DC
Marvin and I once again tag-teamed in the morning for a talk by Richard Rothstein, the author of The Color of Law, which explores the history of policy support for segregation in the United States. In addition to the author, Representative Gwen Moore (D-Wisc.) and Ted Shaw, former President of the NAACP Legal Defense and Educational Fund and current Director of the Center for Civil Rights at the University of North Carolina at Chapel Hill Law School, gave remarks.
The room was PACKED to the gills with listeners despite the simultaneous ongoing testimony of former FBI Director James Comey. Rothstein spoke about the history of government sponsorship of segregation of housing projects and allowance of restrictive covenants. And these polices were just the beginning. As Rothstein says, "Letting bygones be bygones is not a constitutional principle." All of us are responsible for actively working to undo the outcomes of segregationist policies and practices.
Later that evening, Marvin and Maria attended one of the World in DC Project's showcases at Roosevelt High School. The World in DC is a collaboration between DC Public Schools and Project Zero that uses the diversity of the city to help students paint a picture of a broader world. During the visit, Marvin said,
I had the privilege of hearing teachers explain how the globally influenced lessons they provided their students have reshaped the way they conceive the world. We need more passionate teachers ready to prepare their students for the globally influenced world they will be entering.
---
Friday: Social Justice Books & Field Day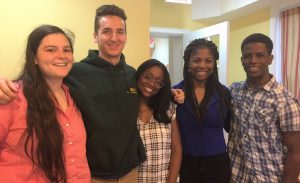 The day began with all the interns learning how to add book reviews to the Social Justice Books database from web designer Mykella Palmer.
Friday afternoon took Marvin and Briana outside for Field Day at a local elementary school that Teaching for Change partners with. Briana certainly had a fun start to her first day — while outside, she helped organize relay races, soccer games, and rounds of duck, duck, goose. None of us have been out of elementary school that long, Briana said.  She definitely broke a sweat playing with the students,
The kids were so full of energy despite the heat. I think I kept up with them pretty well, but I'd be lying if I said I didn't imbibe almost a quart of water afterward.
---
Sunday: Sharing Stories from Our Classrooms
Week one culminated with a celebration for teachers who participated in the Stories from Our Classrooms program. Marvin, Matt, and I got to meet many of the teacher participants, as well as hearing excerpts from one of each teacher's pieces they'd written over the course of the program. Each story was powerful in its own way — from hearing one teacher share her experience with struggling to balance the need for social and emotional learning with test scores, to another teacher's story about the lack of teachers and students of color in private schools, I felt myself beaming with pride at how much each person cared about their students.

Week Two (June 12 – 16)
By Briana Payton
This week, the five interns were up to lots of different activities both in the office and around the city, so I'll share the highlights person by person.
Book Reviews
Marvin and Matthew decided to take a break from roaming the town and focus on making headway on relaxing but fun projects back at the office–namely pleasure reading for change. All of the interns have chosen books to read and review for TFC's Social Justice reading list. The list is full of book suggestions for teachers and students who want to read writings that explore history, culture, and life in a fun and uniquely informative way. Marvin said books he has been reading, such as Ghetto Cowboy by G. Neri have already taught him some "unexpected but worthwhile lessons."
Matt also added and updated reviews on the TFC site, noting he had the privilege of reviewing three D.C. teen-written and illustrated picture books published through Reach Inc. and ShoutMouse Press. We are not only promoting books for teens, but also by them, because some students learn best by teaching their own truths.
NMAAHC
Katelyn was out and about the entirety of Wednesday, spending the day at the newly opened National Museum of African American History and Culture (NMAAHC) and attending an event in the evening entitled, "Woke! Black Resistance to U.S. Domestic and Foreign Policy." Of the visit to the museum, Katelyn said it left her head spinning for several hours afterward since it was so rich in content. She called out one particularly poignant exhibit,
After visiting the Emmett Till Memorial and one of the formerly segregated train cars, I was ready to take some quiet moments for reflection in the John Hope Franklin contemplation room.
Overall she said time in this museum would be remembered as one of her "defining moments in D.C." Moreover, Katelyn described the evening event as memorable in its own way:
The room was packed as the panel opened with a poem, performed by a DC native, about the beauty of Blackness. Over the course of the panel, presenters shared the history of Black women in the Black radical tradition, as well as strategies for intervention through organizing domestically and abroad.
She was struck by remarks from Ajamu Baraka — the 2016 vice presidential candidate for the Green Party, who reminded everyone not to think of struggles for justice solely in a United States context, a habit we can easily fall into since there are so many domestic battlegrounds. But justice is universal and we can be empowered by approaching it as such.
High School Students
As for me, the most exciting part of my second week at Teaching for Change was going out to interview students (and a teacher) at Capital City Public Charter School's junior class about their experience with social justice education. Maria, another TFC intern, joined me and we both learned a lot about social justice projects students carried out like a book on their experiences with race, equity workshops for their school, and a food justice summit. Some of the interviewees' closing reflections on their various projects were, "After learning at Capital City, I feel like I'm more self-aware about my rights and who I am and how I'm different from other races and how I should be proud of who I am," "After learning at Capital City, I've just been a lot more open minded to other things and other people," and from their teacher, "After learning about micro-aggressions at Capital City, I feel more thoughtful or intentional about how what I say and do might be impacting other people."
Later that day I also attended an event with Katelyn and Maria at Ballou High School that was a celebration and reflection on the way that their graduating high school class had a 100% rate of applying and receiving acceptance to a University (a great accomplish albeit tempered by a lower graduation rate). The event brought together students, educators, and nonprofit leaders to discuss what led to this historic success at Ballou and what could be done to build on it and accomplish even greater goals. I think the most meaningful part of this for me was hearing from the students who spoke so poignantly about how they were able to accomplish their goals through support from each other, mentors in their community, and different programs that provided them with opportunities to pursue their passions.

Week Three (June 19 – 23)
By Marvin Darnell Clark
The third week at Teaching for Change was one of much work, but a few significant breaks of play thrown in.
Gentrification
On Monday, most of the interns had the privilege of  joining the associate director and parent organizers in the conference room for their Tellin' Stories meeting. The first topic of discussion was the syllabus for their summer institute workshop series for educators. However, we probably learned the most during the second portion of the meeting during which the parent organizers explained the complications of working with parent teacher organizations in a school undergoing gentrification. Briana and Katelyn even put forth their own ideas for how the parent organizers could help improve communication between parents in order to build a more cohesive community between all parents in each school. Briana had this to say after the meeting,
I look forward to seeing where those ideas lead and really appreciate the passion of the group to stand for equity in the midst of the often inequitable phenomenon that is gentrification.
This meeting made me realize once again that some issues have several levels of impact and it is important to understand that before searching for a solution.
Tuesday was relatively less eventful, but it gave the interns who were here a chance to dive in and focus on their projects for a good amount of time. I continued to research Howard Zinn and the publication dates of his books, as well as any articles he wrote that are applicable to current issues.  Khalila researched education in Mississippi for the Gallery Walk on the history of education in Mississippi through the lens of race.
Rise Up: The Game of People & Power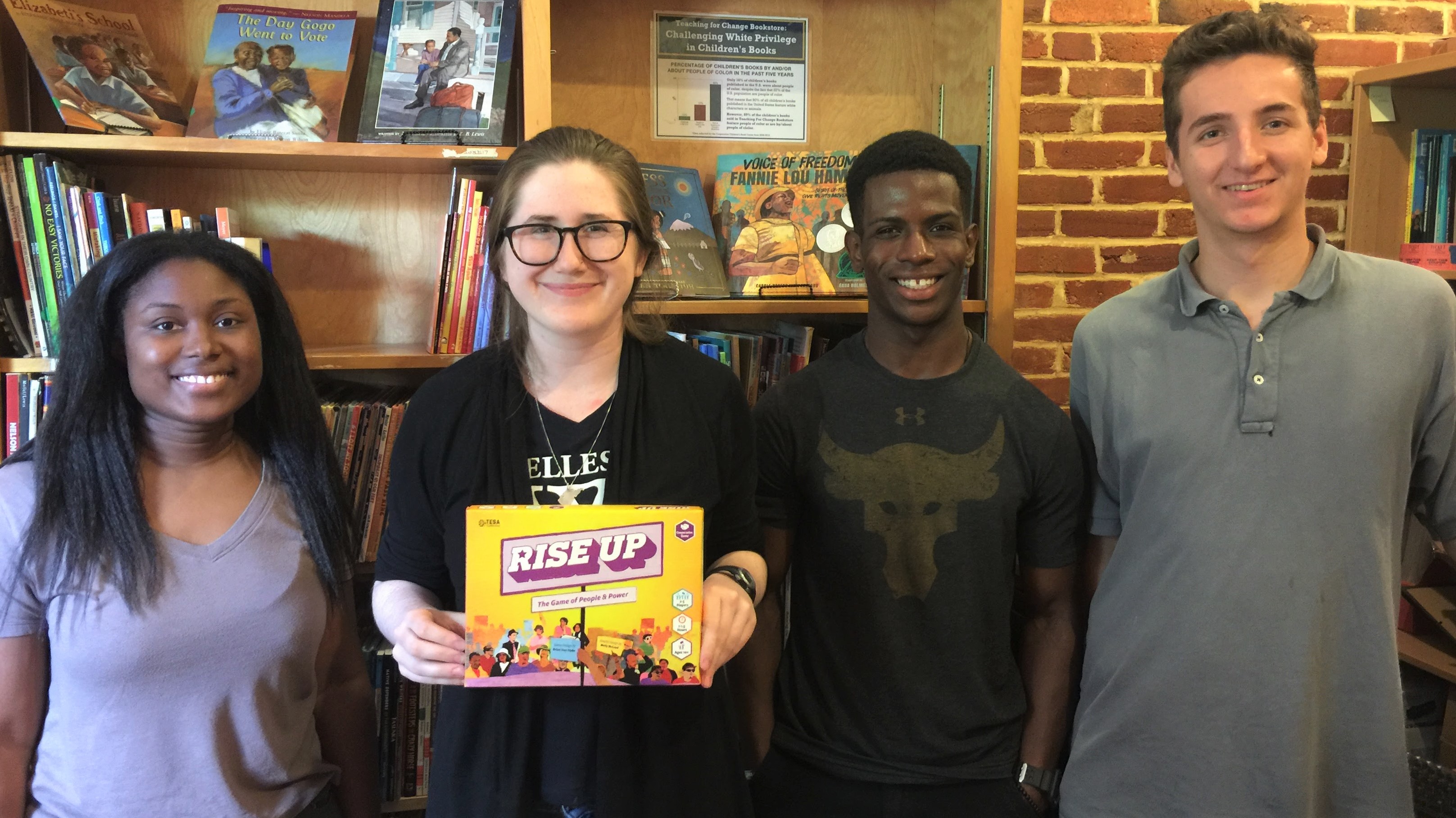 Wednesday was potentially one of my favorite days at Teaching for Change so far and that is only in part due to the lemon strawberry pie and Howard Zinn Speaks book I was given as a belated birthday gift from the wonderful people at the office.
In addition to pie, Katelyn, Matt, Khalila, Elena, and I were given a new social justice board game to play, titled "Rise Up!" It was us and our movement against "the system" and the traps it laid for us around the board. In Rise Up!, everyone playing either wins or loses together, and with our self-expressed end being higher pay for teachers, we did not plan on losing to the system!
Ben's Chili Bowl
However, in the middle of game play we were made aware of the mural unveiling ceremony about to occur down the street at the famous Ben's Chili Bowl restaurant. For more than 50 years Ben's has served as one of the most famed and cherished restaurants in the city and has been frequented by a slew of celebrities visiting the district. With this knowledge, Matt, Katelyn and I headed over to witness this momentous occasion. The ceremony was packed from sidewalk to sidewalk, part of U street was closed off to make space for reporters and spectators to flow into the street.
A variety of speakers, some on the wall while others represented a person featured, gave their remarks on the mural and Ben's as an establishment, including Mayor Muriel Bowser, Congresswoman Eleanor Holmes Norton, members of the Ben and Virginia Ali Family, and D.C. native, Dave Chappelle. Though very hot, the event was awesome and the mural looks incredible.
After such a fun break, we returned to the game to finish our work against "the system." It was just before we took a break that we began to utilize a game feature called "chain of events" which allows the player adjacent to the player whose turn it is to play a card with a matching symbol, without ending the former player's turn and opening the door for other players to play a card with a symbol matching the cards just played, still without ending the original player's turn. It is through this feature that players are able to combine resources and advance their movement forward faster than "the system" can stall their progress. Unfortunately, we did lose to the system, but playing this game was a true pleasure because it addresses the complex beauty and difficulty of running a movement and above all else emphasizes teamwork and putting the movement first.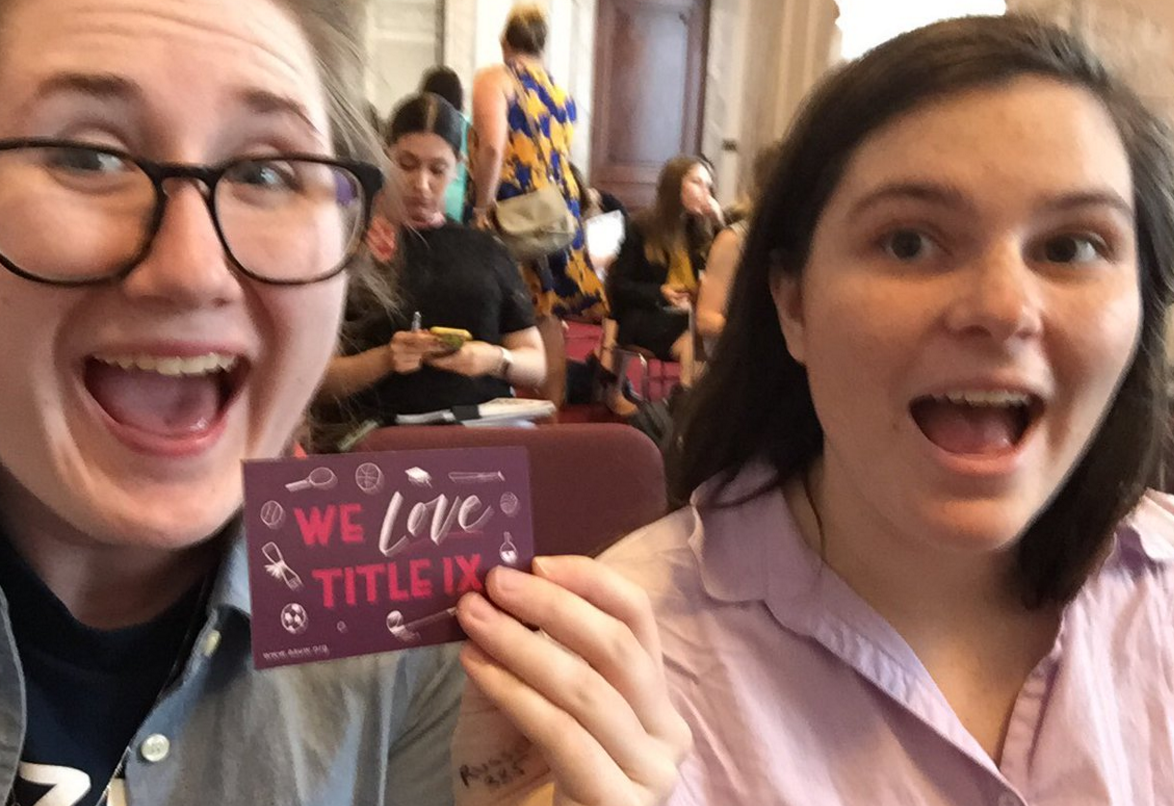 Title IX and the Belmont-Paul House
The eventfulness carried over into Thursday, with Maria and Katelyn going to three activities between the two of them. First, Maria and Katelyn traveled to Capitol Hill for the release of a report on the state of Title IX at 45. The report release was accompanied by a panel of women experts on all aspects of Title IX—from athletics (presented by a member of the 2012 US Olympic gold-winning Women's Rowing team) to Career and Technical Education. At the information presented, Katelyn commented, "I was particularly alarmed to hear that, in the midst of a nationwide conversation about a renewed commitment to apprenticeship programs, 93% of apprentice positions go to men."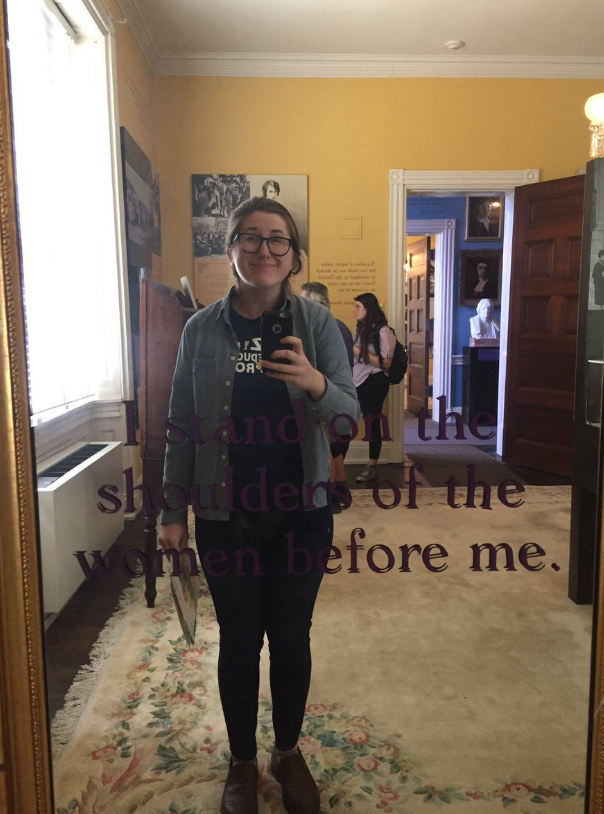 Following the panel, Maria and Katelyn headed just a block away to the Belmont-Paul House on Capitol Hill. Operated by the National Park Service, the Belmont-Paul House is a national monument to the Suffrage movement and the former home of the National Woman's Party. Although not off the beaten path, the museum didn't seem to get too much traffic, which was surprising considering the quality of both its exhibits and artifacts. Concerning their trip, Katelyn commented, "I really enjoyed getting to take pictures in decorated ornamental mirrors that were stationed around the house — in particular, one that read 'I stand on the shoulders of all of the women before me.'"
Later that evening, Maria attended a workshop titled "Diversity and Erasure: Marketing Gentrification" facilitated by ONE DC. About forty people attended the workshop, and among them a diverse set of ages, races, neighborhoods, and degrees of connectedness to DC were present. They began by defining gentrification as a group, and discussed the ways in which gentrification often looks like or is marketed as one thing, but in reality means another for the residents of neighborhoods that undergo the process. They also explored examples of physical and ideological displacement residents experience, some being subtle and others not so subtle, but both have the effect of longtime residents being made to feel like they don't belong. These signs of change ranged from new paint colors, to lack of eye contact, to rent increases, and everything in between. Several D.C. natives living in gentrifying neighborhoods spoke about their lack of interaction with new neighbors and the language of discovery and conquest that often accompanies gentrification. They then broke into small groups to discuss advertisements for housing in gentrified or gentrifying neighborhoods, such as Shaw, Petworth, and Brookland. Maria had this to say about the workshop:
Overall, participants in the workshop seemed to value the opportunity to share concerns about changes in the neighborhoods and in the city that they call home, and to raise or renew consciousness of the ways they may be contributing or participating in such changes.
Howard Zinn's Books
On Friday, Briana and I got a chance to try out the simplified version of the board game we had just played on Wednesday, known as Rise Up! After that first loss, I was determined not to lose to the system again, and upon hearing of our loss, all Briana had to say was, "I never lose to the system." We decided to try the simplified version since I had already played standard, but this time our call to action was to end solitary confinement in juvenile detention centers. Even the simplified version was enjoyable, but with only two players and some of the standard version features dropped, it did take a little bit longer to finish. But in the end we defeated the system with three board victories to their one!
However, Friday was not a day of all play because I finished compiling the publication dates for all 41 of Howard Zinn books (some with multiple editions), and Khalila and Briana began researching professional associations formed during Jim Crow. According to Khalila, these professional associations worked for the advancement of Black Americans in spite of the existing systems of oppression. The team is working hard to possibly document the history of these associations before it's too late.
It's been a busy, but eventful few weeks for the Teaching for Change interns. It doesn't look like things will let up anytime soon either, but I don't think any of us want them to.

Week Four (June 26 – 30)
By Matt Smee
Forum on the Hill
On Monday, Briana, Katelyn, Matt, and Marvin made their way down to the Capitol for an American Youth Policy event, Aligning Systems and Policies to Support Multiple Postsecondary Pathways, which addressed the topic of ensuring that postsecondary training and education includes pathways to a credential that actually secures a position. The event was packed and space was limited but the interns were luckily able to squeeze into the back.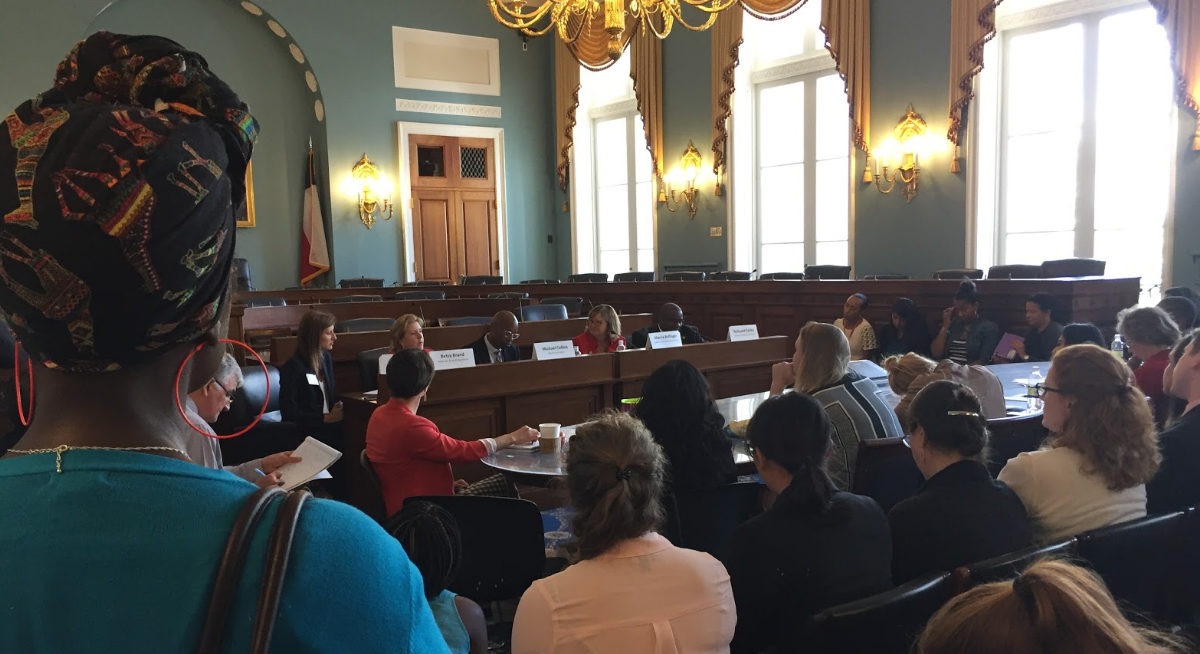 The best part of this forum actually ended up being the question and answer session. I was particularly moved when a staff member from the Department of Education's Special Education office asked what policymakers and thinkers were doing to make apprenticeship and community college programs more accessible to students with disabilities, and I was met with an awkward pause. I've heard a lot about the value of apprenticeship programs both at home in West Virginia and while in D.C., but this was the first time I'd heard someone vocalize the question I'd been dying to ask: how are we making sure populations like women and people with disabilities are able to thrive in these reinvented programs when they have been pushed so far to the wayside in the past?  —Katelyn
---
Moving Boxes
Early Wednesday morning, some of the Teaching for Change staff along with interns Marvin, Matt, and Katelyn gathered at the TFC  storage unit with the mission to downsize from two rental units to just one. After about an hour and a half of moving heavy boxes of books and archives, taking down and putting up shelving units, and moving pallets—the goal was met.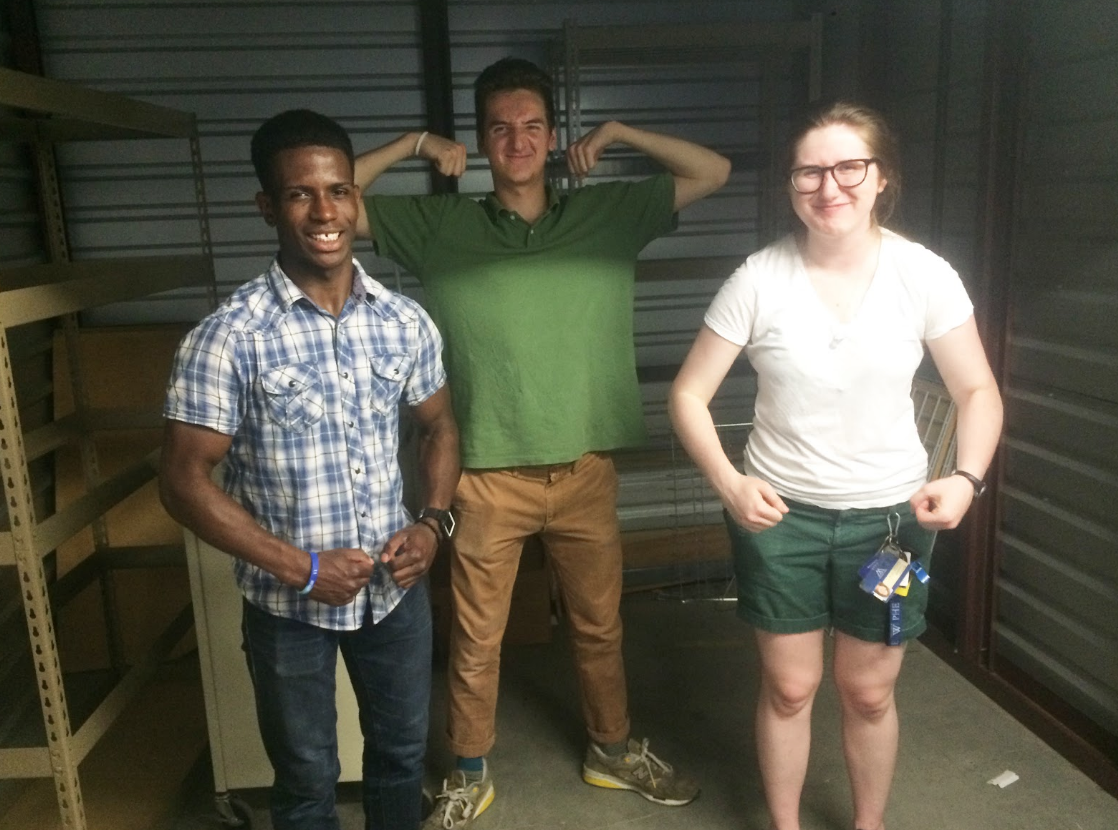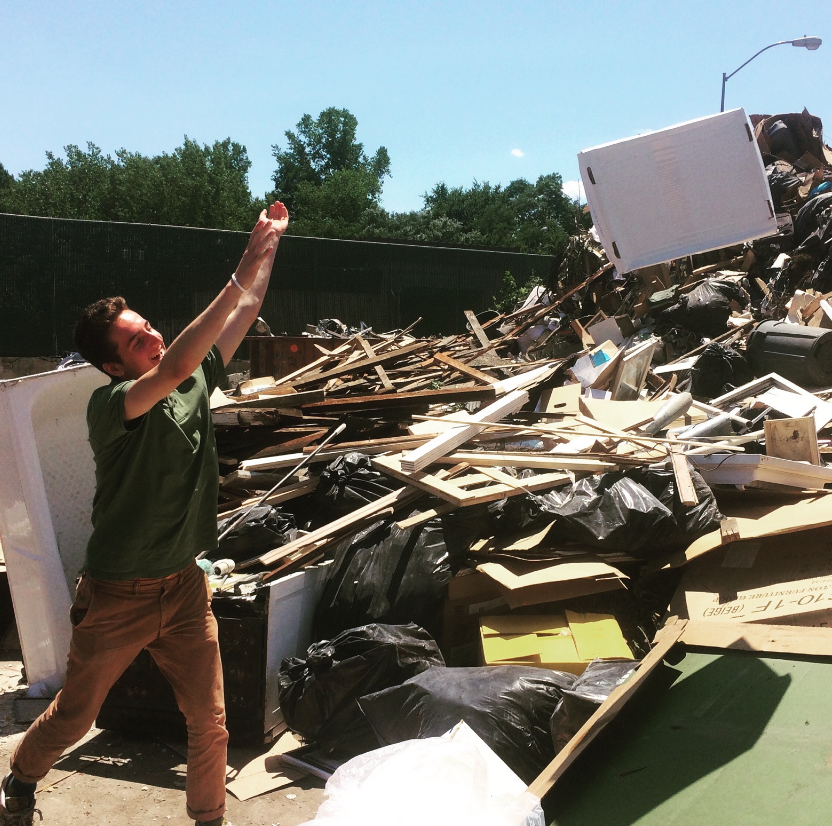 After returning to the office, the interns split up. Marvin took a trip to the National Museum of African American History Culture.
I spent a whole five hours walking through that museum and it still wasn't enough. I can't wait to go back and spend another five (or more) hours absorbing all of the images, messages, and lessons that building has to offer. —Marvin
Later in the day, Matthew and Allison took a trip to the dump to dispose of the junk pulled from the storage units earlier that morning.
Strangely, this was my first trip to the dump. Despite living my whole life in D.C., I had no clue that the Fort Totten dump even existed. And I must say I was pleasantly surprised by how fun it was to toss trash into the big pile! —Matthew
During all this, Katelyn stayed at the office, organizing reprint permissions for Putting the Movement Back in Civil Rights Teaching.
Thursday was a relatively normal day but the intern team did take some time to pack editions of Get Real Comics into sleeves so the TFC staff going to the Free Minds, Free People conference over the weekend could sell/hand them out.
---
Professor Greg Carr
On Friday, Teaching for Change was blessed with a visit from Dr. Greg Carr — the chair of the African American Studies department at Howard University.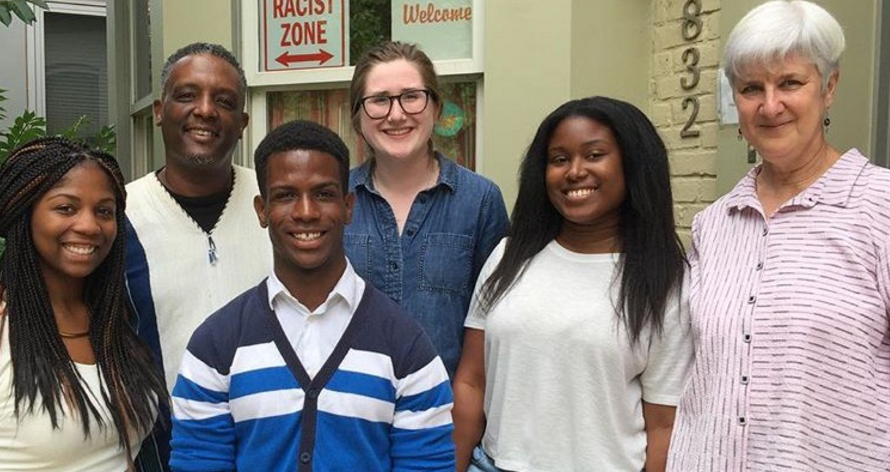 Dr. Carr is arguably both the most knowledgeable and fastest-talking person I've ever met: name a book, and he's read and analyzed it. Carr particularly was passionate about helping us better structure how we think about our experiences at national historic sites and museums. He reminded us to think of places like Mount Vernon as what they are: crime scenes. —Katelyn
I don't think I've ever met anyone with such an open mind, who acknowledges the smallness of this country and his life and tying that into how he lives his life. I asked him what he thinks the modern narrative should be surrounding whether or not Blackness is mostly an asset or hindrance and appreciated his big picture answer of simply understanding race differently than we do now. It was a very meaningful encounter to say the least. —Marvin

Week Five (July 3 – 8)
By Khalila Lomax
Smithsonian Folklife Festival
On Monday, Katelyn, Briana, Matt, and Marvin went to the Folklife Festival where they saw trapeze artists and attended a presentation on circus life and work behind the scenes.
Conference Preparation
On Wednesday, in preparation for the Free Minds Free People conference, Marvin helped Katelyn sort Zinn Education Project t-shirts and the Get Real comics. Marvin worked on #tdih posts about Howard Zinn and drafted a review of the Rise Up! board game.
Free Minds Free People
On Friday and Saturday July 7 and 8, Katelyn and I attended the Free Minds Free People convening in Baltimore where youth, students, and educators gathered to have an honest and healthy dialogue around education.  We attended workshops and assisted with the tables for Teaching for Change and the Zinn Education Project.
I attended the following workshops:
Reimagining Schools as Liberatory Spaces. The breakout session discussed how to create liberatory spaces in a traditional public school and then how a liberatory learning space was created in a democratic community school. In the latter, each student was able to aid in crafting their own schedule and creating their own projects. The school encouraged students to reach out and learn from community partners near the school.
Black Girl Civics: Creating Alternative Spaces to Increase the Civic Engagement of High School Black Girls panel. The panel consisted of young black girls from the organization Big Hair, Bigger Dreams. The girls talked about their schools, communities, and projects they worked on at the organization. One of the projects the girls worked on was about health and nutrition. They recruited Black Women owned businesses to come in and speak about their health and nutrition business.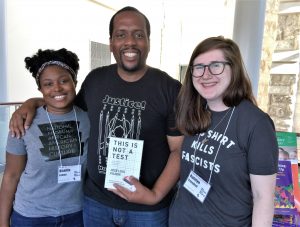 #BlackGirlMagic How Black Girls' Pushed Out, Push Back! This session shared a youth-centered approach to pushing back against the criminalization of black of Black Girls in Nevada's public schools. TULIPS, Teaching and Uniting Ladies to Inspire Positive Success is a mentorship program that the young ladies are apart of. The youth took us through their usual program routine. We created objects from playdough, engaged in affirming statements, and worked together to discuss issues in public schools. My favorite part of the session was hearing how black girls criminalized in public schools and sent to an alternative school were able to advocate for themselves. They did this with the assistance of Code Switch: Restorative Justice for Female Youth of Color and were able to return to their home schools or find a more suitable alternative.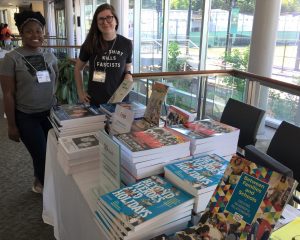 Children's Defense Fund University District Freedom School: The Black Radical Tradition Continues. Five facilitators from my home state of Ohio explained the history of freedom schools. They also took us through what a typical day at Freedom school consists of. We engaged in singing songs, positive affirmations, and chants. They also explained the curriculum that aligns with common core standards. The curriculum is rooted in highlighting marginalized people often left out of public school curriculum. UDFS also explained the delicious and healthy lunches they serve. Most of their lunches are vegetarian, and some of them are vegan. These meals consist of fresh local produce harvested mostly from their very own garden.

Week Six (July 10 – 14)
By Katelyn Campbell
Week 5 was a busy week for summer 2017 Teaching for Change interns — each of us made our way around D.C. to learn more about the community and institutions around us.
Archives
On Monday, I spent much of my time organizing Teaching for Change's extensive archive of organizational materials. Throughout this work, I got to trace the origins of Teaching for Change from its original focus on Central America to the present through catalogs, newsletters, and photos.
NMAAHC
On Tuesday, Khalila, Briana, Marvin and I headed over the National Museum of African American History and Culture (NMAAHC) to participate in a workshop for teachers facilitated by Teaching for Change associate director Allyson Criner Brown. Alongside teachers from around the country, we participated in a lesson by Bill Bigelow called the Color Line, which explores the ways lawmakers have worked to legislate racism throughout United States history. The lesson is online at the Zinn Education Project website.
After we were given our guiding questions, we explored the NMAAHC exhibits on the history of slavery, searching for clues about which conditions brought about laws against interracial marriage, vagrancy laws, and laws against more than four African Americans gathering in a group.
Many of the specifics of the laws were surprising — throughout the workshop, we could see wheels turning as teachers processed information that many were hearing for the first time. Khalila noted that she had not heard about how convicts were sent to the United States to exile them from Britain.
Shout Mouse Press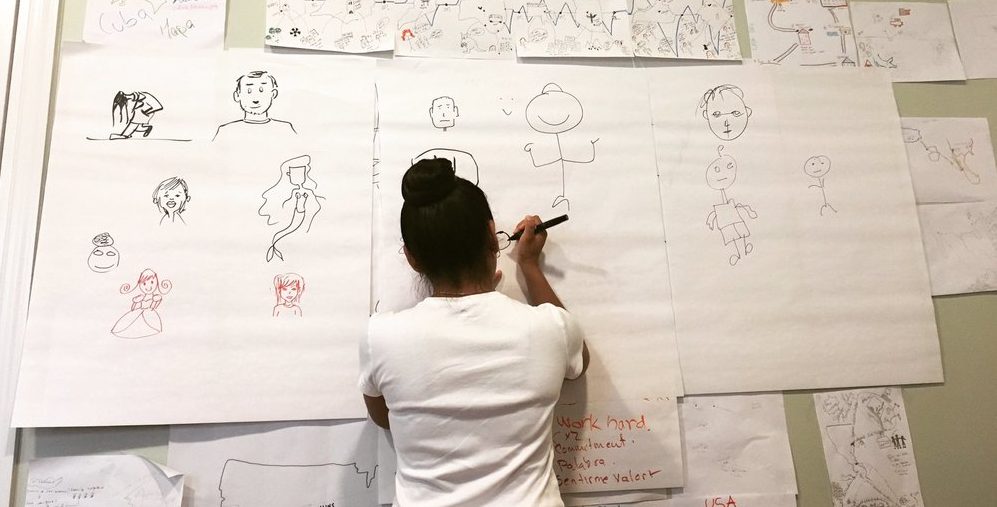 Wednesday brought Matt to a graphic memoir workshop at the Latin American Youth Center, hosted by Shout Mouse Press. Shout Mouse is a DC-based organization aimed at amplifying unheard voices. The workshop began with a presentation from a graphic novel specialist, who explained the importance of each panel in a comic strip to the whole story—there can't be any wasted space. Following this presentation, youth broke into groups and worked on creating stories of their own. The response by the youth was the most meaningful for Matt. "Seeing the students get excited about the writing and illustrating they were doing and being excited about the fact that they were writing their own, personal stories was really special," he said.
Panel on School Vouchers and Segregation
On Thursday, Marvin attended a panel about the history of school vouchers and segregation in the United States, organized by the Center for American Progress Action Fund. Marvin appreciated the panelists' explanations of how the history of school vouchers and school choice for parents has been a history of segregation.

Week Seven: July 17-21
By Marvin Clark
Dorie Ladner
The week could not have started off any better as Teaching for Change hosted Dorie Ladner, veteran of SNCC, for lunch on Monday and then accompanied her to a March on Washington Film Festival event titled Civil Rights and Rust College Activism. It was truly an honor to sit next to Ms. Ladner as we listened to a panel discuss the history of activism on Rust College. I (Marvin) even had the high honor of holding her voice recorder!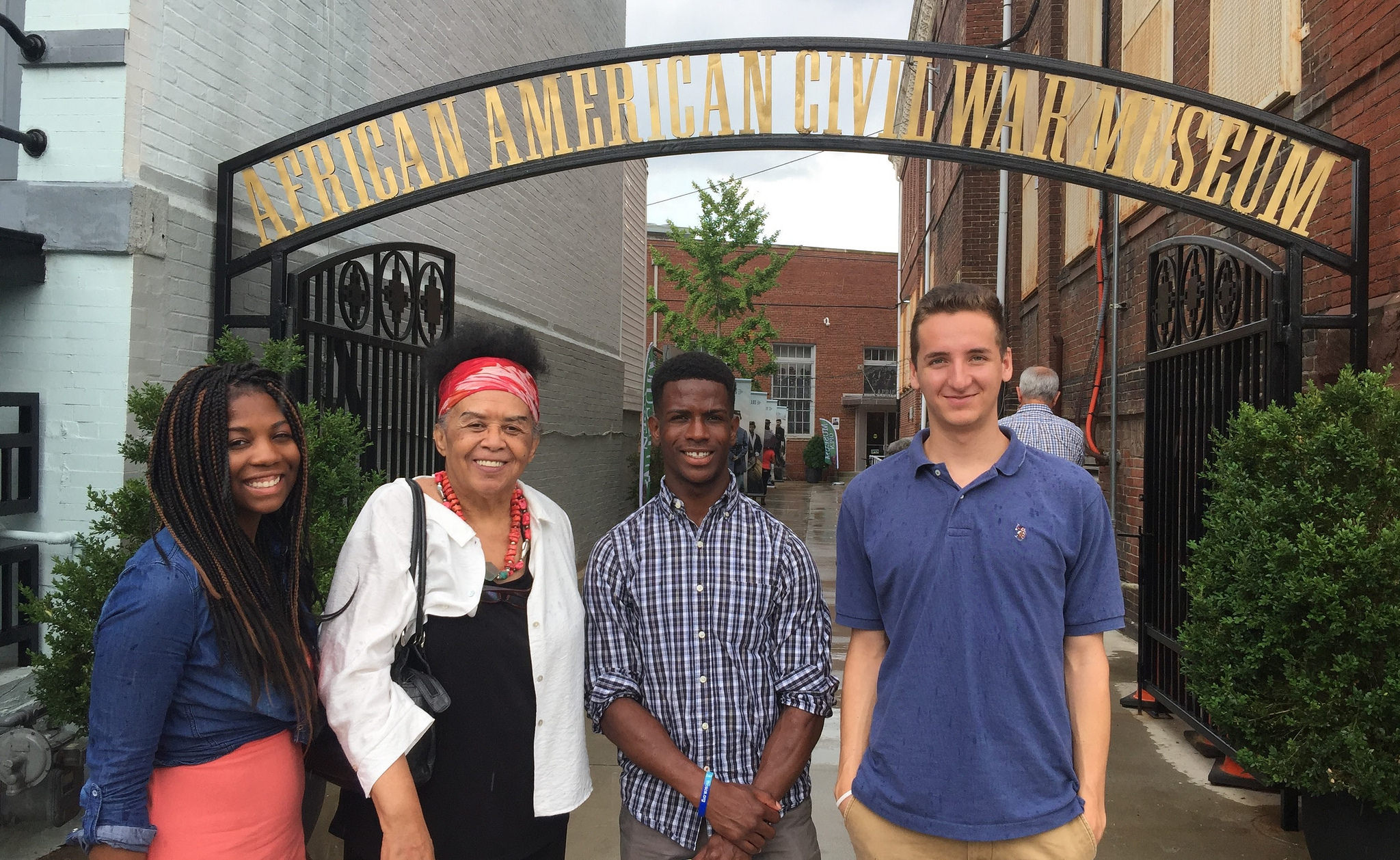 In talking about the encounter Katelyn said, "Hearing Ms. Ladner's story from her own mouth about the work she did — and the surveillance she experienced — in Mississippi shone a light on a hidden history of active female resistance during the classic Civil Rights Movement."  Matt was also there and had this to say about the event which "… was an event about the civil rights movement in connection to the LGBTQ movement, hosted by the March on Washington film festival. The event was really interesting, and got the seal of approval from Dorie Ladner, as she was moved to make a comment at the end about how inspired she felt." Ms. Ladner was not the only once inspired considering we interns haven't been able to stop raving about her after that visit. I even managed to pass on a special greeting from her to John Lewis who I also had the privilege of meeting.
Tellin Stories Summer Institute
Also occurring at the start of the week was the first day of Teaching for Change's Tellin Stories staff's week long Summer Institute which educators from different parts of the country came to attend. On Tuesday I decided to take a break from desk work and watch the Tellin Stories instructors doing their thing, educating educators about the importance of conscious, un-biased teaching, as well as family engagement. I only remained for about an hour, but the conversations and shared experience I got from just that hour was significant. The following day I was out of the office, but Matt and Khalila also took time to check out the Summer Institute and Matt said he thought, "It was really cool getting to see Teaching for Change staff in their element, leading the workshop. And it was really inspiring seeing everyone so passionate about bringing change to their schools. All in all, an awesome event, not to mention the food was delicious."
DC Vote Youth Lobby Day
On Thursday, Maria and I traded the TFC office, for the offices of members of Congress, as we lead high school students in an effort to lobby for DC Statehood. This was a topic area I knew absolutely nothing about before I got to DC, and the only initial hint I got of it was that so many license plates said "taxation without representation." Fortunately enough, one of Maria's friends, Elias, is the summer intern for DC Vote and decided to get his friends involved, and Maria got us involved.
It was my first lobbying experience ever and I gained knowledge on the history and significance of DC's struggle for statehood. However, the most inspiring part was when the students reflected about the experience, even though they started off nervous and hesitant to speak to the staffers we met with, they all were grateful they had done it and were excited to go share the experience with their friends, fostering a community of activism early on.
Anti-Bias Workshop
The Anti-Bias Workshop was something I had heard about since my first day at Teaching for Change, so once it actually happened I felt my summer coming to an end. But it was an appropriate harbinger because it was a prime example of what TFC is all about, something I hope I can speak to accurately at this point, which to me is giving ordinary people the tools to make a difference around them, encouraging them to do so, while bringing them together for mutual support.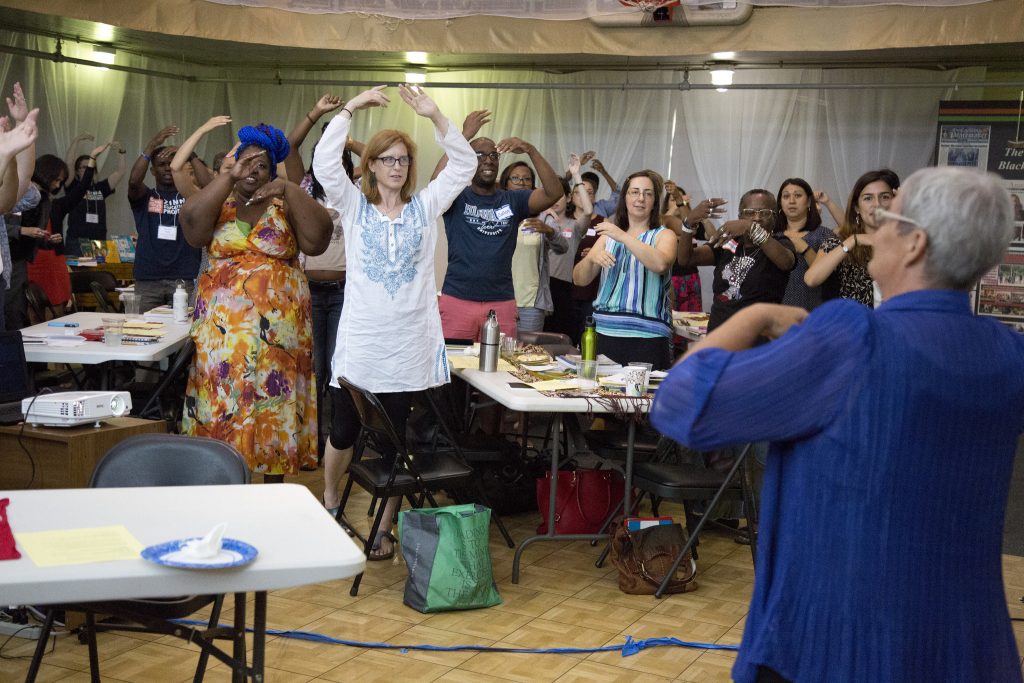 And despite a shift in energy levels from what was present during our smaller Summer Institute, I would say the workshop was a success just in terms of the educators present feeling even slightly more empowered to go out and make a difference. Plus, we managed to distribute most of the free books and beat our previous record for t-shirts sold at one time.

Week Eight: July 24-28

Meeting SNCC Veteran Timothy Jenkins
Marvin D. Clark
I was lucky to secure a lunch time discussion with SNCC veteran and Teaching for Change board member Timothy Jenkins for the TFC interns. Mr. Jenkins not only brought his knowledge and wisdom, but actual documents that reflected the history of his work. He showed us a letter he received from Martin Luther King Jr. which was a favorable response to his request for support and funding towards a demonstration he was organizing. Also, while discussing the split SNCC experienced and why he was pushing so hard for education and voter registration rather than direct action, Mr. Jenkins delivered a very important message which was just because your ideas are different does not make them wrong. You have to believe in what you're fighting for and never stop fighting for it. In his childhood he was surrounded by wise, well-to-do Black men who molded him and gave him a strong ground for his movement activism.  His message of perseverance when you're going against the grain until you change its direction translates to many different mindsets and goals. Overall, another amazing conversation with an outstanding individual from both history and in present day.
---
Meeting My Senator
Katelyn Campbell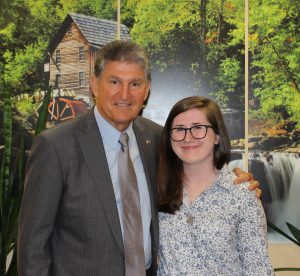 I came to Teaching for Change as an intern through the Truman Scholarship Summer Institute. The Truman, awarded by the Harry S. Truman Foundation, is a federal scholarship program that recognizes at least one public servant from every US state and territory each year for their commitment to public service. As part of my time in Washington, I am required to meet with at least one of my elected representatives to thank them for their support of the Scholarship program, which receives a small appropriation from Congress each year. With this in mind, I headed up to the Hill to thank Senator Joe Manchin for his service and for his support of the Foundation. Although the picture might suggest differently, I am not a small woman — Senator Manchin, it turns out, is just very very tall.
After my visit to the Hill, I walked over to the Museum of Natural History for a brief stop to stroll through the exhibits. Since childhood, I have been fascinated by the ways humans treat each other after we die, which has made museums and monuments very interesting to me as I interpret history. Although as a little one I had a less problematized relationship with the ways museums operate, I now spend much of my time during visits to exhibits on particularly ancient Egyptian burial practices feeling disdain toward the practice of disturbing sacred dead.
---
Broadband Gap
Katelyn Campbell
I attended a panel hosted by New America — a DC-based think tank — about bridging the broadband gap. Where I grew up in West Virginia, the maximum download speed we achieved at home was around 3Mbps (for reference, that means watching Netflix often takes a significant amount of buffering and Skype is generally out of the question). The panel discussed a recent petition a coalition of organizations including New America filed with the FCC to make it easier for rural, suburban, and exurban communities to access high speed internet. In the midst of tremendous economic transition, places like West Virginia need to be able to keep up with the rest of the world online.
---
Breaking the Chokehold
Khalila Lomax
On July 27, New America hosted a Breaking the Chokehold: A Radical Approach to Disrupting the Policing System panel with Georgetown law professor and former federal prosecutor Paul Butler and New America Fellow and Georgetown University professor Dr. Marcia Chatelain. This panel examined intersectionality and police brutality. They talked about the intersections of race, gender, and class. How society responds to those intersections are also how the police respond.
Professor Butler presented a very valid critique of race through a liberal lens. Liberalism is invested in the appearance of work around police brutality being done, and not invested in the people who are disproportionately affected, who are black people. Liberalism and conservatism are both invested in how black people can fix themselves, as opposed to how the justice system can be fixed. A common flawed theme is that "all of a sudden" black people care about police brutality and our lives. Of course, neither of which are true. Black folks have always cared about our lives and resisted against state sponsored violence. The moderator, S. Melody Frierson, referred to Ida B. Wells and her investigative journalism into lynchings. A century ago Ida B. Wells delivered the "Lynching Our National Crime" speech. In 1909 Ida B. Wells acknowledged three facts about lynching that are relevant to police violence today: 1) racial prejudice is at the heart of these acts of violence, 2) criminality is the "excuse" we use to justify these acts, but they are not the cause, and 3) "it is a national crime and requires a national remedy". Over a hundred years later all three of these still ring true.  
---
Overview
In addition to invaluable assistance at events, the interns added dozens of children's book reviews to the new See What We See database, researched "this day in history" events for the Howard Zinn Facebook page, updated the bios and key articles for Beyond Heroes and Holidays, did social media for the Zinn Education Project, organized reprint permissions for two books, proofread articles, reviewed the new board game Rise Up, and much more.
Marvin Clark noted that the internship impacted his future career plans,
My internship at Teaching for Change has opened my eyes even more to the way undereducation lies at the heart of many social issues and for that I am thankful. I was already  planning to study civil rights law. Now I know that the focus of my legal efforts will be to address the education system that is unequal and inadequate. Teaching for Change has embedded my future with a career in education reform.
Briana Payton note that she appreciated seeing the inner workings of our non-profit organization.
I learned what healthy team collaboration looks like and the beauty of people loving what they do at work.
---
Bios

Katelyn Campbell
Katelyn Campbell is a ninth generation West Virginian and alumna of Wellesley College. She became an activist at 16 when her after a local school board policy change sought to make the best high school in the state available to only the wealthiest people. Her activist work around evidence-based sex education in made national news in 2013 – she has appeared on ABC's2020, Huffpost Live, CNN, and in the New York Times telling her story and advocating for use of data-driven and trauma-informed health curricula in public schools. Katelyn is a proud Pre-K-12 graduate of public schools and Truman Scholar.
---

Marvin D. Clark
Marvin D. Clark was born and raised in the Bronx and is now a rising junior at Columbia University, studying political science and African American studies with plans to attend law school. Until college, Marvin exclusively attended public schools and believed he would go on to be a corporate lawyer. However, in his junior year of high school his legal aspirations shifted to civil rights once he took an introduction to sociology course at Lehman College where his professor opened his eyes to systematic injustices that afflict specific groups in our society. Additionally, during his time in and out of school Marvin benefited from a variety of mentors and thus gives back by providing mentorship to those who are coming after him. He has done this through his campus' College Mentors for Kids chapter, the Youth Mentor Initiative at the James Weldon Johnson community center in Harlem, and an education non-profit called Breakthrough NY. When he's not actively mentoring, he's either giving people fitness advice through his knowledge as a personal trainer or writing jokes for a stand-up routine. Marvin believes that our education system should teach students how to expand their way of thinking more than just instilling information within them and looks forward to working with an organization that is dedicated to doing that.
---

Maria Brescia-Weiler
Maria Brescia-Weiler is a DC native and a rising junior at Kenyon College in Gambier, Ohio, where she is an American Studies major. She is a product of DC Public Schools and comes from a family of teachers, from whom she has learned a lot about the importance and difficulty of quality teaching, and the need for the increased support for teachers in public schools. At Kenyon she has become highly interested in Community Engaged Learning, which has led her to conduct an oral history project centered around life in rural Ohio and what it means to be a part of the Knox County community.
---

Khalila Lomax
Khalila Lomax is an Ohio native currently pursuing an M.A. in Interdisciplinary Studies at George Mason University. She is interested in the narrative that quality education is a human right. Khalila completed a yearlong fellowship with a non-profit providing tutoring in D.C. This was her introduction to education in the area. She is interested in the specific educational needs of D.C. students focusing on the intersections of race, gender, and class. Her passion for educational justice has pushed her to work with marginalized youth in a variety of settings. She hopes to create more accessible and equitable education for girls of color. Her favorite place in DC is the National Museum of African American History and Culture (NMAAHC).
---

Briana Payton
Briana Payton is from Detroit, MI and just graduated (in 2017) with her bachelors degree in Sociology with minors in African American Studies, American Studies, and Spanish Language and Culture. Since she moved from her inner city neighborhood to a suburb in the middle of her childhood, she has been exposed to social inequality for a long time-but did not always have the language to name what she was seeing. Through her coursework and extracurricular activities in college, she learned so much about history and society that has empowered her to speak out against and act to remedy the injustice around her. What if she had been given those tools at an even younger age? This possibility is what draws her to Teaching for Change. Briana is so excited to work with an organization inspiring young people to be change agents through socially just education, and hopes that her dedication to the mission and experience can make valuable contributions to the team.
---

Matthew Smee
Matthew Smee is a DC native currently studying at the University of Wisconsin Madison, where he just completed his Freshman year. Throughout his years at Oyster-Adams Bilingual School and Woodrow Wilson High School, Matthew saw a lot of educational inequalities firsthand, which inspired him to tutor younger kids throughout high school. In Madison, he is part of the Big Brothers Big Sisters program, where he hopes to continue to bring change to the lives of children. Though currently undecided, Matthew is leaning towards pursuing a degree in sociology. When he's not working, Matthew is most likely talking someone's ear off about the Wizards or any of his other favorite teams, as he is an avid sports fan.