John Carlos Shares Reflections on Civil Rights Teaching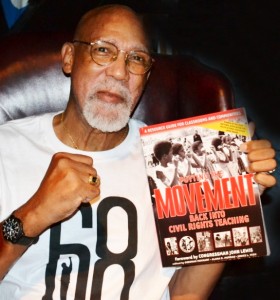 Putting the Movement Back Into Civil Rights Teaching is a marvelous book. It tells the forgotten history, the struggle of those who lived for justice and equality for all races. This is something that's been whitewashed in the school system for so many years. I think this is one of the main reasons why kids are disillusioned about the history they've been studying. They're thirsty, questing, hungry for the real story and our history. God bless the people that put this book together and are pushing it throughout the school system.
—1968 Olympic icon and political activist John Carlos
Carlos shared this reflection with Teaching for Change while he was in DC to speak in schools and at our bookstore talk about his own book, The John Carlos Story (Haymarket Books, 2011).