John Nichols on Anniversary of Wisconsin Uprising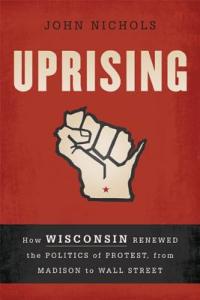 On Feb. 15, journalist and activist John Nichols spoke at Busboys & Poets in Washington, D.C. to share his experiences during the 2011 Wisconsin protests and to introduce his new book, Uprising: How Wisconsin Renewed the Politics of Protest from Madison to Wall Street. Nichols told several powerful stories from the capitol occupation and connected the demonstrations to the spirit of revolution intended by Bill of Rights author James Madison, for which the city of Madison was named. "For him," Nichols remarked, "the first amendment was not a protection for Americans, but a charge."
Amidst outbursts of applause from the audience, the author lauded the resilience among Wisconsinites in the face of cold weather, harsh state politics, and a largely indifferent national media that, when it did address what was happening, made serious
errors that served the interests of those in power. He also noted the connections between the uprising in Wisconsin and the Occupy Movement as well as the direct inspiration Wisconsinites took from the demonstrations in Egypt's Tahrir Square including an early demonstration sign written by a man who had used an online translation service to spell out, in Arabic, "If Egypt Can Stop Mubarak, Wisconsin Can Stop Walker."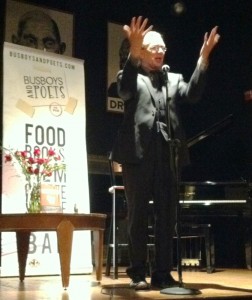 Ultimately, Nichols advocated for a spirit of optimism among modern progressives, a renewed politics of protest, and a faith in a robust democracy. "If there is a story of what happened in Wisconsin, it is this: what you imagine to be possible is dramatically less than what can happen if you believe in people and you give them the power to go out and do it." The evening ended with a powerful call to all those who might speak back to power in today's world: "If we put down The New York Times and we turn off the television and we get out of our house and we march to the square and into the capitol and demand our representatives listen to us, we will perform a transformative politics. … Politics does not end on Election Day, it begins on Election Day. This is the new politics of protest – it has just begun and it will not end until we prevail."
The book talk was sponsored by Teaching for Change,  Busboys & Poets, Progressive Democrats of America, and Nation Books.
Story above by Teaching for Change volunteer and assistant professor at the George Mason University College of Education & Human Development Katy Swalwell.
Additional reflections
from Teaching for Change bookstore assistant manager LaTissia Mitchell:
Tonight's event with John Nichols was part tent revival-part comedy routine-part town hall meeting. Who knew so many Wisconsinites had migrated to the D.C. Metro area. Nichols shared inspiring stories about the uprising in Madison that came together after a group of teaching associates from UW-Madison recognized Walker's proposal for what it was: an all out attack on labor, public education, and the collective voice. Nichols said that the mobilization of the teaching assistants sparked the movement that would eventually bring close to 200,000 people to share a "transformational political moment."
In response to the onslaught of Tea Party/right-wing misinformation about the Constitution, Nichols reminded us that the First Amendment protects our right to free speech so that we may "petition the Government for a redress of grievances." It protects our right to dissent, and to assemble while we do it. Each story shared by Nichols was more inspiring than the previous.
For all of this optimism, Nichols remained realistic about what Wisconsin means in the political life of this moment: a movement against austerity measures that punish the working class. He cast Occupy Wall Street as a movement of creative energy to ensure that we get a government that truly represents the needs and wants of the public. Nichols ended by bringing us up to speed on the recall efforts in Wisconsin, which have begun with more than enough petitions to begin a new election.
---
Related News: Democracy Now! Interview with John Nichols on 2/15/2012. On First Anniversary of Wisconsin Uprising, Gov. Walker Fights Recall Effort by Energized Movement