Ken Hatter: Stepping Off the Porch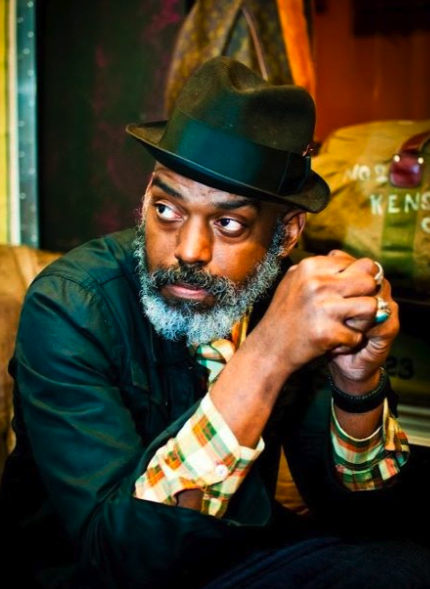 Ken Hatter, steadfast ally of Teaching for Change, is leaving his decade long role as general manager at Busboys and Poets on June 27, 2014.
On this occasion, we want to express our immense appreciation for his invaluable support of our Teaching for Change Bookstore. Ken's insights and intellect have helped shape our work.
Teaching for Change intern Rachel Mullin had a chance to sit down with Ken this week and learn about his life and plans.
Step into the Busboys and Poets at 14 and V and it feels like you've walked into a home, or at least that's how restaurant manager Ken Hatter hopes you feel. As Hatter says with quiet pride, "I've pretty much made this my own, it's not my restaurant by any means, but I treat it as though it is my own and I treat people as if they were in my own home. If you welcome people into your home they will value you and appreciate it."
Based on the constant presence of smiling faces and pleasant chatter of diners as they enjoy meals with friends, I think it's safe to say Hatter has more than achieved his goal. He has helped to make the restaurant a focal point for the local community. However, Hatter never expected to spend a decade of his life devoted to Busboys and Poets.
Born and raised in Dallas, Texas, Hatter's first job after college (he went through the Texas university system) was as a flight attendant with Southwest Airlines, a job he held for almost ten years. He then began managing a restaurant in Texas while also working as an AIDS activist within his community. He eventually moved to San Francisco. There he met the director of the AIDS quilt. They became domestic partners and together continued to be AIDS activists. Hatter ultimately followed the AIDS quilt to D.C., where he opted to stay after the project moved to Atlanta.
Throughout his life, Hatter has been a lover of books, or as he good-naturedly calls it, "I'm like a book stalker." Some of his favorite books, all of which he has read at least three times, include Invisible Man, The Great Gatsby, and Dandelion Wine. It was this love that ultimately led him to Busboys and Poets on the day of its grand opening. The owner of Candida's World of Books (a small independent languages and travel bookstore) told him about a new restaurant that was opening. Hatter had low expectations. However, after walking through its doors on the very first day, his opinion quickly changed.
"I fell in love with it, I was like 'wow, this reminds me of San Francisco.'" Part of him felt, "I would love to work in an area like this." So he pulled out his laptop and emailed the owner, asking if he could work there. In his interview, Hatter admitted that he hadn't worked in the restaurant business for more than two decades, but added that his time working on airlines had given him excellent people skills. The owner thought he had moxie and chutzpah and gave him the job. Hatter has spent ten years at Busboys and Poets and "loved every minute of it."
It wasn't just the restaurant that first attracted his attention. The Teaching for Change Bookstore in Busboys and Poets also caught his eye. I loved the selection of books and that it was a nonprofit that was running it. The books were focusing on topics and things that should be highlighted but really aren't in bookstores. It wasn't your normal Barnes and Nobles or Borders. It was like if I had to open a bookstore on my own, it was the type I would want to open."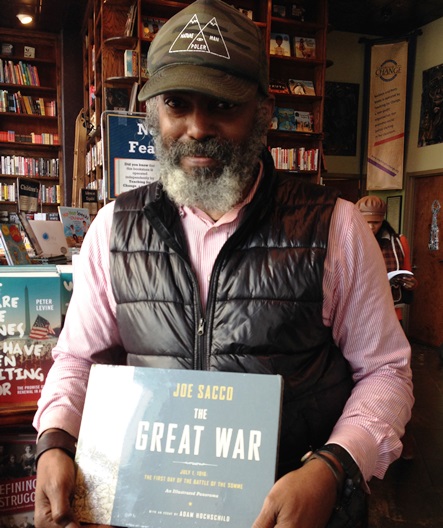 As he says, "I didn't set out to be a buy-a-book-every-week person, but I did." His love of books and tendency to always have something to special order or a book on hold led his brief conversations with the Teaching for Change bookstore staff to transform into what Hatter dubs "a really substantial relationship. I think I am as close to the bookstore as I am to my servers and bartenders." He continues to be a regular patron of the Teaching for Change Bookstore and swears that despite his love of all independent bookstores he "can't think of anywhere that's even close to the Teaching for Change Bookstore."
While all of his time there has been enjoyable, Hatter does have a few moments that stand out above the rest. His favorite moment was when Howard Zinn spoke. He recalls "That was like an eye opening experience because he is one of my idols. I had read A People's History and when he actually spoke, I got to be approximately an arm's length from him. That was amazing."
The election of President Obama and his inauguration also rank high on his list. Hatter describes how Busboys and Poets became "grand central of the celebration" and how the mood "was like being at Mardi Gras." Busboys remained open for 24 hours during the election and the inauguration. One of the most special moments of the whole time was a dinner held by the NAACP. Hatter recounts "it was just amazing to be an African American and to be here amongst people who are trying to direct policy and some of the most famous African Americans of my lifetime. It was amazing to witness."
With a genial smirk, Hatter also recounts two very trying days as among some of his fondest. One in which the computer system crashed during the State of the Union speech, yet Hatter and his staff were able to seamlessly keep things running without any customers noticing nor any interruption to the service. The second being "Snowmageddon." Despite the three feet of snow that incapacitated much of the city, Hatter and all of his staff trudged through the snow and arrived to open the restaurant on time. This dedication to ensuring that Busboys and Poets runs at its fullest potential is something Hatter holds dear. As he says, "this really is a meeting place. People really look at is as their home and you can't shut them out of their home."
As Hatter looks towards his future beyond Busboys and Poets, he is ready to dedicate some time to himself. He's not entirely sure where the creative projects he is currently working on will take him, but is trying to live up to one of his favorite Toni Morrison quotes, "You have to get off the porch." So for now Hatter's plan is to "step away from the safety of the porch. It's scary and it's exciting but you never know what you can do until you start doing it."
While the Teaching for Change staff will greatly miss his warm presence and integrity at Busboys and Poets, we wish him the very best as he steps away from the porch. We hope he'll stop back by the home he has created at Busboys and Poets every once in a while to keep us up to date on his adventures and of course to pick up a book or two.
Interview and profile by Rachel Mullin.