Louise Derman-Sparks Responds to Scholastic
Many years ago, as the author of Anti-Bias Curriculum: Tools for Empowering Young Children, I was invited to serve on an advisory board for Scholastic to help them produce books for young children that accurately and respectfully depicted the many forms of diversity in our country.
With the publication of President Donald Trump, Scholastic is not honoring their earlier commitment to diversity.
For example, Trump's campaign promise of "a better future for his supporters" actually meant a promise to create a white nationalist America, in which the fundamental values of life, liberty and the pursuit of happiness (as stated in the Declaration of Independence) are being destroyed for millions of Americans. The "millions of Americans who are counting on him [President Trump] to help improve their lives" are actually almost all white Americans—who look to a future where they no longer have to equitably share the resources of our wealthy country with anyone but people who look, think, and worship like they do.
In sum, Scholastic delivered a book of explicit and implicit "fake facts," which offers a one-sided and consequently false picture of Donald Trump and his presidency. Their version of the book about Donald Trump for third to fifth graders is hardly, despite the name, a "true book." Young children of color are daily experiencing the negative, very hurtful realities of President Trump's promises to his supporters. Can teachers ethically read A True Book: President Donald Trump to these children?
Moreover, Scholastic's rationale is itself deceptive. They stated,
Most of the teachers and librarians we serve would agree that discussing controversial aspects of any public figure's life isn't appropriate for our youngest readers.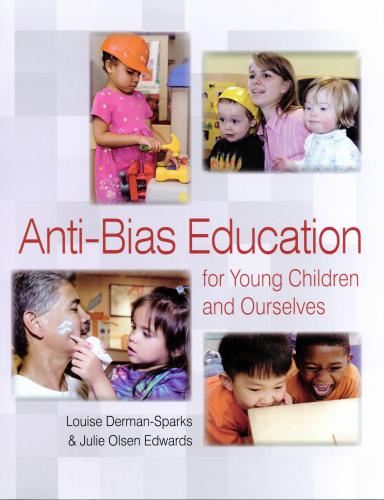 However, the "youngest readers" of Scholastic are toddlers and two-year olds. President Donald Trump is designated by Scholastic for first and second graders — who are typically 6 and 7 years old. From a developmental point of view, children at those ages are quite capable of dealing with "controversial aspects of any public figure's life"— and in their own life.
Indeed, learning to engage in critical thinking about what is true about people's actions is fundamental to becoming a citizen of a democratic country. It is, in fact, developmentally appropriate to begin this education with preschoolers and kindergarten-age children. The sale of over 500,000 copies of Anti-Bias Curriculum and the new edition, Anti-Bias Education for Young Children and Ourselves (National Association for the Education of Young Children), indicates that a lot of early childhood teachers also agree that it is developmentally appropriate for children to deal with "controversial issues" such as prejudice and fairness.
Will Scholastic now decide that mention of the U.S. Declaration of Independence is too controversial for kindergarten and primary age children, since it is quite critical of the then King of England? Or ignore the fact that Americans fought a war against oppression from England, under the leadership of George Washington, and fought a civil war that contributed to the ending of slavery when Lincoln was president of our country? Or no longer make available any books about Reverend Martin Luther King Jr., Ruby Bridges, or Cesar Chavez?
I can only hope that an organization I once respected will come to regret the direction it is now taking — and correct it!
Louise Derman-Sparks