The Civil Rights Movement Is Not Over: Mark Levy Says at the AFT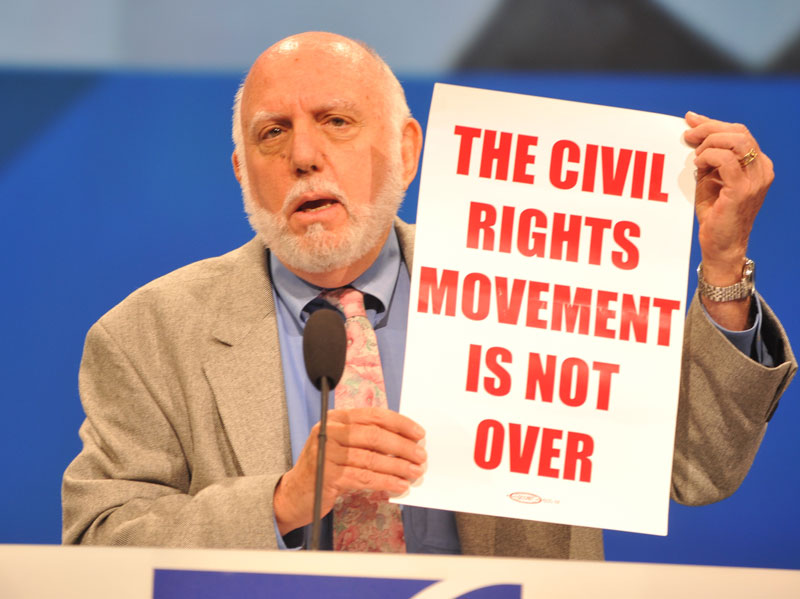 Freedom Summer volunteer Mark Levy spoke at the national convention of the American Federation of Teachers (AFT) in Los Angeles on July 12, 2014 about the legacy and lessons of the modern Civil Rights Movement. Levy is a veteran junior high school teacher and labor organizer.
Here are Levy's prepared remarks. At the end of Levy's talk, he introduced young Chicago activist Asean Johnson. A short AFT produced video about Freedom Schools preceded his talk.
---
GOOD MORNING! I hope you enjoyed that video clip.
I recommend everyone here see the full PBS documentary Freedom Summer where many of the video segments came from. I'd also recommend showing that film in your classes.
I want to thank AFT for commemorating Freedom Summer. However, I do want to emphasize that Freedom Summer should be remembered as one moment in a long—and still ongoing—struggle.
I'd like to acknowledge all the AFT members who went to Mississippi in 1964.  About one third of those teaching in the Meridian Freedom School with me were UFT members. Sadly, too many from the AFT who went south and served all over Mississippi have passed away, or are too ill to come here today.  I hope I can speak for all of them.
I think it important, also, to point out that not all AFT volunteers went to teach in Freedom Schools–a good number chose to do full time organizing for voter registration and the Democratic Party challenge.  I believe that door knocking and voter organizing is another proud venue for teaching.
Freedom Schools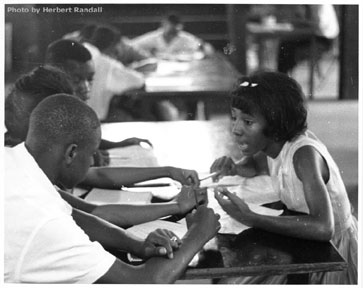 Charlie Cobb Jr., of SNCC, whom you just saw in this clip, originated the idea of the Freedom Schools as being much more than just schools:
He saw them as places where the next wave of activists were being trained and motivated.
He saw them as institutions belonging to the community and as supports for parents and families active in the voter registration campaign.
He and Staughton Lynd, the state-wide coordinator, believed that "Once a student learns to ask 'Why?'—the system is starting to change." Not only are the students thinking critically, they are feeling empowered to question such conditions.
Let me ask:  How are our schools doing these days empowering students and encouraging critical thinking?
Vincent Harding and Teaching for Change
Now, I want to say: I agree with Vincent Harding when he wrote: "We are all teachers."
That gentle and persistent warrior, teacher, and guide, says that:
Poets, singers, parents, clergy, secretaries, organizers, bus drivers, hairdressers, nurses, cab drivers, as well as those in classrooms—"We are all teachers."
People-who-talk-to-people and pass along stories and lessons not only are teachers, but—as Harding wrote—have a mandate to share the lessons of the Movement.
And as Teaching for Change encourages us in telling that narrative: "We have to put the Movement back into Civil Rights teaching."
Sad When I Hear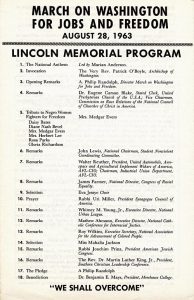 So I get very sad these days when I visit schools and talk to students and teachers and hear things like:
Rosa sat down, Martin marched, Obama ran. Everything's OK now.
The Civil Rights Movement was long ago. It's not relevant today to teach.
Or the more cynical:
Medgar, Malcolm, and Martin—they were all killed. There's nothing we can do till we find another leader.
Sadly too, when I ask the official name of the 1963 March on Washington, I get:
"Civil rights" or "I have a dream."
Hardly anyone knows the truer and more radical and unified demand for "Jobs and Freedom." The two ideas that: a) the March included an economic aspect of "Jobs" for all; and that b) "Freedom" is more than merely legislated "civil rights"—are obscured. That important connection between the two issues, Jobs and Freedom, and the possibilities that come from linking them, gets erased from our textbooks and lessons.
We Must Correct That Narrative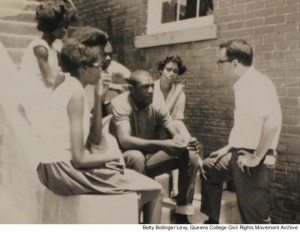 So, as teachers and story tellers, we all better get clear on the narrative we want to pass along.
We need—in fact, we have an obligation—to say that:
The freedom movement, the movement for justice and equity, is not over.
The Movement is about ordinary people, working together, doing extraordinary things.
The Movement is about organizing, developing trust, and doing lots of nitty-gritty work.
We can't be complacent now.  We cannot take things for granted.
The people with power and privilege never give up. "They" work very hard to take back the power and privilege they feel they lost.
You know, when I was a young activist in Mississippi fifty years ago, I worried about guys in white robes and pointy hats sneaking around at night.
Now, as an older retiree, I worry about the power of five guys in fancy black robes in DC—and how they are taking away the things we thought we had won.
We have to ask why?
Why are the rich and powerful working so hard and being so afraid of letting everyone vote? Think about that.
We have to say:
It really does make a difference who gets elected and gives those five black-robed men such power to wreck havoc on our rights and our past victories.
When we share the true story of the Movement—as a "movement"—then we can pass the encouragement on to others:
We can say to students: "Yes, you're OK. It's OK to be frustrated by what you see. You already have or can learn organizing skills. Yes, you can do it."
We—ordinary people—have more power than "they" want us to think we have.
There is lots of work to do. It is important to do it.  There is no rest in the struggle.
We should be clear that there is power
in registering voters,
talking issues with them, and
making sure we get them not only to vote—but empower, encourage, and organize them to get their friends and families to do that too.
Best Part of Today: Passing the Baton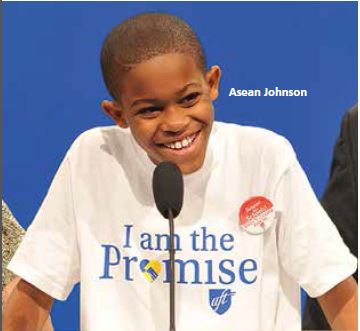 So that brings me to the best part of my short talk today.
I get to pass the baton to those who will continue the fight.
Many of us in this hall traveled to Washington, D.C., last August to mark the 50th anniversary of the March on Washington. This is the placard they gave me on my PSC/CUNY union bus last year—and that I proudly carried all day.
It's true: "The Civil Rights Movement (unfortunately) Is Not Over."
If you were there, you know our next speaker.
If you are from Chicago and fought against the mass school closings and layoffs, you know our next speaker.
At the ripe old age of 11, he is a leader and advocate for Chicago's public schools, its neighborhoods, and its hard-working educators. [See speech by Johnson at age nine about school closings, here.]
It is only fitting that he is joined by AFT Vice President and Chicago Teachers Union president, Karen Lewis and national director of the Journey for Justice Alliance, Jitu Brown.
Everyone, please now welcome: elementary school student Asean Johnson.