A Tribute to Dr. Marta Palacios
On a warm spring evening in June 2015, students, parents, and alumni of Bruce Monroe Elementary School at Park View (DCPS) gathered in the auditorium to say thank you to a beloved principal and educator. Dr. Marta Palacios retired after 14 years of service as principal and a long career as an educator and advocate for bilingual education in Washington, D.C.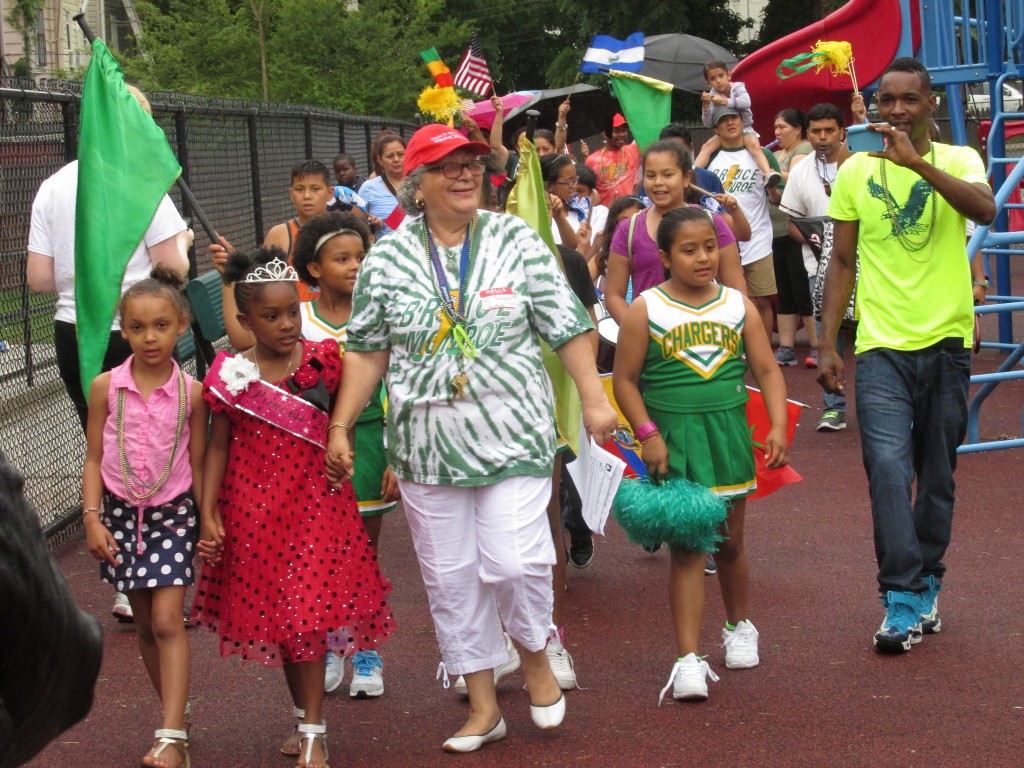 Students, teachers, and even her granddaughter took the stage in the school auditorium to honor "Doc" as a community leader and champion for her students and families. During the program, a former student and recent high school graduate turned to Palacios onstage and spoke powerful words of gratitude and determination, "I am where I am because you believed in me. Now, I'm the first person in my family to go to college."
The ceremony at Bruce Monroe lasted over three hours that night, yet it was barely enough time to scratch the surface of Dr. Palacios' inspiring life, career, and journey to become the first Salvadoran American principal in the D.C. metro area. As a mother and grandmother, an immigrant, and a champion of bilingual education, Dr. Palacios has worked tirelessly all her life to advance education and social justice.
Teaching for Change joins the Bruce Monroe Elementary at Park View (BMPV) community in honoring the life and legacy of educator Dr. Marta Palacios. For nearly a decade, we have had the honor of collaborating with Palacios on parent organizing.
---
Meet Dr. Marta Palacios
Growing Up in El Salvador
Marta Palacios grew up in a rural community in El Salvador where her mother, an assistant teacher, had a third grade education. Palacios is the fifth child in a family of nine. She and her siblings attended school, even when they didn't have enough food, and Palacios graduated from sixth grade wearing her first pair of shoes. To distract her younger siblings from hunger and exhaustion, she organized her younger sisters and friends in parades, leading them in song, dance, and costume under the light of the moon.
Palacios left school to work when she was 12 but soon returned, determined to pull her family out of poverty. In 1969, she graduated from teaching college and went to work as a teacher, but the Salvadoran government closed all the schools in response to the ongoing political crisis.
Soon after securing a job in a private school, she found herself facing intense political pressure and tight surveillance from the military. When one of her friends, another teacher, was abducted and killed, Palacios left the country, fearing for her life.
Moving to the United States
Palacios spoke no English when she arrived in New York City at age 19 in 1970. The U.S. education system did not recognize her Salvadoran teaching credentials, so she worked as a maid, earning $40 a week. She and her future husband moved to Washington, D.C. with no immigration papers and a young child. She had no hope of returning to El Salvador; her mother shared with her the news of teacher friends who continued to "disappear." After her first son was born in 1972, she was able to secure her green card.
In D.C., Palacios pursued her goal to continue her career as an educator by passing the GED to earn her high school equivalency certificate. Over the course of eight years, she earned her bachelor's degree while raising her children and working as the curriculum coordinator at the Spanish Education Development Center, where she started as a parent volunteer.
Her applications for teaching positions never panned out—a principal told her it was because of her accent. Finally, through the DCPS Office of Bilingual Education, she obtained a job teaching English as a Second Language at Adams Elementary in 1984. Palacios went on to earn her master's and doctorate degrees and to teach for the next fifteen years.
Becoming a School Administrator
When Palacios accepted DCPS' invitation in 1999 to serve as assistant principal at Bruce Monroe Elementary on Georgia Avenue, she arrived to a crumbling building and a community ravaged by violence and struggling against poverty. Two years later she was selected to serve as the principal. With a powerful desire to see the children learn, Palacios called on the community for support, and did something that few Latino and African American parents had experienced in the past—she invited them in.
Though a partnership with Teaching for Change, many of the core strategies for the Tellin' Stories parent empowerment approach were developed with the families and staff at Bruce Monroe. Palacios genuinely supported the efforts to bring Black and Latino families together, and to create opportunities for parents to be meaningful partners in their children's education. She invited parents to make decisions that impacted the school, to visit classrooms to provide feedback on teaching and learning, to tell the stories of their lives in classrooms, and to advocate for more Latino heritage materials in the curriculum. [Read a detailed description of this work in "Tellin' Stories, Finding Common Ground" by David Levine in the Spring 2009 issue of Rethinking Schools.]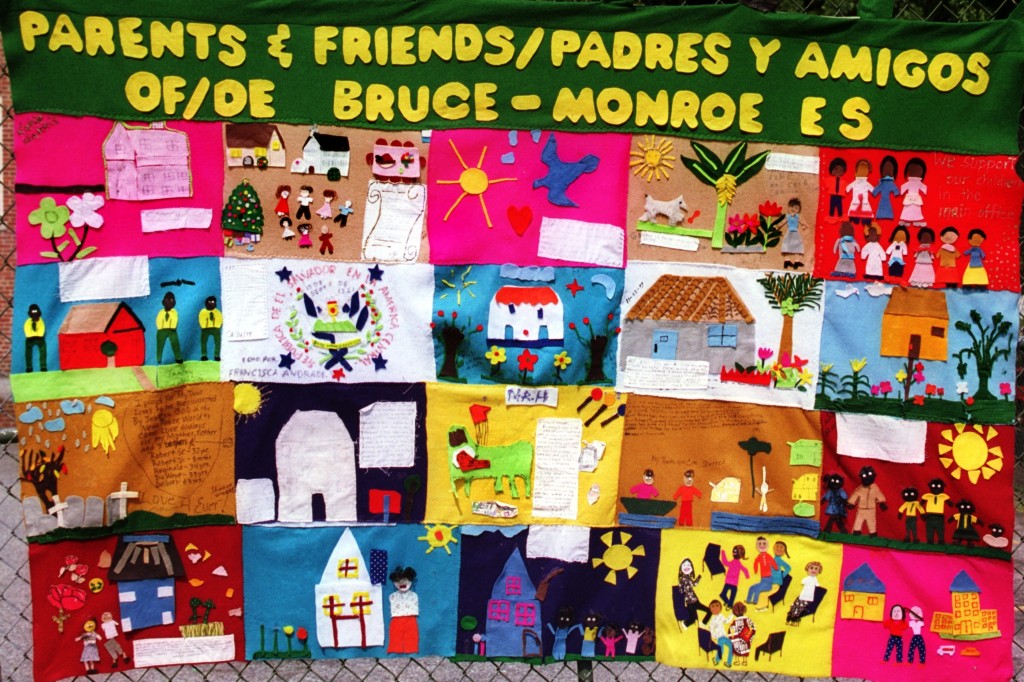 Reflecting on the work with Teaching for Change, Palacios said,
Teaching for Change helped in that when I first came to Bruce Monroe, there were only a few parents in the building. When we started organizing with the parents, the climate changed for the kids and the teachers.
This engagement turned into a campaign by parents to build walls in the school. Bruce-Monroe was an "open floor plan" building with no enclosed classrooms. The parents began organizing in 2001 and took to the streets after three years of broken promises from the city government in 2004. As reported by the Center for Community Change,
They gathered in front of Bruce Monroe chanting "We Want Walls!" in both English and Spanish. The action brought out Bruce Monroe principal Marta Palacios who said that she, too, was frustrated. She noted that the school had been closed to summer programs for each of the past three summers so that renovations could be done. But each September has arrived with the school untouched, and only "one story after another" from the District about why nothing was done.
Her collaboration with parents and staff was so successful that Bruce Monroe experienced many gains, including walls in sections of the building, a bilingual program, full enrollment, and a new library. Furthermore, the school made "adequate yearly progress" required under the punitive No Child Left Behind law.
Despite all these profound advances, Chancellor Michelle Rhee placed Bruce Monroe on the list for school closure. Everyone was shocked since only schools that were failing and/or under-enrolled were supposed to be considered.
Dr. Palacios stood with the parents and the community in their fight to save the school. She was an ally and activist in the year long, round-the-clock campaign.
Despite the intense organizing and the fact that there was no justification for closing the school, Rhee forced them to relocate to Park View ES with the (still unfulfilled) promise of a new building.
Palacios took on the incredible challenge of bringing together the staff and families of the two schools (Bruce Monroe and Park View), with no time nor support to engage both school communities in planning and building relationships.
Palacios' Philosophy
Palacios was known to welcome every parent and child who walks through the door with, "¡Hola mi amor!" or, "How are you?" and a hug. Her philosophy as a school leader was simple: we are going to make you feel that you are somebody, we are going to take care of you first as a human being, and then we move on to academics.
She understood the fear and anxiety of the mother who had recently arrived in this country, as well as the frustrations of those who have been through the D.C. school system for generations. She loved and appreciated her teaching staff as her own family, and went above and beyond to support the genuine engagement of parents, learning and building relationships at every step along the way.
Palacios remains mindful of the journey that began with organizing her loved ones under the moon in El Salvador. She has dedicated her life to making that journey easier for those who come behind her and still reminds those around her that "it's all about the kids," but to not leave the families behind.
Award
On June 29, 2016, Palacios received the Education for Liberation Award at the 25 Live: Teaching for Change Celebration.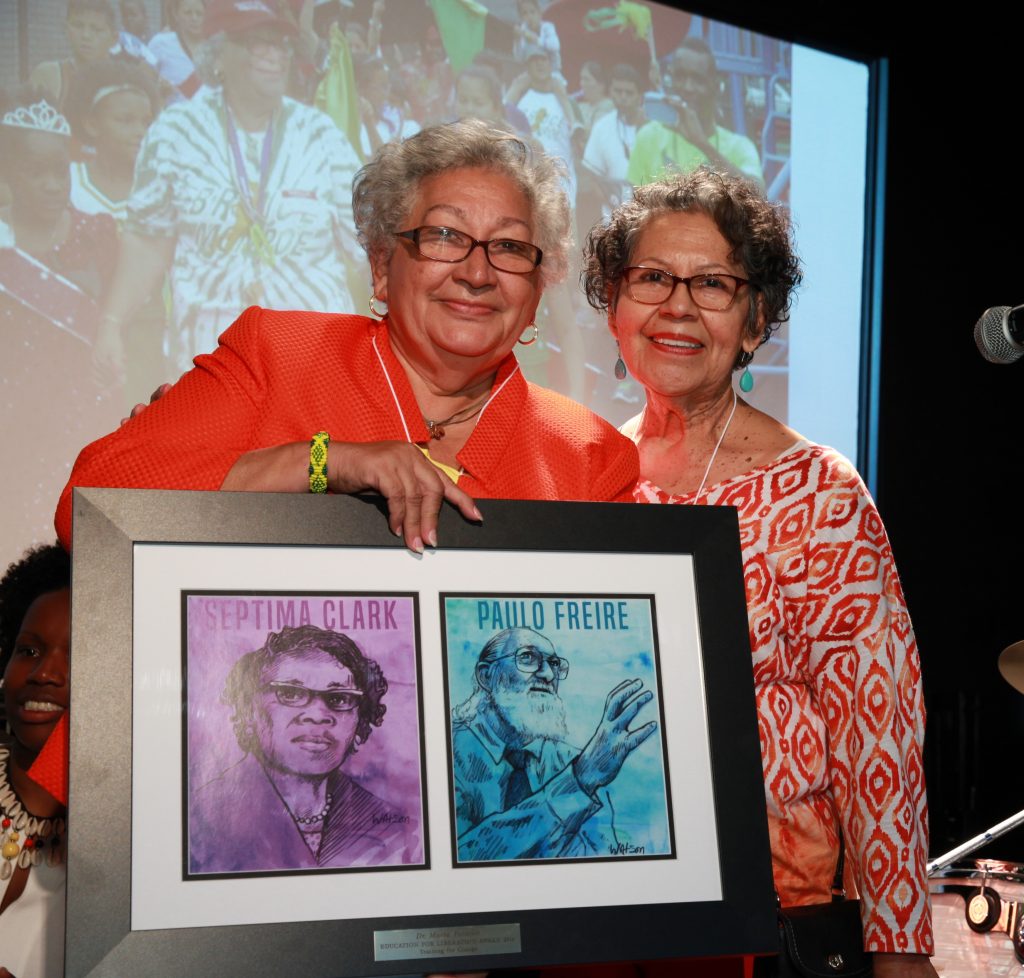 Moving Forward
Travel, education, and grandchildren are high on her post-retirement list. This past summer she visited Cuba and Colombia. In the fall she traveled to El Salvador where,
I stayed in my hometown Pasaquina (La Union) and in Suchitoto (Morazan), one of the places where people suffered a great deal during the war.  I was at the "Mozote" where almost the entire village was massacred. One thing is to read what had happened but is totally different to hear the people who survived and lost family members.
In my hometown, I'm helping with the "Jardin Infantil." I started with building a small playground for the kids.  I plan to purchase books and furniture for two classrooms. Currently, students just sit on their chairs and copy what the teachers write on the blackboard. I would love to see interactive centers and support the teachers with instruction.
Dr. Palacios is a volunteer member of the Latino American Advisory Group for the Montgomery County Executive. Her trip to El Salvador included accompanying a delegation from Montgomery County Sister Cities. They delivered computers to a school and hospital equipment to a hospital in Suchitoto, Morazan.
She is also enjoying her seven grandchildren. All of them live nearby and visit on the weekends at "Nita's House" for her home cooking.  She has a permanent post in the backyard for piñatas.
Finally, Palacios is reading a lot, mainly biographies and memoirs, getting ready to write her own.
We wish her all the best in retirement and know her sense of justice and compassion will continue to resonate for years to come.
Read more about Dr. Palacios
PBS' WETA Hometown Heroes" Features Dr. Marta Palacios (2008)
Journal of Dr. Palacios when she was invited to visit schools in Helsinki (2009)
NAESP Spotlight on Best Practices 6th Edition: Sharing the Dream (2010)