Melissa Harris-Perry on Sister Citizen
Melissa Harris-Perry delivered a riveting presentation on her latest book, Sister Citizen: Shame, Stereotypes, and Black Women in America, to a full house at Busboys and Poets (14th and V) on September 19, 2011. So many people came for her presentation that seats were added to the stage behind the speaker. The event was co-sponsored by Busboys and Poets, Teaching for Change, and the American Constitution Society for Law and Policy.
Harris-Perry began by citing Black History Month as the quintessential expression of fictive kinship because it claims to celebrate all African Americans by focusing on the achievements of a few token individuals. Black History Month is fictional by virtue of its claim to represent a heterogeneous group of people, and by confining the achievements of said group within a single month. While black achievement gets recognized as a source of pride in February, the media's vigilant attention to the "shortcomings" of African Americans – e.g. having highest rate of unemployment, highest rate of home foreclosures, highest rate of incarceration – keeps the members of the group in a psychological state of unease.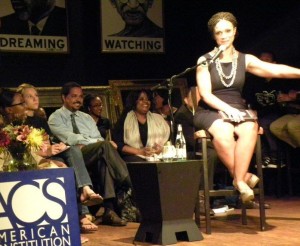 All of this may seem rather self-evident, but this was mere preamble to her stunning comparison of the political performances of Bill Clinton and Barack Obama. She argues (following Toni Morrison and others) that Clinton inserted himself into the fictive kinship of blackness because of his flawless racial performance. He seemed to understand and respect black suffering, so African Americans forgave an entire roster of regressive and punitive measures he signed into law.
Obama does not possess Clinton's effortless racial performance, but Harris-Perry cited more significant demonstrations of kinship that remain unacknowledged. For Harris-Perry, Obama's relationship with Michelle displays a kinship with blackness that surpasses merely knowing the words to the Black National Anthem. Obama has dedicated himself to a relationship that does not need to be validated by public opinion, does not elevate his professional stature, and does not downplay their equally impressive educational and professional accomplishments. However, Obama is not forgiven his professional shortcomings, and his efforts to redress the wrongs of the previous administrations (Clinton's included) are rarely celebrated. Harris-Perry encourages fictive kinship to be meaningfully used as a demand for real engagement with the most economically and politically salient gains for the community.

After a rich presentation, Harris-Perry fielded questions from a captivated and appreciative audience before signing over 100 books.
More photos from the event. Photos courtesy of the American Constitution Society for Law and Policy.
---
Story submitted by LaTissia Mitchell, Teaching for Change Bookstore Assistant Manager.