Central America Workshop in Mt. Rainier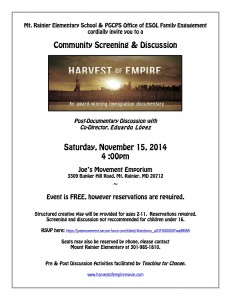 On Saturday, teachers, parents, and other community members in Mount Rainier, Maryland stepped into the shoes of key people in Central American history and literature.
This pre-viewing activity was for a community screening of the film Harvest of Empire, led by Teaching for Change curriculum specialist Julian Hipkins III at Joe's Movement Emporium. The film was selected to allow greater understanding about immigration issues and was followed by a discussion with co-director Eduardo López. 
The activity and the film are among the many resources for teaching about Central America posted online at the Teaching for Change website. The activity can be downloaded for free.
The event was sponsored by Mt. Rainier Elementary School and the PGCPS ESOL Office of Family Engagement. Teaching for Change collaborated as part of our Tellin' Stories partnership with Mt. Rainier Elementary School.
Posted: November 17, 2014