Teaching for Change at NCORE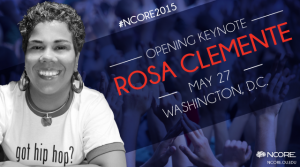 As part of our 25th anniversary series of events, Teaching for Change will co-host four sessions at the National Conference on Race & Ethnicity in American Higher Education (NCORE).
Held in D.C. this year, NCORE 2015 runs from May 26-30, 2015 at the Washington Hilton Hotel.
The sessions Teaching for Change is co-hosting
at the NCORE conference include:
Friday, May 29, 8:30 – 10am
Sports as a Lens for Examining Race, Gender, Class, and Power in U.S. History and Society Today with Dave Zirin.
Thursday, May 28, 3:30-5:30pm
Peoples History of the Voting Rights Struggle: First Hand from SNCC Veterans with Judy Richardson and Courtland Cox.
Saturday, May 30, 8:30-10
Understanding Central American History and Literature: The Hidden History of the U.S. in Central America and Immigration with Eduardo Lopez and Julian Hipkins III.
Friday, May 29, 3:30-5:30pm
Beyond the Monuments: Race and Class in D.C. with Clarence Lusane, Natalie Hopkinson, and David Nicholson. Moderated by Allyson Criner Brown.
Sonia Nieto, in D.C. for the conference, will do a presentation on May 27 co-hosted by Teaching for Change at Busboys and Poets (14&V).