NCORE Conference Affirms Race and Ethnicity in Education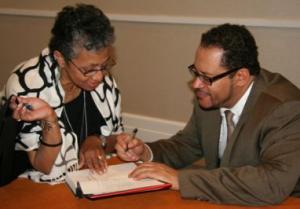 With the ban on ethnic studies courses in Arizona public schools and the rewriting of the US history in the Texas standards, it is a critical time to deepen our understanding of these attacks and develop an effective response. Therefore, we were pleased to play an active role in the National Conference on Race and Ethnicity in American Higher Education (NCORE) from June 1-5, 2010 at the National Harbor in Maryland. Teaching for Change hosted the book signings for most of the keynote speakers, offered a workshop on Putting the Movement Back into Civil Rights Teaching, and co-coordinated The People Speak performance. See photos of Teaching for Change at NCORE.
Photo above: Dr. Janice D.M. Mitchell, Professor, Gallaudet University having Debating Race signed by Dr. Michael Eric Dyson after his keynote speech at the 2010 NCORE conference on June 5, 2010. Thanks to Cristine Clifford Cullinan, Ph.D. for the photo.
To see and order many of the speakers' books, visit the NCORE pages on our Teaching for Change's Busboys and Poets Bookstore webstore.