NEH Institute on Grassroots History of Civil Rights Movement
This summer, Teaching for Change was proud to partner with a team of scholars, veterans, and educators from the Duke University Franklin Humanities Institute, the SNCC Legacy Project, and Tougaloo College on a National Endowment for the Humanities (NEH) Teacher Institute, The Civil Rights Movement: Grassroots Perspectives from 1940-1980.

Thirty classroom teachers were selected from across the country to study the bottom-up history of the Civil Rights Movement, addressing key narratives that challenge the textbook version of history. They learned from people who were active in the Civil Rights Movement and from leading scholars of the era including William Chafe, Charles Cobb Jr., Courtland Cox, Emilye Crosby, Hasan Kwame Jeffries, Charles Payne, Barbara Ransby, Judy Richardson, and more. The institute was held in the beautiful Franklin Humanities Institute at Duke University.


Some of the key narratives and themes that participants explored with a diverse group of scholars and Movement veterans were:
The Movement was based on the work of thousands of local "ordinary" people who both organized and sustained it.
The Movement thrust forward its leaders, not the other way around.
The Movement was not simply a series of spontaneous demonstrations—it was often carefully planned and executed.
Women and youth were a fundamental part of the leadership and the troops of the Movement.
The tradition of protest grew out of a long history of activism and resistance in the Black community.
The Freedom Struggle had many demands, including an end to state-sponsored and -condoned violence, voting rights, access to health care, education, housing, land rights, environmental justice, peace (anti-war), labor rights, recreation, and more. Quality education has always been a primary focus of the Freedom Movement for African Americans.
The tactics of the Movement included economic boycotts, protests, grassroots organizing, economic coops, building organizational alliances, self-defense, non-violence (both tactical and philosophical), freedom schools, popular education, and more.
State-sponsored and/or -condoned violence, including sexual violence against African Americans was frequent, random, and carried out with impunity.
Music played a major role in strengthening and unifying the Movement.
The Movement emphasized responsibility to one another.
In their evaluations, teachers commented on how the institute changed them personally and how it will change their teaching. Here are just a few of their reflections: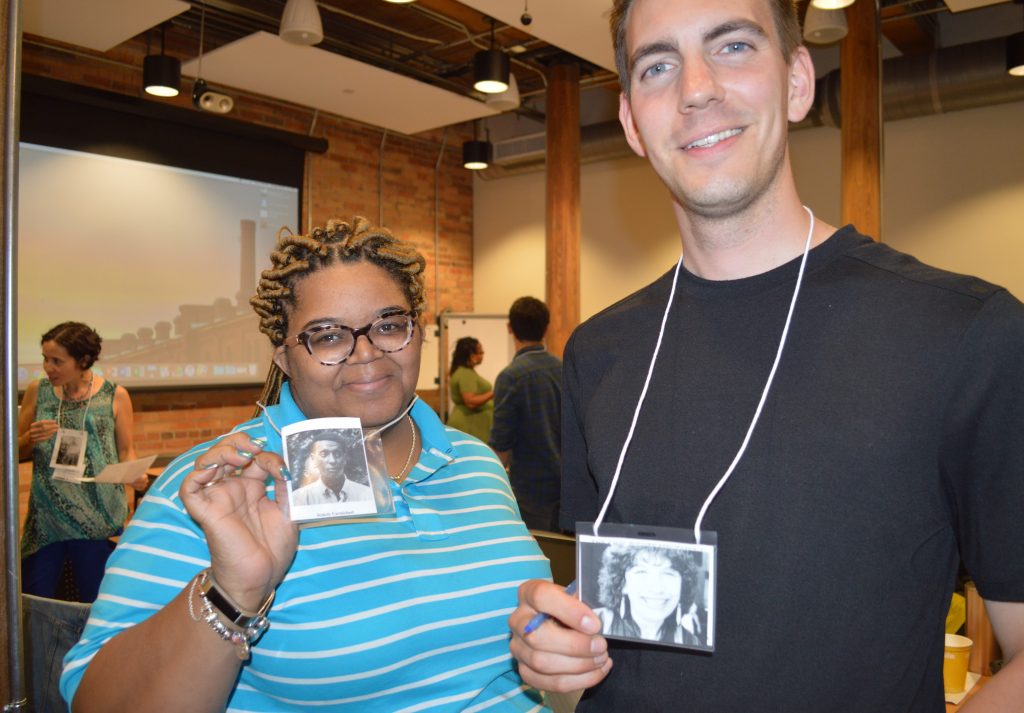 The institute grew me. I have stepped out of everything that I thought I knew and I have been expanded.  I feel more confident in teaching a narrative based on real people and their stories and not the mythical characterizations of history that focus on a protagonist and an antagonist.  I have changed because I now see my classroom as a platform for change.
This institute has completely transformed how I think about the Civil Rights Movement and ultimately how I am going to teach it in the classroom. I have received so many resources to use for teaching this hard history. I am a part of the movement that will change the way history is being taught and preserved. We are making history. I am making history. Words cannot express how happy and powerful this program has made me feel. My life has changed.
I learned lessons about education, community-based engagement, and processes of social transformation that placed women front and center, and my mind soared throughout those talks —at times I felt lifted out of myself.
I will lead with humanity and resistance instead of using history as content to be learned.
Deeply moved by the way the institute centered the lives of African American women and youth. I am inspired to contribute to production of Black liberation struggle for the next generation.
I am empowered to initiate difficult conversations with my white colleagues how our different perspectives of history are impacting our Black and brown students
I will focus on the work of ordinary people so my students can see themselves as agents for change.
A deep reverence for the small unknown victories made me less cynical.
Read more below about the key points touched on by each presenter at the institute or read a day-by-day account.
Professor Adriane Lentz-Smith (author of Freedom Struggles: African Americans and World War I) gave a powerful presentation on how the history of African Americans in WWI has a direct connection to the modern Civil Rights Movement. One teacher reflected, "the history of Black Freedom Struggle did not occur as a collection of "episodes" but rather as "flows" wherein a particular point in time is vitally connected to a prior era."
Barbara Ransby was interviewed by Mark Anthony Neal about Ella Baker's life growing up in Littleton, North Carolina, her work in Harlem in the 1930s, the Highlander Center, and the network she built of activists in the South who helped support SNCC in the 1960s. Ransby talked about Baker's classic quote, "Strong people don't need a strong leader" and noted that Baker was "committed more to a movement than an organization."
Danielle McGuire helped historicize the #MeToo movement and Black women's roles as leaders in the fight against racial and sexual violence in her discussion of the ways in which the modern Civil Rights Movement is rooted in the defense and protection of Black women's bodies. She talked about sexual violence throughout U.S. history with a focus on the civil rights era, including Rosa Parks' role as an anti-rape activist in the decade before the Montgomery Bus Boycott and her advocacy for Recy Taylor, survivor of a brutal rape in 1944.
Professor Mary D. Williams gave a dynamic performance and lesson on the history of Freedom Songs. One teacher reflected, "I started using some music this year in class but haven't had youth SING in class, and this experience makes me think about the power of song as a source of inspiration, hope, motivation, and education."
Wesley Hogan (author of Many Minds, One Heart: SNCC's Dream for a New America) and Danita Mason-Hogans (Center for Documentary Studies) introduced a role play on non-violence and sit-ins. One teacher reflected "nonviolence was one tactic–among a series of tactics–within a broader movement for justice and equity. This is a powerful reimagining for me."
Three veterans of the Chapel Hill sit-in, David Mason Jr., Reverend Albert Williams, and Clyde D. Perry, led a discussion. One teacher reflected,"I learned that nine teenage boys decided to sit-in after talking after church. This wasn't a movement led by adults. The NAACP was there to support them with legal aid, but the planning and strategy was all from the youth."
John Gartrell, director of the John Hope Franklin Research Center at Rubenstein Library, gave an overview of his own journey to becoming an archivist, the collection, and some of the politics of archiving. He invited participants to explore a collection of primary documents.
Robert Korstad, institute co-director and author of Civil Rights Unionism: Tobacco Workers and the Struggle for Democracy in the Mid-Twentieth-Century South, described the role of local people, unions, and churches in the 1943 uprising of tobacco workers in Winston-Salem, North Carolina.
Participants traveled to Greensboro for a dialogue with Nelson and Joyce Johnson, Beloved Community Center and to tour the International Civil Rights Museum.
Putting the Movement Back into Civil Rights Teaching editor Jenice View came to help teachers develop their lessons.
Documentary filmmaker Catherine Murphy showed a segment from her documentary in progress on Freedom Schools, featuring interviews with Hollis Watkins, Charlie Cobb, Dorie Ladner, and others.
SNCC veteran and journalist Charles Cobb Jr. spent a full day with the institute. He gave three talks about Black Education and Freedom Schools, Organizing in Mississippi, and Self-Defense in the Local Movement with time between each presentation to consult with participants about their lessons. One teacher reflected, "One of the most important lessons was about what it takes to organize in a community – you gotta talk to people and LISTEN to people in order to build two-way trust and respect. I want to use this energy to drive my work with families and have been thinking the past few months of how to get more involved with the neighborhood and do home visits."
Historian Charles Payne came to the institute for two days. He spoke about the building of the grassroots Mississippi movement, including the Mississippi Freedom Democratic Party (MFDP), with a focus on how older local activists like Fannie Lou Hamer, Amzie Moore, C.C. Bryant, and Herbert Lee became pillars of the struggle for voter registration in Mississippi and Southwest Georgia. He also spoke about how SNCC broke open the caste system in the American South between 1960 and 1965. Many teachers remarked that his presentations helped them rethink the role of self-defense in the context of the voting rights struggle as well as the framing of Brown v. Board of Education. "Today was a big day. I continued to position myself and my identity as a white teacher of Black students; I considered issues of race and gender that I had not before; I will teach Brown v. Board differently after today and need to rethink how I frame it." "Brown v. Board is the most over-rated Supreme Court decision. Brown "did very little." Students should study Smith v. Allwright (1944), the case that legally eliminated the white primary."
Historian Hasan Jeffries (Bloody Lowndes) presented on the topic of teaching the "hard history" of all U.S. history, beginning with slavery and including Lowndes County.
William Chafe (Civilities and Civil Rights: Greensboro, North Carolina and the Black Struggle for Freedom), described how the Greensboro movement evolved, with student demonstrators following the lessons they had learned from their high school teachers, their pastors, and their parents to stand up for their rights. He also talked about the development of the oral history program at Duke University and some approaches to collecting oral histories.
Representing Tougaloo College, historian Daphne Chamberlain gave a presentation called "Placing Mississippi in the National Narrative: The 1960s Black Freedom Struggle and Youth Activism in the 'Closed Society'." She noted that many of the people she described were so young in the Movement that they continue to be active today.
Jackson State University senior and institute intern Vershunda Coleman showed the film she and other students made when she was in high school for National History Day about the Burglund Walkout. She explained that before becoming involved in the McComb Legacies Project, she and her classmates had no idea that their hometown played such a pivotal role in state and national Civil Rights Movement history.
Barbara Lau did a presentation on Pauli Murray and then led a field trip to the Pauli Murray home.
Emilye Crosby provided a presentation called "Looking the Devil in the Eye: Race Relations in Civil Rights Movement History and Memory (A Case Study of Claiborne County, Mississippi)." She read from oral histories of whites and Blacks in Claiborne County which showed that "while they share a past, they do not share an understanding of the past."
Judy Richardson and Emilye Crosby presented about women and gender roles in SNCC and showed the Eyes on the Prize excerpt on Attica for discussion with institute participants. For a number of people, this was the first time they had heard of the Attica Uprising.
SNCC veterans Courtland Cox and Jennifer Lawson of SNCC shared the story of the Lowndes County Freedom Organization, a powerful example of how the Civil Rights Movement continued after the Voting Rights Act. When they arrived at ages 19 and 20 in Lowndes County, 5,000 Black people were eligible to vote, but there were only four registered voters. Their goal became "to get over 5,000 people to register, vote, and become the power of the county within months."
Courtland Cox and Jennifer Lawson offered a presentation on SNCC and Internationalism. They began with the people they learned from, including Frantz Fanon, Shirley and W.E.B. Du Bois, Paul and Eslanda Robeson, and C.L.R. James. Lawson and Cox described the role of the Southern Freedom Movement in taking an early stand against the Vietnam War and the impact of the murder of Sammy Younge Jr. Making the international connections in person, they described travels by SNCC activists to East Africa, Cuba, Palestine, and Vietnam.
Throughout the three week course, Judy Richardson introduced and led discussions of the films including Fundi: The Story of Ella Baker, Freedom Song, and A Nation of Law. She also showed clips from her documentary series Eyes on the Prize including the long history of local Black activism that led up to the Montgomery Bus Boycott, the murder of Medgar Evers, the Attica uprising, and the murders of Fred Hampton and Mark Clark. One partipant remarked, "Judy is just a treasure. I'm so grateful for her presence and energy. I really enjoyed hearing about the background of her Eyes on the Prize work."
Deborah Menkart coordinated the curriculum throughout the institute, and led several classroom lessons including "I Write that I," a lesson on Freedom Schools, and "Big Shoes to Fill."