Equipping New Teachers with Social Justice Literature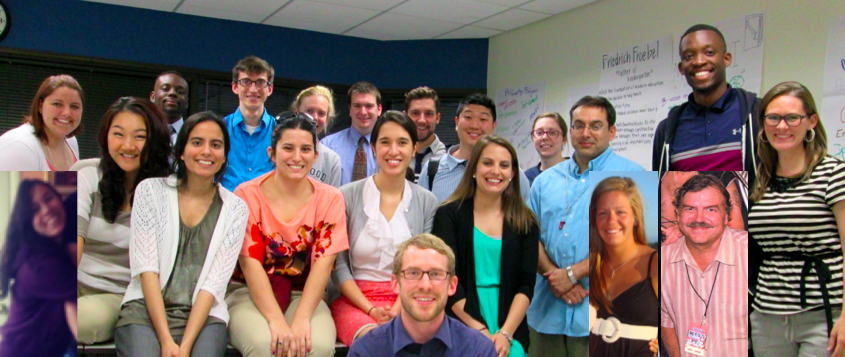 Our colleague Alice Cook invited Teaching for Change staff to serve as judges every year for her innovative social justice student math fair when she taught at a D.C. high school.
We were pleased to get a call to help again in Cook's new role teaching pre-service teachers in a master's certification program (MCERT) at the University of Maryland, College Park. Cook asked us to introduce the students to culturally responsive and social justice teacher resources, including literature and curriculum for their classes, materials on best practices in education, and books about the interaction between teacher identity and student diversity.
Two Teaching for Change staff members did interactive presentations with the class: Julian Hipkins III engaged the class in a mini-workshop on hidden curriculum, and Deborah Menkart presented on bias in children's literature and shared culturally responsive teaching materials.
To encourage the new teachers to visit the Teaching for Change Bookstore at Busboys and Poets (14th and V in D.C.), and to support their continued reading about equity and social justice in education, Cook gave each of her students a $10.00 gift certificate to the bookstore as a graduation present.
Cook said, "I believe that all educators should constantly be reflecting on their own beliefs and identity, and seeking to learn about inequalities and inequity in our world and education system in order to be actively pursuing a social justice agenda of creating opportunities to learn for all children. Teaching for Change's bookstore is a unique organization with a wealth of important teacher resources that I wanted to encourage my newly graduated teachers to engage with."
Thank you Alice Cook for promoting social justice education everywhere you work and introducing new teachers to our Teaching for Change Bookstore.
Posted: September 26, 2014