Parent Engagement
Tellin' Stories Approach
Our work is based on the concepts of racial equity, popular education, community organizing, and research on family engagement. Rather than entering schools with a fixed agenda, Tellin' Stories starts by making connections through sharing stories, allowing concerns to emerge and looking for ways to address them. In many cases, we work in schools where parents hold negative stereotypes of each other based on race, language, and country of origin. By making space for every voice to be heard, all participants find common ground in their desire to create a better education for their kids.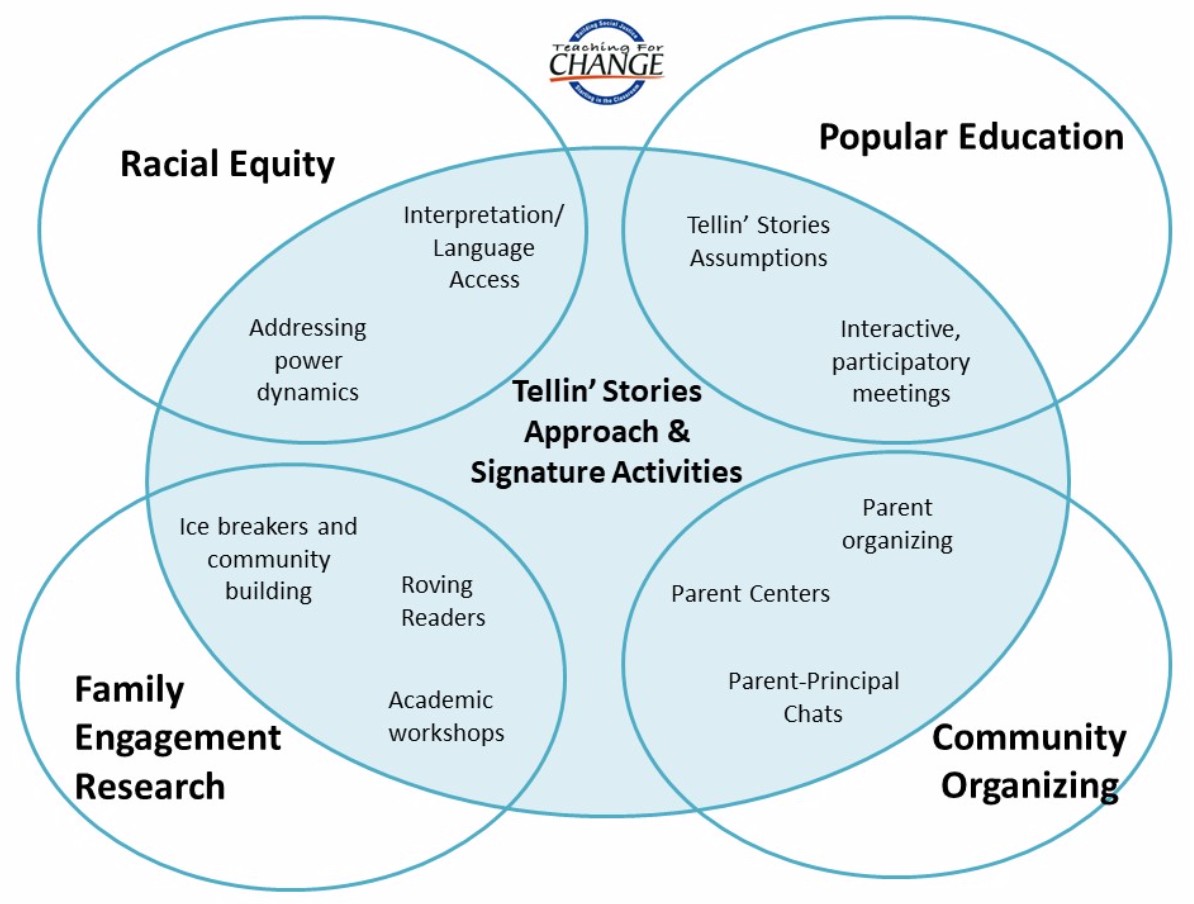 ---
Tellin' Stories Signature Activities
Over the years we have worked with parents, teachers, and administrators in schools to develop a set of signature activities that also define Tellin' Stories:
Welcome Back Breakfast. A breakfast meeting at the beginning of the school year designed to welcome and build community among parents, introduce parents to key staff members, survey parent interests, inform parents about opportunities to participate at the school, and invite them to upcoming events.
Parent-Principal Chats (aka Parent-Principal Coffees). Parents, caregivers, and school leaders meet monthly as thought partners to learn from each other and exchange ideas about student learning and school improvement. The chats are a two-way dialogue whereby families and the principal listen, learn, solve problems, and share information with each other. Learn more.
Roving Readers. Parents volunteer in classrooms as read-aloud guests to share stories that reflect their culture or heritage, or that promote social justice and fairness. By focusing on families who are traditionally left out of classroom participation, Roving Readers helps overcome deficit stereotypes of families based on race, national origin, home language, and socio-economic status.

Community Walk.

Together with teachers and school staff, families participate in neighborhood walks to see where the families live, learn about local businesses, organizations, and institutions, and discuss assets and challenges in the neighborhood.
Welcoming Climate Walkthrough. Parents take a tour of the school to provide recommendations for ways to make the building feel more welcoming to all families.
Grade Level Dialogues. Each grade holds a collective meeting for all the teachers, parents, and caregivers in the grade to explore what the children are currently learning, discuss academic performance, and share ideas for how to promote further learning at home and in the classroom.
Academic Classroom Visits. Parents are invited and encouraged to visit their children's classrooms to observe the academic lessons being taught, ask questions, and provide feedback.
Story Quilting Series. Parents come together to make quilt blocks that illustrate part of their own history or culture. Completed quilts are typically sewn together and hung in the schools.
Academic- and Community-Based Parent Workshops. Driven by parent needs, these workshops provide information on academic or community topics of interest to parents such as learning strategies, positive communication, and discipline, how to prepare for parent-teacher conferences, computer skills, continuing education opportunities, immigration and citizenship, resume-building, and more.
We believe that schools can put into practice the changes we want to see in society. The Tellin' Stories approach works to overcome the boundaries between parents, teachers, schools, and communities, that can get in the way of creating change.
---
How Tellin' Stories Works in Schools
The Tellin' Stories Project of Teaching for Change programmatic offerings include: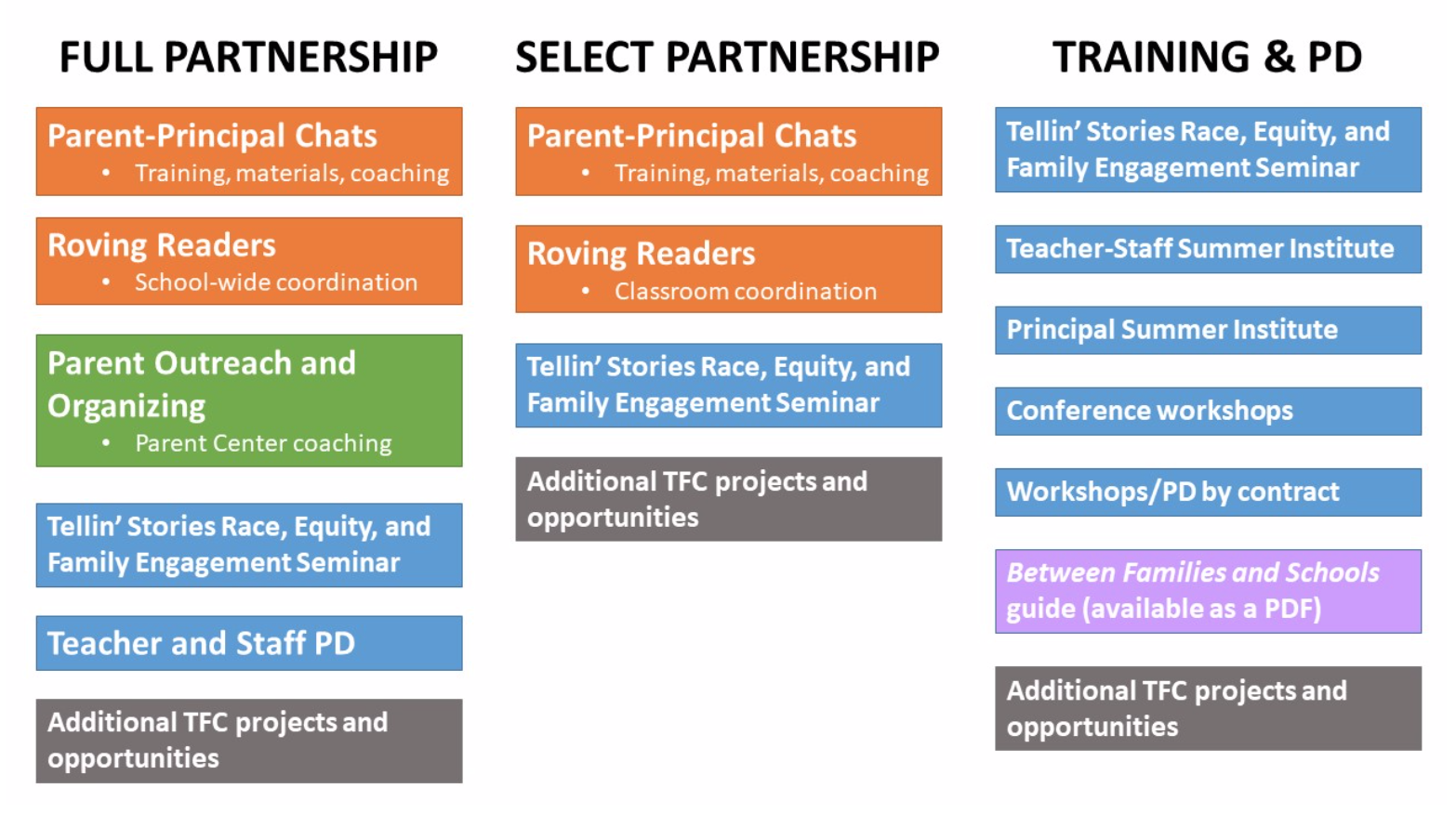 ---
Tellin' Stories Assumptions
TRADITIONAL ASSUMPTIONS
TELLIN' STORIES ASSUMPTIONS

---

Schools determine how parents are involved. Parents' roles are limited to fundraising, chaperoning, and attending PTA meetings.
Families and school staff together decide meaningful ways for parents to be involved in multiple roles: as teachers, supporters, advocates, decision makers, ambassadors and monitors.
Parents need to have specific skills to be resources. Many lack the capacity or willingness to be involved. (deficit-model)
All parents are resources to their children's schools. Schools must recognize and cultivate the knowledge and strength of each family.
Starting point: Hold a PTA meeting and have parents sign up for committees.
Starting point: building trust through sharing our stories.
Diversity is a challenge. School culture must be imposed on the educational community.
Diversity is a strength. School culture and leadership must reflect the diversity of the school community, and racism must be addressed.
School knows best, is solely responsible for
decision-making, and passes knowledge on to families.
Everyone has knowledge and has children's best interest at heart. Collaborative decision-making is key.
A system-chosen standardized test determines accountability.
Families, schools, and communities hold each other accountable.
Parents who are not visible at the school are not contributing to their children's education.
Parents who help their children at home to be ready for school each day are contributing to their education.
Underlying message: parent engagement is not important for school success.
Parent engagement/family-school collaboration is required for school improvement
For our recommended booklist on family engagement visit: socialjusticebooks.org/booklists/education