Parent Leader Represents Maryland at Education Conference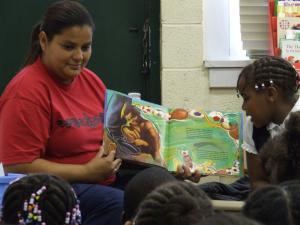 Washington, DC, March 9, 2011 – Parenting magazine recently announced that Apolonia Arevalo of Prince George's County has been selected to represent Maryland at the second-annual Mom Congress on Education and Learning® at Georgetown University in Washington, D.C. April 10-13. Arevalo was chosen for her outstanding contributions and dedication to improving local schools. A total of fifty-one mothers, representing each state and the District of Columbia, have been selected by Parenting as Mom Congress delegates.
For the second year in a row, Parenting selected each delegate from applications submitted through Parenting.com. Each will receive round-trip airfare, a three-night hotel stay, and the opportunity to connect with other moms from across the country to share success stories, challenges, and concerns as they work to improve our nation's schools.
Arevalo is a parent leader at Columbia Park Elementary School where she is active in Tellin' Stories, a parent empowerment project of Teaching for Change in partnership with the Maryland Parent Information Resource Center (PIRC). Fluent in English and Spanish, she often interprets for Latino parents and assists them in navigating the school system. Arevalo helps coordinate parent activities at Columbia Park including the Roving Readers program, in which parents share books and reading activities in classrooms, and she participates by reading books in English and Spanish. Arevalo is also co-chair of the school's Parent Teacher Organization.
"I think Apolonia is a natural leader and she is an asset to the school community at Columbia Park," says America Calderon, a Teaching for Change staff member with the Tellin' Stories Project. "Because of her leadership we have seen more Latino parents engaged at the school."