Parent Organizing
Who We Are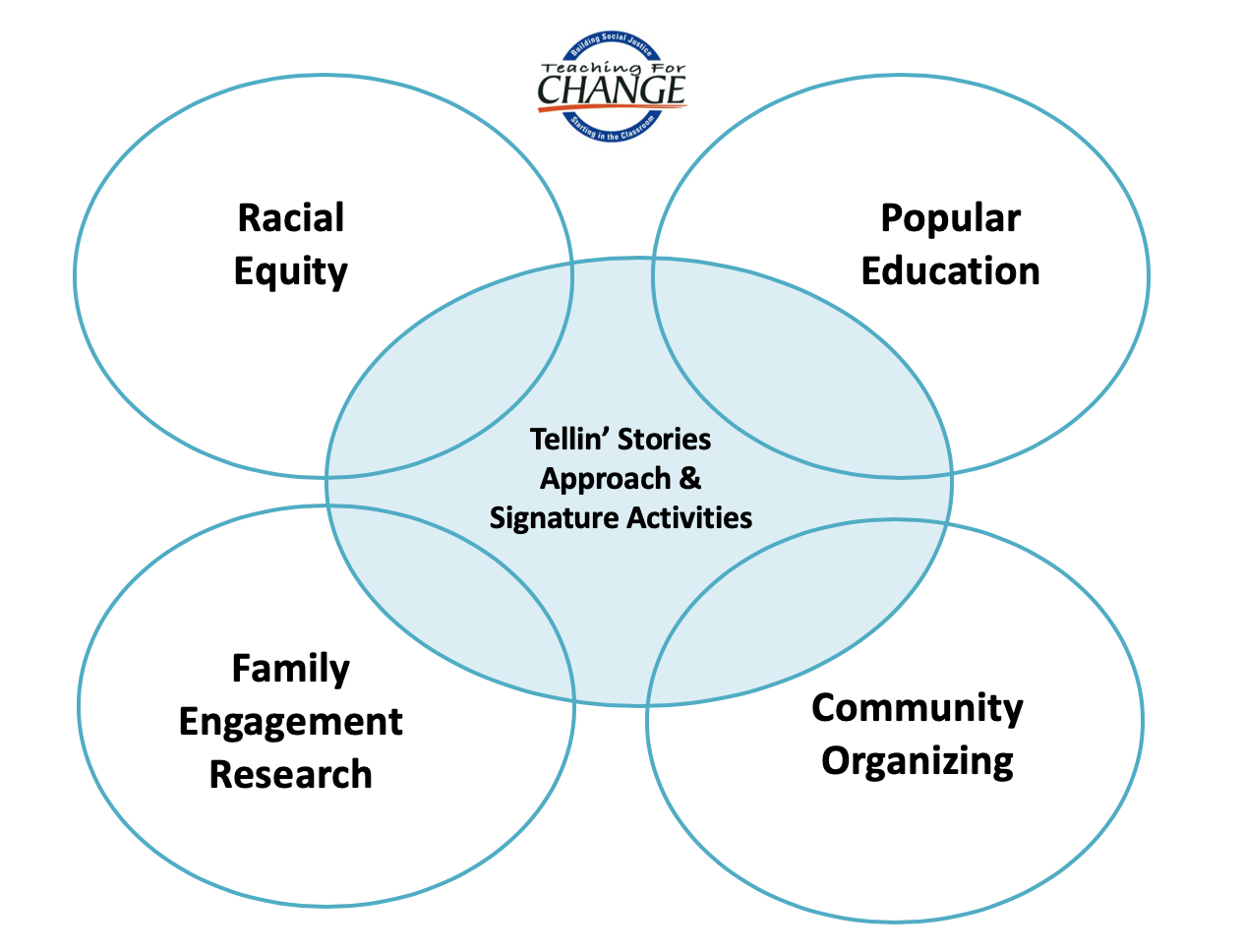 The nationally recognized Tellin' Stories' approach emphasizes community building to create the necessary foundation for parent advocacy and organizing for school reform. The overarching goal of our work is a purposeful family-school partnership in every public school, working for high-quality education for every child. Teaching for Change has worked with thousands of families, teachers, administrators, support staff, and community members to implement the Tellin' Stories approach in public schools in Washington, D.C., Maryland, and several other states.
What makes Teaching for Change's approach innovative is the combination of racial equity, popular education, family engagement research, and community organizing that informs our signature activities, professional development, and our day-to-day work in schools.
Teaching for Change's approach to family engagement:
Strengthens the dual capacity of families and educators to partner for children's well-being and success
Promotes family engagement that leads to student well-being and success
Elevates the voices and leadership of parents of color and low-income families
Guides schools in creating a welcoming school environment
Supports parents and teachers to build strong relationships and work together
Organizes parents of color and low-income families to build and exercise power
We implement our Tellin' Stories approach in several ways:
Comprehensive Work in D.C.-area Public Schools

transforms family-school relationships by strengthening the dual capacity of families and educators to partner for children's well-being and success. With a focus on community building as the foundation for meaningful family engagement, our signature activities provide families, teachers, and school administrators with unique forums to bridge differences and achieve shared goals. By building relationships and capacity between parents and educators, the Tellin' Stories approach increases families' access to schools and broadens their school-based roles as supporters, educators, advocates, decision-makers, and ambassadors.
Tellin' Stories Race, Equity, and Family Engagement Seminar for Teachers and Staff, a professional development course for pre-K and elementary school educators to examine how race and class affect family engagement, and what equitable strategies can look like. The seminar brings teachers, counselors, and support staff from local public schools together to learn about these issues and develop strategies to meaningfully engage with families through an equity-based lens. Teachers and staff who successfully complete the series receive professional learning units (PLUs) from DC Public Schools. The seminar helps build capacity for equitable family engagement in our partner schools by training teachers and staff in our approach.
Tellin' Stories Race, Equity, and Family Engagement Principal Institute, our national summer institutes offered to school leaders, will teach principals, assistant principals, and senior school-based administrators to apply an asset-based lens to family engagement that is grounded in popular education, community organizing, racial equity, and family engagement research. The principal institutes are also the exclusive opportunity for school leaders to receive training in Teaching for Change's approach to monthly Parent-Principal Chats, and to receive a copy of the Parent-Principal Chats Manual (Teaching for Change, 2019).

Training and Professional Development

on the Tellin' Stories approach and methodology for family engagement coordinators, administrators, teachers, and support staff. For example, we have led training for DC Public Schools, Arlington Public Schools (VA), Alexandria Public Schools (VA), Radford County Schools (VA), Phoenix Elementary School District (AZ), Connecticut State Department of Education, St. Louis Public Schools (MO), Newport News and Hampton Public Schools (VA), National Education Association (NEA), National Association for Family, School, and Community Engagement (NAFSCE), and each year at the National Family Engagement Conference. In November 2016, Teaching for Change released the second edition of Between Families and Schools to support educators and administrators looking to better partner with their families.
Read more about how our nationally-recognized approach works in schools.
---
See Tellin' Stories in Action
An elementary school principal in Mt. Rainier (PGCPS) describes how they built collaborative relationships between teachers and parents on the behalf of students, using Teaching for Change's Tellin' Stories.
---
Roving Readers is a signature activity of the Tellin' Stories approach to family engagement that brings multicultural and anti-bias children's literature into the classroom through parent-led read alouds.
---
Parents fight for and win afterschool care.
---
This film is an overview of the Tellin' Stories program. It's co-production of The National Education Association, Teaching for Change and The Maryland State Parental Information and Resource Center.
---
View all Tellin' Stories news >> 
View all Tellin' Stories highlights >>