Parent Perspective: A Principal's Support for Immigrant Families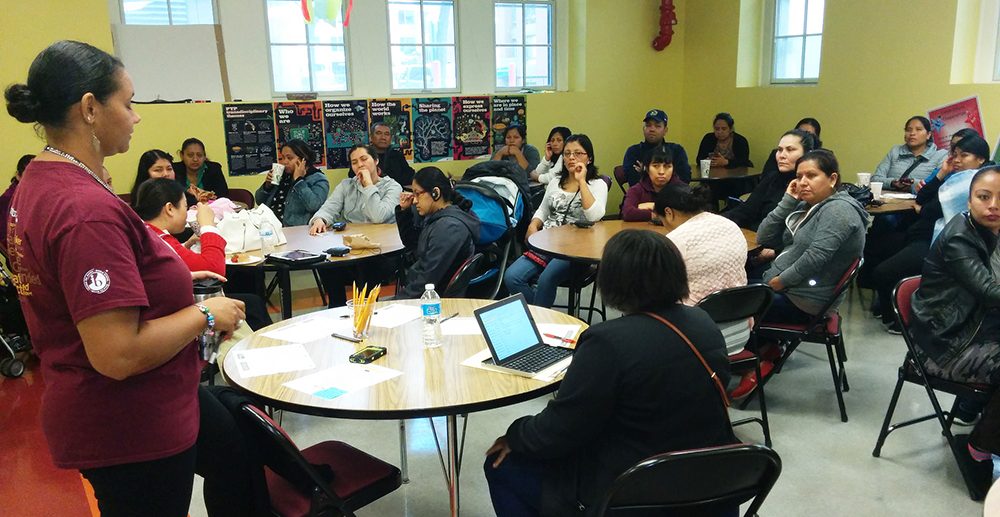 Flor Santos* is a regular at the monthly Parent-Principal Chit Chat at her son's school, Thomson Elementary (DCPS), but this time was especially important. When she stopped by the parent center the previous week, she heard that Principal Carmen Shepherd was going to address parent concerns related to rising anti-immigrant sentiments, ICE raids, and what families should expect from the school (especially during school hours).
The Chit Chat, a Tellin' Stories signature activity, was held on a blustery, sleet-filled morning in March. Ms. Santos followed the discussion via simultaneous Spanish interpretation over a headset. (Teaching for Change provides an interpreter and equipment during the monthly chit chats.) When Principal Shepherd introduced the topic, a hush spread over the room.
"We are making sure we're paying attention to our students' needs and making sure they feel safe," Principal Shepherd said addressing the room of 30 parents. "We want you to know that your kids are safe here. We are not letting anybody in to come and take any kids away."
While the announcement was focused on immigrant families, Principal Shepherd raised the issue to the whole school community. Ms. Santos was pleased that the message had been delivered. After the meeting, she reflected on how the Thomson community had responded to parent fears and questions
"In my son's class, his teacher told the kids not to be afraid, that there are a lot of people around who will take care of you and care about you, and that the president is only one person and cannot hurt you. My son came home and said that to me," Ms. Santos shared in Spanish. "What Principal Shepherd said was very important to me. Lots of parents in other places are afraid to even come to school. I'm happy to hear that this is a safe place."
Through a partnership with the school, Teaching for Change helped coordinate immigration and know-your-rights workshops in the Thomson parent center. Read more about the call for sanctuary schools and how D.C. schools are stepping up for immigrant families.
*Name has been changed.