Making Parents and Grandparents Feel Welcomed at a New School
Grandparents Jaime and Lorenza Vargas* sat among the 85 parents and guardians who flooded into the cafeteria of Brightwood Education Campus (DCPS) for the first Parent-Principal Chit Chat of the year on September 26, 2014. The Vargas family has two grandchildren in grades 5 and 7 who had arrived in the United States from the Mexican border just weeks prior and do not speak English.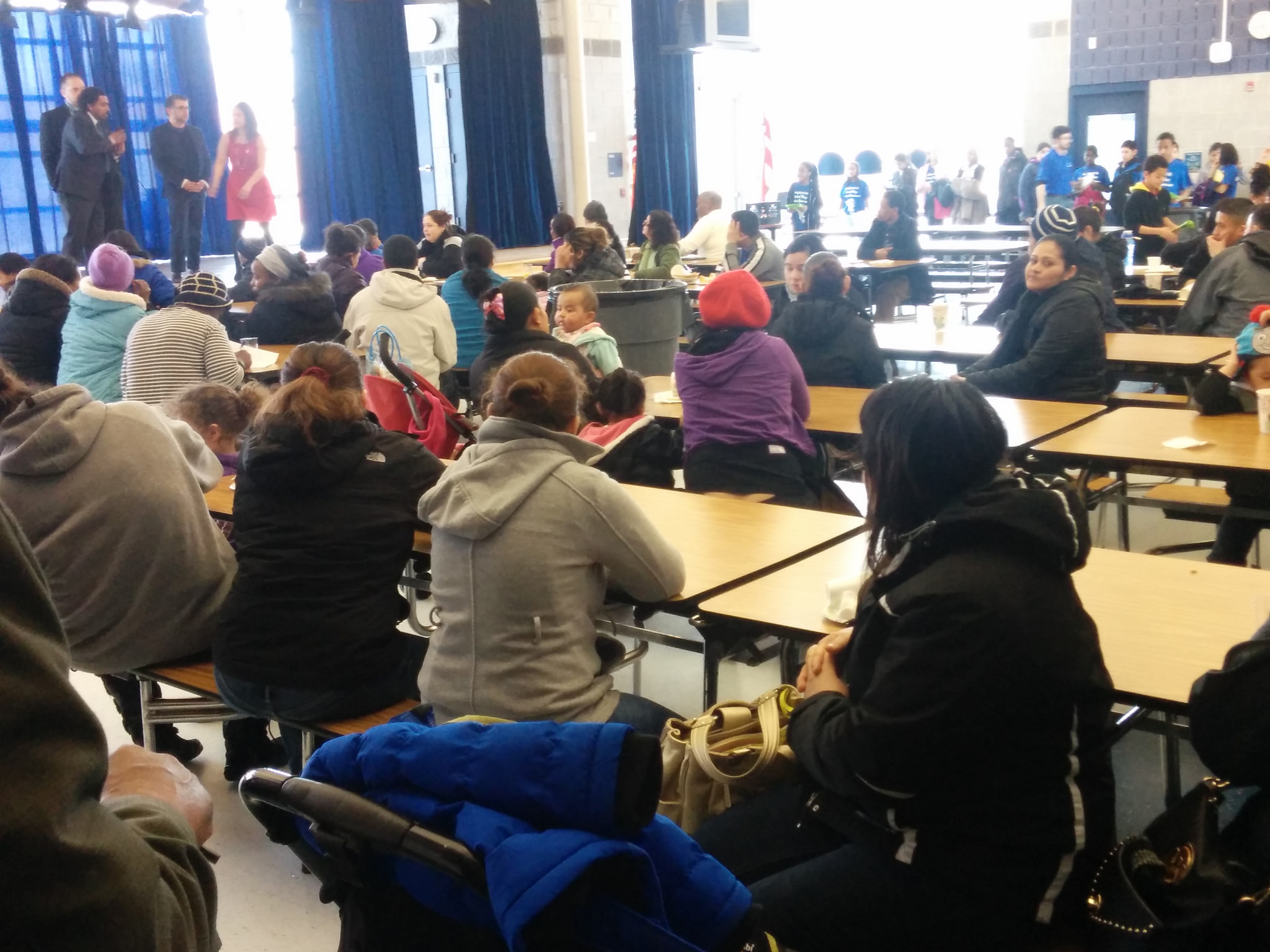 Personal phone calls and invitations from school's bilingual parent coordinator and the counseling team helped build the huge turnout for the meeting. Caregivers like the Vargases came to meet and hear fro m the principal, Maurice Kennard, a veteran of DC Public Schools who is in his second year at Brightwood. Principal Kennard was one of the few English-speakers in a room filled with families who speak primarily Spanish and Amharic at home. Teaching for Change helped facilitate the meeting, which was interpreted into the families' home languages.
The Chit Chat was not like any school meeting Mr. and Mrs. Vargas had ever attended. It began with an interactive, multilingual ice breaker that got parents out of their seats and laughing in partners. Next, the staff was introduced and Principal Kennard shared his personal and professional background, noting that he is also a father.
Mr. Vargas relaxed more in his seat and his face hinted at a smile as he listened to the principal.
"My door is always open" Principal Kennard emphasized. "Please come to me or my staff for any reason this year. We are here to support your children and need your help to make this a great year."
Principal Kennard then asked the parents to write down and submit questions, concerns, or ideas for him to address. Not used to being engaged in this way, the Vargas family – and others – hesitated to write anything down although paper and pens were available on the table.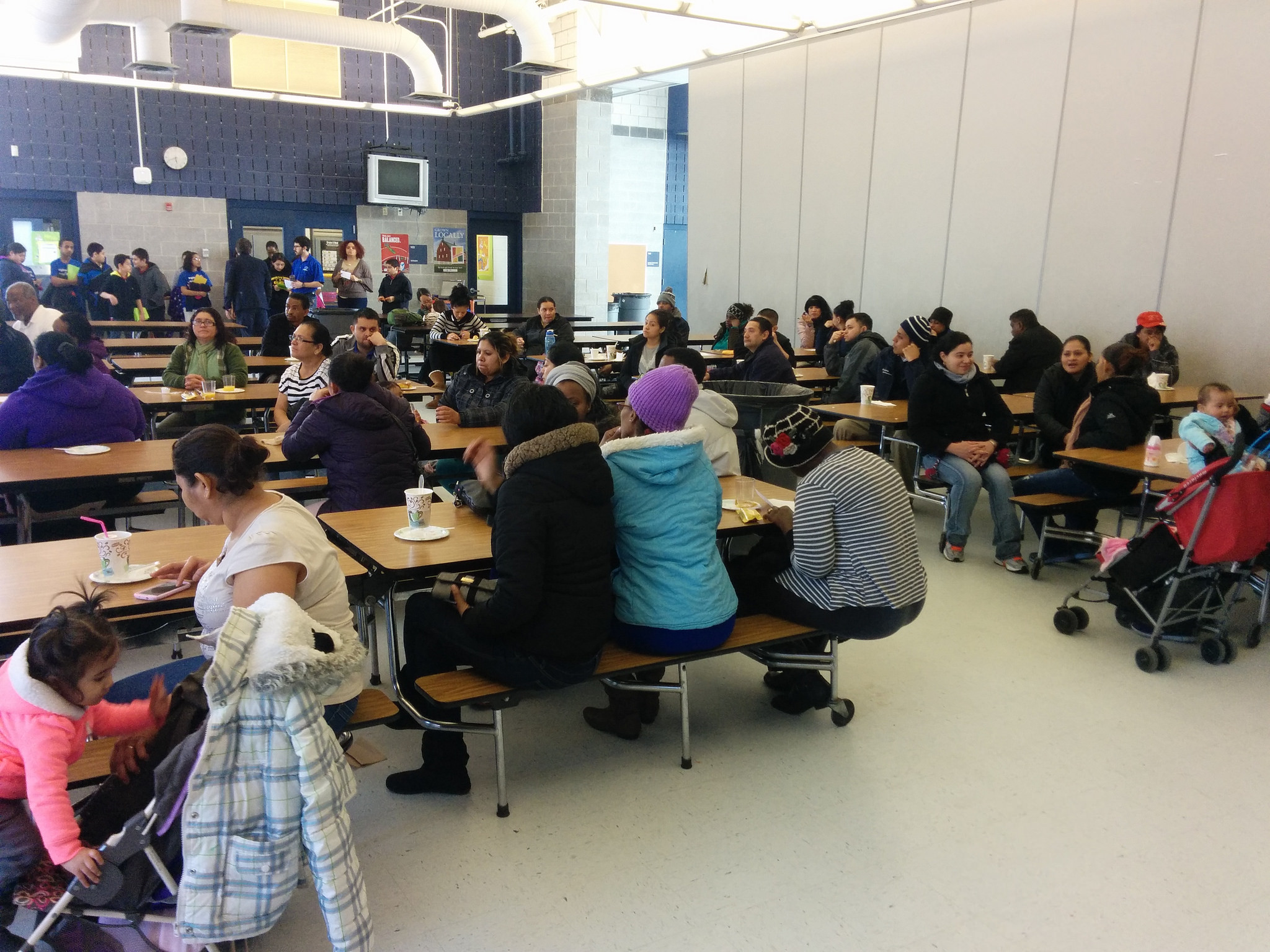 Brightwood's staff along with Teaching for Change staff members circulated throughout the room and encouraged parents to speak in small groups and write down their questions. After a few minutes, the first questions were presented to the principal.
"How can we get more security for the mobile classrooms?"
"What programs will be available after school?"
As Principal Kennard began to address the questions, more parents began to write questions on slips of paper in English, Spanish, and Amharic.
Mrs. Vargas finally wrote down her question. She and her husband wanted to know what services were in place for older children who were new to the U.S. and did not yet speak English.
Principal Kennard answered several questions and encouraged parents to stay and speak with him or the counselors before they left. All of the question and comment cards were collected for the administration to review, and the Brightwood staff remained for another 30 minutes to speak with parents individually.
Before they left, the Vargas family spoke with one of the counselors about where they could go for help. The counselor gave them a few ideas and they set a meeting for another date to discuss the children.
Brightwood is one of eight Tellin' Stories partner schools participating in the Tellin' Stories Family Partners Series thanks to funding from the W.K. Kellogg Foundation, Gwendolyn and Morris Cafritz Foundation, Open Society Foundations, the DC Children and Youth Investment Trust Corporation, the Mayor's Office on Latino Affairs, and an anonymous foundation. 
Monthly Parent-Principal Chit Chats are one of several effective family engagement strategies Teaching for Change introduced to Brightwood and the other partner schools to encourage communication and partnership between parents and school leadership. The Chit Chats are structured to facilitate meaningful engagement between school leadership and parents, many of whom come with limited educational experiences and speak languages other than English.
*Names have been changed.
Photos: Brightwood parents crowd the school cafeteria for Parent-Principal Chit Chats.