Parents Visit Classrooms Throughout the School
The parents at Tellin' Stories third-year partner school Thomson Elementary (DCPS) sat with anticipation for their meeting with the principal. On Friday, May 8, 2015, they gathered in the school cafeteria with Principal Carmen Shepherd and interpreters for a special Parent-Principal Chit Chat.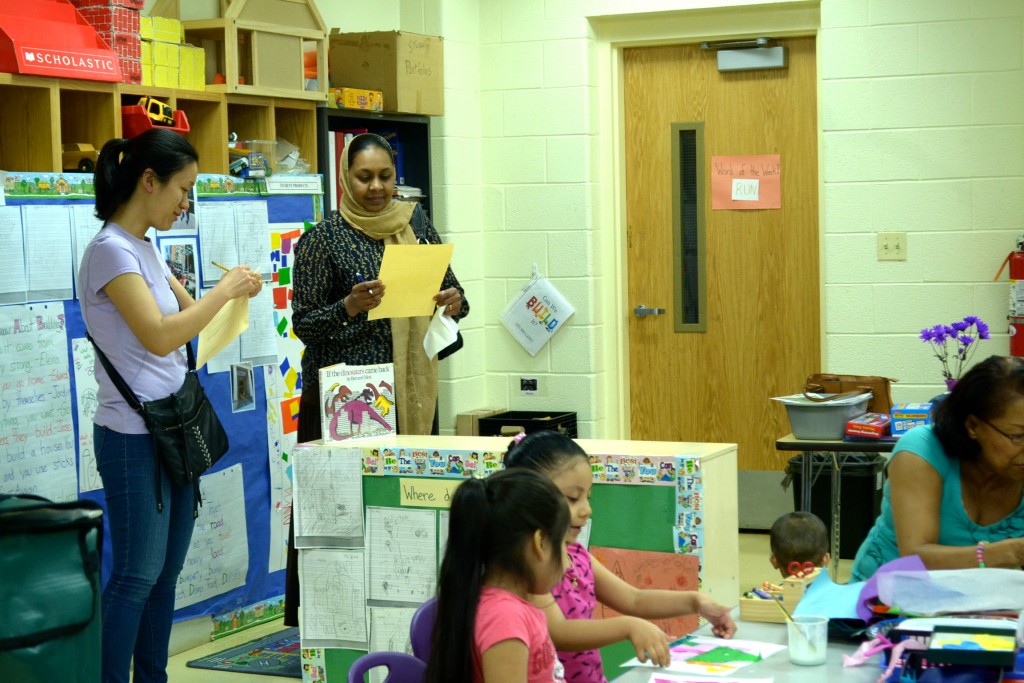 "We're going to do class visits today, because that's something you requested—to see more of what classrooms in action look like," said Principal Shepherd to the 20 parents in attendance. It was Thomson's second-ever day for Academic Classroom Visits, a signature activity in the Tellin' Stories approach to family engagement. Some of the parents present at this meeting attended the first classroom visits in January.
Academic Classroom Visits allow parents to experience and understand what is happening in their children's classrooms. Classroom visits serve to strengthen the bond and consistency between home and school, families and teachers. Parents receive background information on what is being taught in class and what to look for, and then visit participating classrooms at pre-scheduled times with a guided observation tool. The visits provide valuable feedback to teachers and administrators, and help parents understand classroom instruction and expectations. Many schools and teachers have open-door policies for parents to come to the classroom, but without a specific date and preparation, many parents do not take advantage of these opportunities.
Principal Shepherd used her monthly chit chats, which routinely have great turnout,  to introduce the classroom visits to Thomson. Before grouping parents to observe in several classrooms, she thanked them for making Teacher Appreciation Week a success. Afterward, she explained that parents would visit three classrooms at different grades so they could get a larger sense of teaching and learning at the school.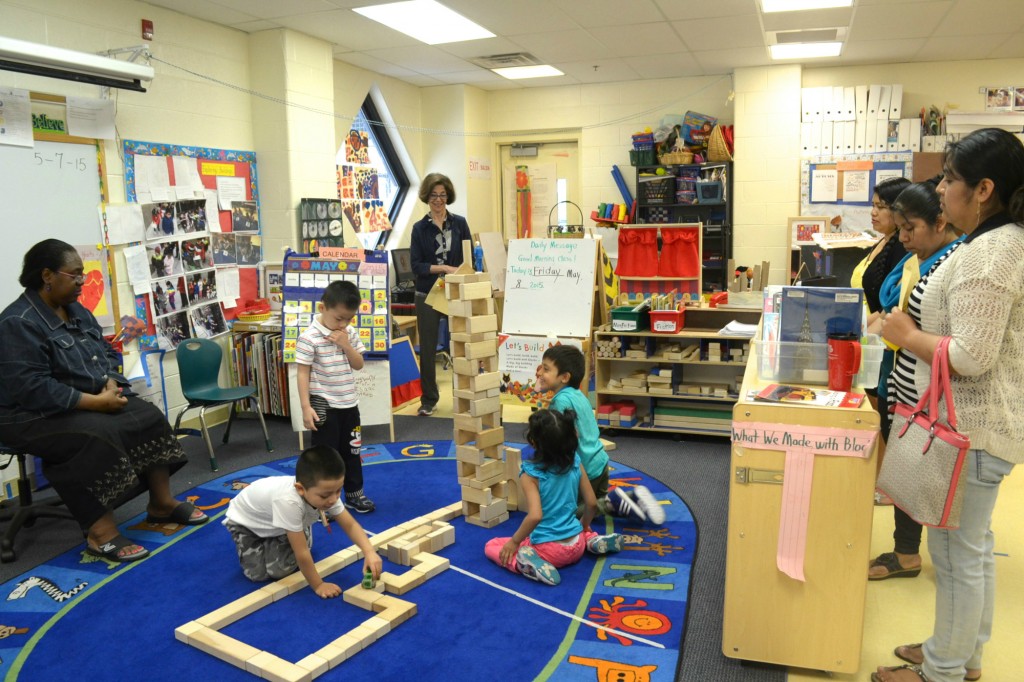 "I was hesitant to do this the first time because I thought the parents would all say, 'Oh, I just want to see my child's class,'" she admitted to the parents. "But you guys are here all the time, so we thought it was important to see a variety of classes."
In groups of six or seven, the parents quietly rotated through three classrooms from pre-K through fourth grade, spending about 10 minutes in each class. The teachers had prepared the children for the parent visitors, and when they finally arrived, the children were able to focus on what was in front of them—although one or two did approach to ask, "Are you [my classmate's] mommy?"
"Ninety-nine percent of the kids were working really hard and not at all distracted by us coming in, even the little ones," said Ning Xu, a longtime parent volunteer.
The parents wrote notes and used a three-point scale on an observation tool, which included questions such as, "How well do the children get along with each other?" and, "How well is the teacher engaging with students?" Principal Shepherd remarked that she was glad that parents saw some improvements, as there were many more threes compared to the first visits in December.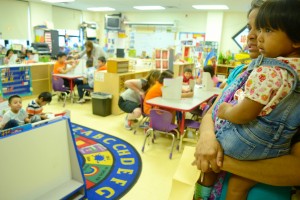 "I have just visited one class [before today], but I have two children here," said Nazma Aktei, a Bengali parent who is new to Thomson this year. Her young daughter, a toddler, came along, and even got to play with her older brother for a few minutes as they visited his first grade class. "I was surprised! I didn't know how other classrooms were. My children will all go to this school in the future."