Parent Advocacy Wins Six New After School Positions
Erika Merino*, a parent at Teaching for Change partner school Bruce Monroe Elementary at Park View (BMPV), a D.C. public elementary school, had high hopes after leaving a meeting about after school programming with other parents, school staff, and DCPS officials just before the Thanksgiving break. A working mother of three (two elementary and a high school student), Erika spent the semester advocating alongside other parents for after school care, but she did not know she would soon be celebrating an important victory.
Ms. Merino was one of the Latino parents seated at the table on November 24, 2015, for a meeting with the director of DCPS's Out of School Time Programs, Margareth Legaspi.  Amy Meija, the co-president of the grassroots parents organization Parents and Teachers United for BMPV (PTU), and other parent leaders repeatedly requested a meeting with Ms. Legaspi to address a top concern at their school: the waiting list of 75 students for an understaffed after school program. After many e-mails and phone calls, DCPS came to meet with parents and the principal at the school. One of more than twenty parents in the meeting, Ms. Merino expressed to the administrators:
Not having after school is really hard on working parents, and we don't always have time to help our children with homework. And we can't take advantage of any off-site programs because our daughter has trouble walking.
Ms. Merino was optimistic as the meeting closed, noting that when parents spoke up, she could see that DCPS was responsive.
I'm hopeful our advocacy will make a real difference in the school. I hope the new teachers can be hired soon and that my kids can join the program.
Before the meeting ended, PTU co-president Amy Mejia thanked Ms. Legaspi, the parents, Principal Alethea Bustillo, and others for attending. Principal Bustillo and Ms. Legaspi reported that they were working to hire additional staff and provide more programs. Principal Bustillo told parents:
It's important that the parents are speaking up about this because it helps us get what we need for our school.
As a result of the parents' advocacy, OSTP immediately approved six new staff positions for after school at BMPV, and the school administration began the hiring process that same week. They hope to significantly reduce the waiting list by the end of the year, and parents promised to keep checking in.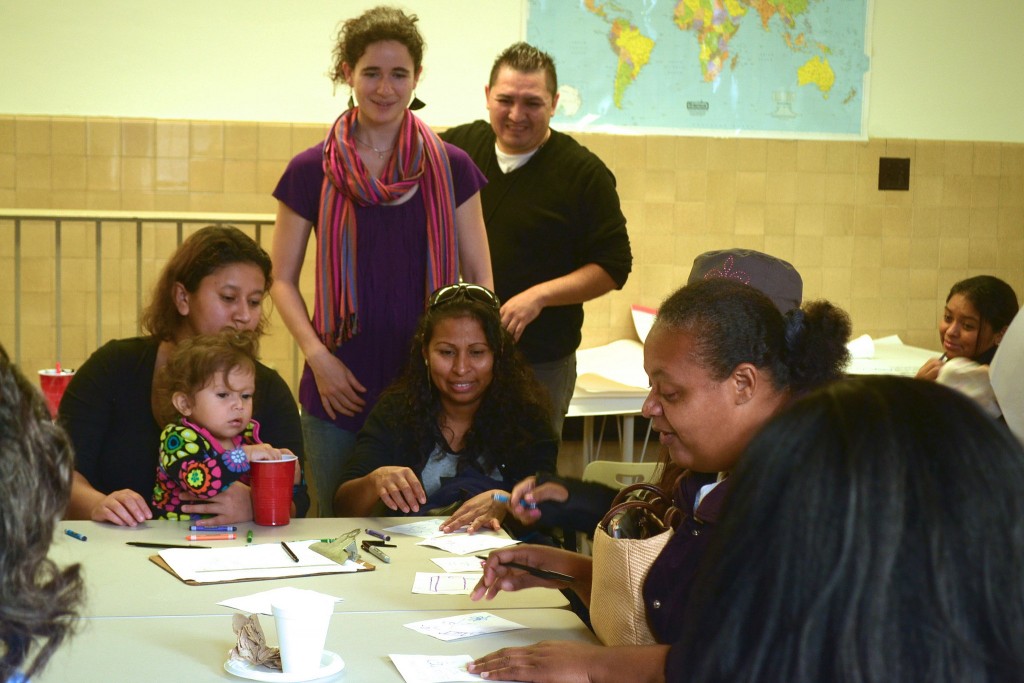 The victory is an important one for families and staff at BMPV, including their burgeoning Parent and Teachers United (PTU), a parent-led organization that has equity as one of its guiding principles. Teaching for Change supported a diverse group of parents in founding and structuring the Parents and Teachers United in the spring of 2015. The leadership of the PTU, which includes African Americans, Latinos, whites, immigrants, English speakers, and Spanish speakers, intentionally structured itself to be representative of the student population. The leaders are working across race, class, and language to go "beyond the bake sale" and work with the administration to resolve issues that are critically important to the school community. The PTU's bi-weekly parent-led meetings have given a forum for parents and administrators to work together to solve school-wide issues like the lack of after school programming, and given parents a chance to provide their resources, ideas, and expertise.
Christine Green is one of those parents, a new mom at BMPV with three young sons. She attended a September parents meeting after speaking with other parents about the need for more affordable after school. She was quiet at the beginning of the meeting, but began to speak up more as the agenda moved to after school programs. She brought up the names of several after school programs that other parents had never heard about, and offered to work with the dean of students, who was also present, and other long-time parent leaders to find out if those programs could service the school. Like Erika, Christine felt at the end of the meeting that her input as a parent was valued, and would create changes that would otherwise become missed opportunities.
Teaching for Change will continue to support parents and administrators as they continue to work together to eliminate the wait list for the after school program. Congratulations to the parent leaders and PTU for a hard-earned victory!
The Tellin' Stories Project at Bruce Monroe Elementary at Park View is supported through generous grants from the W.K. Kellogg Foundation, Cafritz Foundation, DC Children and Youth Investment Trust Corporation, Mayor's Office on Latino Affairs, Open Society Foundation, and an anonymous foundation.
*Names have been changed