Stories from Teaching for Change Partner Schools 2018-2019
---
Imelda Marroquin: After 10+ Years, Fifth Grade Parent Honors School Principal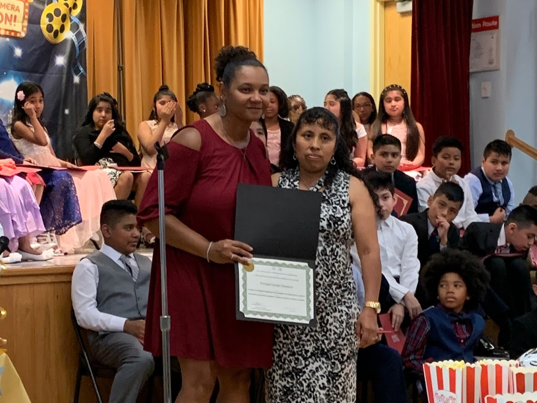 In June 2019, Imelda took to the stage during the fifth grade promotion ceremony as her family closed out nearly a decade at Thomson. She approached Teaching for Change parent organizer Talia Brock with a plan to honor Principal Shepherd during the fifth grade ceremony. Imelda felt that Principal Shepherd's leadership and support for parent voice had helped to transform the school, and she wanted to pay homage at the graduation. Talia helped her coordinate with the teachers to add a secret presentation to the agenda. Imelda and Talia worked together to make a beautiful certificate with a message written in both Spanish and English, to thank Ms. Shepherd "for lifting up Thomson Elementary and opening the doors for all parents." They also discussed what Imelda would say when she presented the award.
After the ceremony, Imelda spoke with Teaching for Change documentarian Jazelle Hunt to reflect on the rise and impact of parent power at the only elementary school her two sons have attended… Read the full story.
---
Parents Give Visibility to Autism and Bilingualism as Roving Readers
April 11, 2019
Parents, teachers and students at Teaching for Change partner school Langdon Elementary really enjoy Roving Readers this year. It has been a beautiful experience every time parents have read. The teachers are beaming, the students' faces light up when the parents arrive, and they listen attentively during the reading.
April is Autism Awareness Month, so we decided to read My Brother Charlie, by Holly Robinson Peete and Ryan Elizabeth Peete. My Brother Charlie is told from the perspective of a young Black girl who loves her twin brother Charlie. Charlie has autism, and the book focuses on how differences make us special.
A group of four moms read this morning — three who have read with us before, and one who was reading for the first time. One of the moms is a longtime Langdon parent, and two of them came to read specifically because their children have autism. The Roving Readers first visited a third-grade classroom that has students with autism and several students that are twins. After reading, the moms talked with the students about how it is okay and beautiful to be different from the people in your life, about the different ways we can show each other love without using words, and about becoming authors someday.
The Roving Readers continued to a second-grade classroom before finishing at a first-grade classroom. One of the readers arrived late but had rushed to get to the school. "My daughter has autism so I have to read!" she texted to us as she rushed, and sure enough she made it in time to read to the last class in English and Spanish.
When this parent began to read in Spanish, we noticed a particular Latinx student whose face suddenly transformed to surprise, excitement, and joy. She turned back to look at the parents, and her legs were swinging happily under her desk. The last question the Roving Readers asked the class was, "How many of you understood the book in Spanish and English?" Two students shot their hands up into the air, one of which was the student we had noticed earlier. They had huge smiles on their faces and looked so proud. Not only did the parents support the visibility and understanding of autism in these classrooms, but our Spanish-speaking parent also helped the Latinx students feel more included thanks to translations provided by Teaching for Change. This particular Roving Readers day was another reminder of how much it means to parents and caregivers to be able to read books in the classroom that positively reflect the diverse experiences of their children.
---
Questions Big and Small: A Parent Leader's Journey
March 2019
Carla*, mom of two children from Teaching for Change partner school LaSalle-Backus Education Campus (DCPS), has a lot of questions. While some are big (how can the school help her young child who reported being bullied over her height by older children?) and some smaller (what exactly are the instructions for her first grade son's homework in the take-home workbook?), Carla knows that all of her questions are important even though- and especially because – Spanish is her first language. She attends every one of LaSalle's monthly Parents-Principal Chit Chats and recently attended a parent workshop for her younger child's grade. She regularly shares the information she learns with other Spanish-speaking mothers in the school and identifies the school's Spanish-speaking staff to new parents who aren't sure where they can go for assistance. Carla knows where to go to ask her questions and have them answered.
In one instance, she asked an ally to act as her interpreter and approached the principal after a monthly chat to share her concerns regarding possible bullying of her younger child. Together, the principal and Carla devised a plan to meet with the school's bilingual counselor to investigate what was going on with her child and ensure any bullying behaviors stopped. Then, she directly approached her first-grade son's teacher (again with someone she found to act as an interpreter) and received clarification on the homework instructions. The teacher encouraged Carla to read her to son in Spanish at home to bolster his literacy in both languages, and Carla passed along this encouragement with other Spanish-speaking mothers.
She also decided to participate as a Roving Reader at the school, reading multicultural books in the classroom in English and Spanish. A true leader, Carla encouraged other moms to come read to the children too. She made a new ally and friend with an English-speaking mother who participates in Roving Readers, and they are working together to support more moms to read at home and in the classroom with their children. What's more, Carla has now begun to advocate directly to the principal during the monthly chats for more Spanish-speaking staff so that all parents and caregivers will be able to have their important questions answered — big or small.
*Name has been changed.
---
How Parent Read Alouds in the Classroom Benefit Parents as Well as Students
March 2019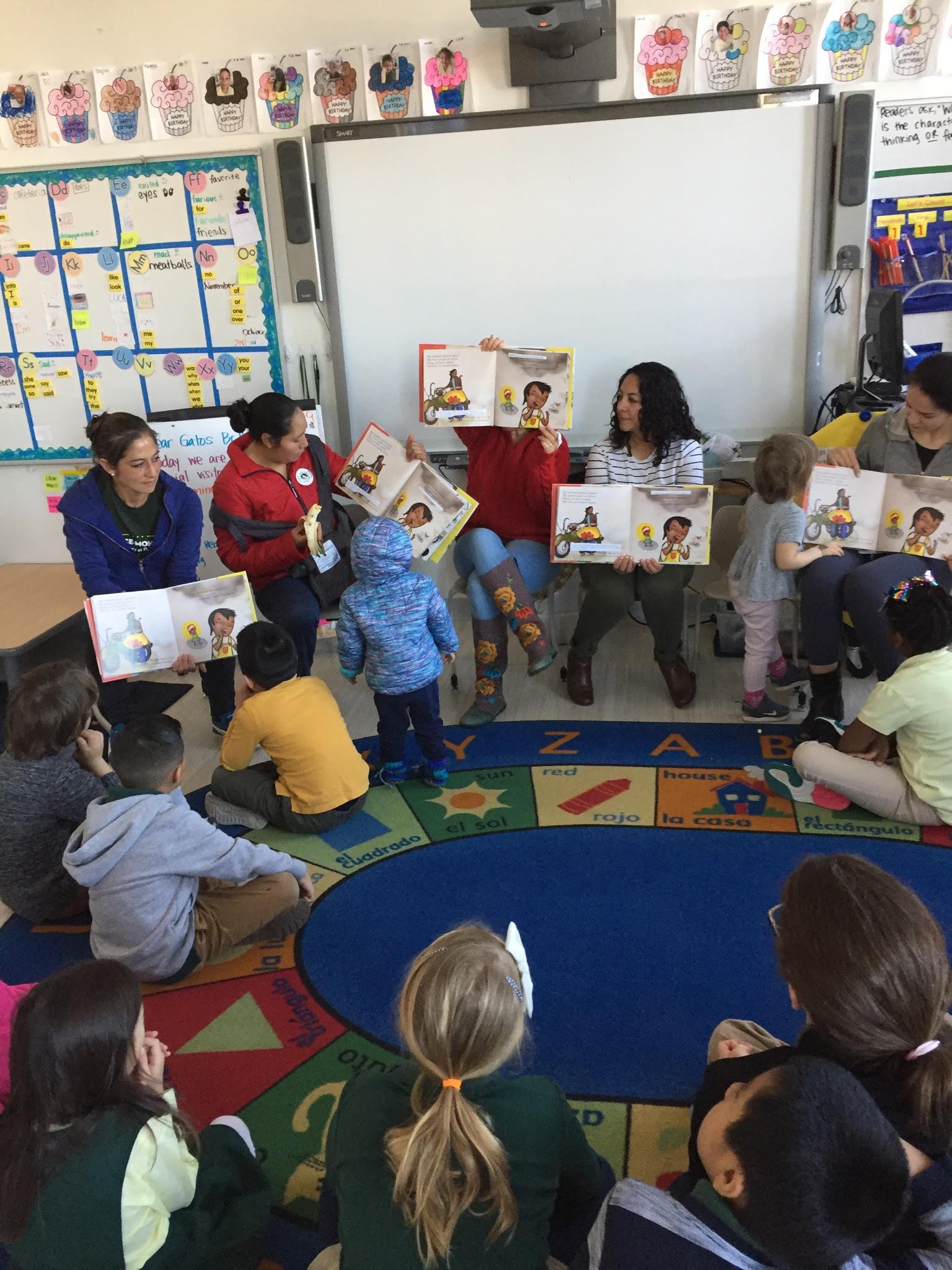 Ximena*, mom of two children at Teaching for Change partner school Bruce-Monroe at Parkview Elementary (DCPS), participated in her first Roving Readers at the school in January 2019. She read aloud in Spanish while other moms read the same book in English for the emerging bilingual students at this dual-language neighborhood school. During that first read aloud in the front of the class, Ximena's voice shook and her hands were sweaty from nervousness even though the children were excited for her and the other parents to be there. In February, Ximena's voice was more confident and she added her own questions for the children.
In March, Ximena, who has been studying English, said that she would like to read in English during Roving Readers. "I am learning English and I might make mistakes as I read, just like the students may make mistakes as they read in their less-strong language," she said. "But reading aloud in English is good practice for me, and also shows our children that it's okay to make mistakes and even parents continue to learn!" At this suggestion, other Spanish-dominant moms agreed they would read in English for Roving Readers, and some English-dominant moms decided to practice their Spanish by reading in Spanish. Ximena's voice has grown more confident every month with Roving Readers, and every time they read aloud to their emerging bilingual children, this group of emerging bilingual moms models making mistakes and taking risks as part of learning.
*Name has been changed.
---
Parents Lead Multicultural, Anti-Bias Read Alouds as Roving Readers
November 2018
"Me being in school after 20 years and working full-time — it's a challenge. I'm not as involved as I'd like to be, so this is a big deal to me. Knowing a parent is here shows students, hey, it's not just teachers and students, parents are also involved. That boosts morale, their enthusiasm. Teachers will see that parents are interested in their kids' future and in the school community. It puts everyone in achievement mode." — Monica Phillips, Langdon Elementary (DCPS) parent
Roving Readers is a staple at Teaching for Change partner school Thomson Elementary (DCPS), where parent volunteers read aloud in up to four languages on a reading day. For this Roving Readers day, held during Hispanic Heritage Month, parents decided to read a Dia de los Muertos-themed book called Just a Minute!: A Trickster Tale and Counting Book.
Four moms who speak four languages filed into the first class on the list and a hush fell over the first graders. The teacher explained what would happen next and the kids quietly gathered on the carpet, legs crossed and eyes ahead. Sitting in a low row of the students' chairs, each mom proudly held the book out for students to see.
"We just read to you in four languages," one mom said to the first graders, after being applauded. "Does anyone want to tell me a language they heard?"
A wave of excited fidgeting went through the class, with a few hands raised above it. Spanish!, they answered with confidence. Chinese!, said another. English was also identified, and the forth language stumped them.
"The other language is called Amharic," another reader said to the children. "We speak it in Ethiopia, where I am from." It was her first time volunteering as a Roving Reader parent, and she enjoyed being able to represent her home country and language, even though there were no Ethiopian students in this particular class.
Roving Readers is a Teaching for Change signature activity that links meaningful family engagement to academic success by inviting parents to read during literacy time. Roving Readers books are multicultural, anti-bias, and justice-minded, and are translated in all home languages present in the school community.
At first-year Teaching for Change partner school Langdon Elementary (DCPS), parents opted to do two sessions for their inaugural run. In addition to a usual morning session, with parents reading as a group in three classrooms, there was also an evening session, with volunteer parents reading to students during aftercare.
"Me being in school after 20 years and working full time — it's a challenge. I'm not as involved as I'd like to be, so [Roving Readers] is a big deal to me," said Monica Phillips, whose daughter was among the kids assembled. "Knowing a parent is here shows [students], hey, it's not just teachers and students, parents are also involved. That boosts morale, their enthusiasm. Teachers will see that parents are interested in their kids' future, and in the school community. It puts everyone in achievement mode."
"I'm here for anything to interact with the kids, because they need positive role models no matter where they're from," said Yusuf Richardson, after taking the class through a boisterous reading of Please Baby, Please. "I enjoyed this interaction, the smiles on their faces. And their answers! They were so excited."