Stories from Teaching for Change Partner Schools 2019-2020
---
Families Read Rainbow Weaver at Langdon ES During Teach Central America Week
On the morning of Wednesday, October 9, 2019, family members of students at Langdon Elementary School in Northeast Washington, D.C. gathered to read a book to the second-grade classes. Some of the family members had read to students before as part of Teaching for Change's Roving Readers program.
On this day, as part of Teach Central America Week and to honor Latinx Heritage Month, families read Rainbow Weaver by Linda Elovitz Marshall. Rainbow Weaver is the story of Ixchel, a Mayan girl from Guatemala who finds a creative way to practice the Mayan tradition of weaving by using discarded plastic bags from around her village.
Magaly Lara, a new Langdon parent, is from Guatemala and was excited to read a book about a girl from her country. Lara brought in a "huipil" and some other woven fabrics that were made by Guatemalan weavers for the students to see. Her son, who is a student in one of the second-grade classes, proudly wore a woven scarf for the occasion. Lara read Rainbow Weaver in Spanish while the other parents read in English. When the teacher announced that parents would be reading in both Spanish and English, a Salvadoran second-grade student in Gabrielle Betances' class jumped up and exclaimed, "Yesss!" Read more.
---
Dads Read About Teamwork at Langdon Elementary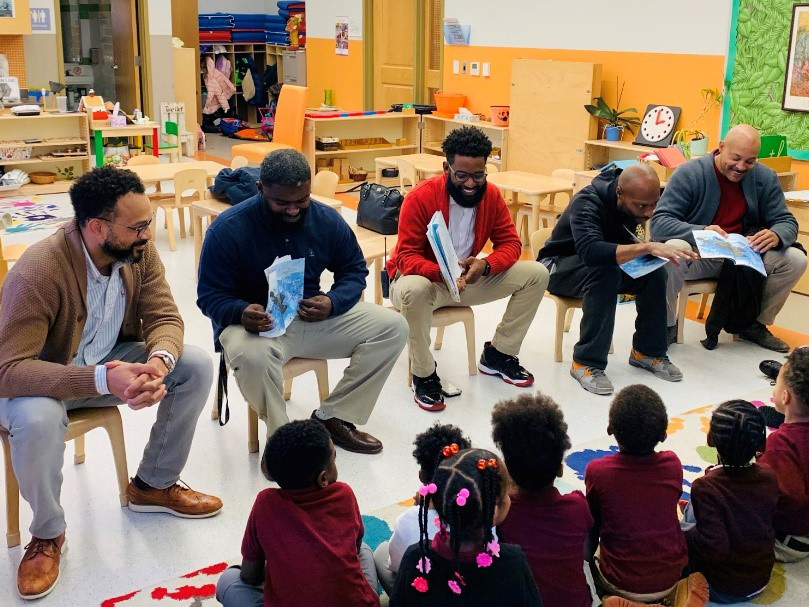 On November 13, 2019, seven enthusiastic Langdon Elementary (DCPS) parents – led by an all-star group of Langdon fathers – came together to read Swimmy, by Leo Lionni, to three pre-K classes as a part of Teaching for Change's Roving Readers program. Swimmy is a story about the power of community organizing and collective action. Roving Readers is a signature activity of Teaching for Change's nationally recognized family engagement approach in which parents lead multicultural and anti-bias read alouds in classrooms in multiple languages.
Students in each of the pre-K classes were excited to identify the different marine life mentioned in the story and discuss the concept of "teamwork" that Swimmy employs to organize his fellow fish and save them from being eaten by a much larger fish.
When we arrived at the last of the three classes, the parents agreed that they would have an all-dads read-aloud. The dads sat in a row in front of the excited pre-K3 and pre-K4 students while veteran teacher Ms. Scott looked on. The dads took turns reading a couple pages each, pausing occasionally to ask the students questions. Each time a student raised their hand to speak, Ms. Scott reminded them to "stand and present themselves." The students stood and proudly stated their full names before answering the parents' questions. The young students paid very close attention to the story and giggled gleefully when some of the dads made funny noises to imitate the marine animals in the story. Read more.
---
Multilingual Parent Read-Alouds Impact Students at Thomson Elementary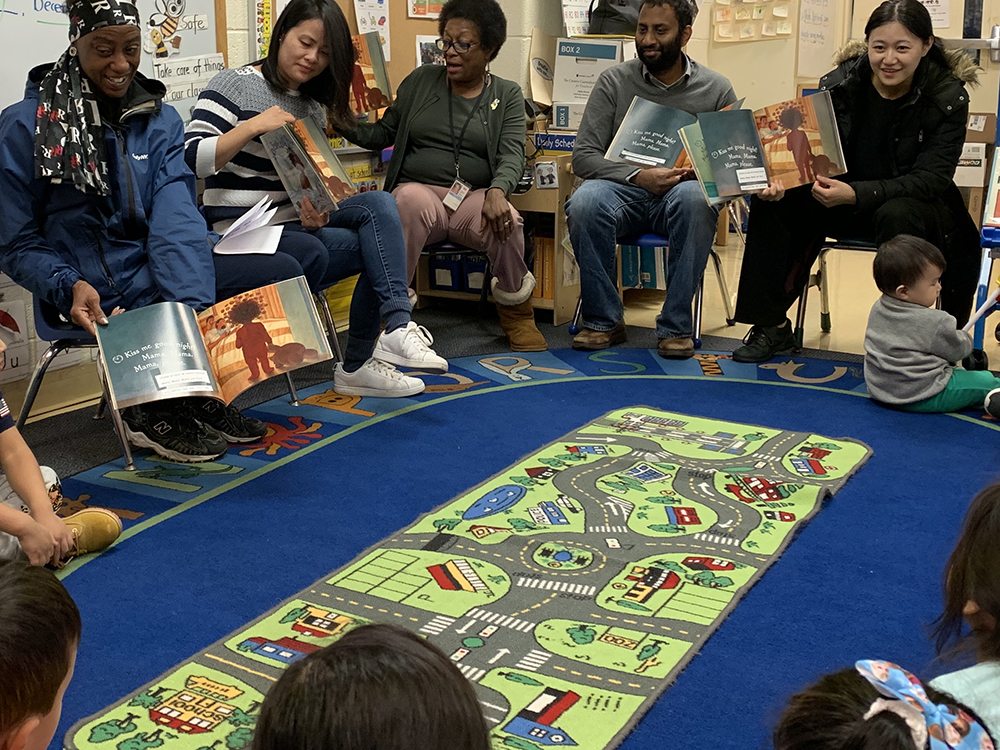 On December 13, 2019, parents gathered in the parent center at Thomson Elementary School (DCPS) to review books in preparation for Roving Readers, a signature activity of Teaching for Change's family engagement project. Thomson parents have been participating in Roving Readers for so many years that having parents read in the classroom has become a part of the school culture. The multilingual aspect of the program, particularly at a school with a very diverse population like Thomson, is a big draw for parents, students, and teachers alike. The students are so accustomed to hearing books read in four languages (English, Spanish, Amharic, and Mandarin) that some are disappointed when they are occasionally only read to in three languages.
This month parents were reading Please, Baby, Please by Spike Lee and Tonya Lewis Lee to pre-K and kindergarten students, and Hey Little Ant by Philip and Hannah Hoose to second-grade students. The parents read in English, Spanish, and Mandarin. Each class had a few students that understood the books in Mandarin, which was powerful to see given that gentrification is steadily decreasing the Chinese population in the Chinatown neighborhood where Thomson Elementary is located.
After listening to Please, Baby, Please, pre-k and kindergarten students discussed the ways that they have changed since they were babies. Some said they no longer drink out of bottles, while other students said they cry less. One of the parents brought her infant son along, who sat in his sister's lap while parents read to her class.
The second graders debated the morality of killing ants after listening to Hey Little Ant. Some students felt that they would only squish ants if they were stinging or threatening them. Many other students felt that they would share their food with the ant and let it live, so it could provide for its family and continue to live its life.
A student in the second-grade class arrived late and missed the beginning of the story. He was so upset because he loves to hear the different languages. He made us promise to come again and make sure he is in class. This particular student is a monolingual English-speaker, but his face always lights up when the parents read in Mandarin, Spanish, or Amharic. It was a reminder for all of us of the impact and importance that the parent read-alouds have on all the students, not just those that speak other languages at home.
(Submitted by Deborah Thomas and Talia Brock)
---
Gratitude Shines as a Grandmother Attends a Parent-Principal Chat for the First Time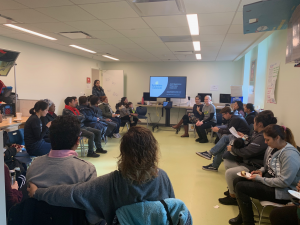 December 2019. Ernestine sat quietly in the Parent Center on a cold December morning waiting for the monthly Parent-Principal Chat to begin. She was the first Bruce-Monroe Elementary at Park View (DCPS) parent to arrive – a grandparent, to be precise – and stated how excited she was to be there because she had not been able to attend one yet. As 9 am approached, many other parents began to trickle in, fix a warm cup of coffee, and settle into seats.
The Parent-Principal Chat, or Cafecito as it is called at Bruce-Monroe ("BMPV"), began with an icebreaker meant to help foster relationships. Seeing that there were some new faces in the room, the group was instructed to go around in a circle and introduce themselves. A Latina woman, Vanessa*, shared her name in Spanish and as tears welled up in her eyes, she began to thank Bruce Monroe teachers and the principal, Mrs. Bustillo, for their tremendous support during what might be any mother's worst nightmare.
Ernestine whispered to a neighbor "What's she saying?" The neighbor whispered back, "Don't worry, the interpreter will interpret once she's done." Ernestine waited patiently.
Vanessa went on to share that she and her child are currently battling an immigration case and many of the staff and administrative team wrote heartfelt letters of solidarity to be read aloud in court. Vanessa emphasized that without the Bruce-Monroe community, her family would not have been able to persevere through this legal battle. The group gave her a round of applause with tears coming down many of the other parents' cheeks. Words of support were readily offered. Everyone that followed Vanessa shared their name and a very touching story about their relationship with staff and the school. Stories ranged from support on immigration cases to BMPV's close-knit community that helped new families feel welcomed, to staying in a high crime neighborhood solely because the kids love their school, to a scared new mother finding love and support for her son at BMPV.
Ernestine listened and nodded her head in agreement to the personal stories. She shared with tears in her eyes that she felt the same way as the other parents in the room. As a grandparent of a lower elementary grade child transitioning into a new school, she shared her story. "My grandchild used to cry every single morning when going to her old school. She was disengaged and unhappy and I thought it'll be the same here. Now my grandchild loves coming to school and even wakes up early and waits for me at the door!" She thanked the school staff and principal for their guidance in this new phase and received a round of applause for being courageous in sharing a heartfelt story with many unfamiliar faces in the room.
The parents and staff present were reminded that the monthly Parent-Principal Chats are not only a space to have meaningful dialogue with the schools staff and principal, they are also meant to foster meaningful relationships with other families, too.
"I love these things!" Ernestine chimed as the meeting ended. "When's the next Cafecito?"
*Name has been changed
---
What Happens in a Lockdown? Parent-Principal Chats Bring Community Together to Discuss Emergencies and Safety
On January 23, 2020, parents and caregivers from West Education Campus (DCPS) gathered with staff for January's Principal Coffee. The monthly meeting, drawing from Teaching for Change's Parent-Principal Chats signature activity, is usually a fun and informative gathering for the West community. This day, Principal Niyeka Jackson and team used the opportunity to discuss and answer questions about lockdowns and safety procedures, after an incident at a nearby school caused West to go into lockdown some days before.
With an interpreter provided by Teaching for Change to support language access, West kicked off the Principal's Coffee with a community building activity to create a positive and open atmosphere for families. Among a diverse spread of parents spoke Manual Diego*, a father of one. His demanding work schedule prevents him from attending the monthly meetings but that day, he was on a rare two-week vacation. He took the chance to introduce himself, talking about his family, and say how thrilled he was to be there. Mr. Diego shared his health goal for 2020, as well as a hope that he will be able to continue joining the Principal Coffees to communicate with other families and stay informed as the topics change monthly. Read more.
Posted: December 23, 2019