Pearson Erases Paul Robeson from History: Students Write 100 Letters to Challenge Omission
By Ken Giles
For the past several years, I have been the music teacher at Shepherd Elementary School in Washington, D.C. This has given me the chance to combine two passions: music and social justice activism. I teach students the civil rights songs, peace songs, and union songs that I learned throughout my life. And I make links between the songs and peace and justice movements.
One of my specific objectives is to get the internationally acclaimed singer, actor, and activist Paul Robeson into the music textbook used in the D.C. schools.
Decades ago, Paul Robeson was censored from most school books, and it was hard to find his recordings or films.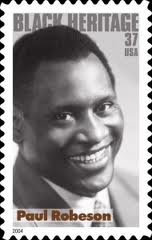 In recent years, Robeson has enjoyed a renaissance of interest and approval; he is even on a U.S. postage stamp. But Paul Robeson is not mentioned in the Making Music text (Silver Burdett/Pearson) used by many school districts.
My students and I have written letters to demand that Pearson include Robeson in its textbook.
Here are excerpts from just a few of the 100 letters written in October of 2012 by students in grades one to five.
"Can you put Paul Robeson in the music book so other kids can learn about him?" — Tobias L., 1st grade
"I think Paul Robeson should be in our music textbooks because he is a very important person in our life. If it weren't for him, we would be in World War III by now." — Renata M., 2nd grade
"I learned about Paul Robeson today and I want him in our music textbook. Paul Robeson is a big piece of history and I want other kids to learn about him too, and his history and about how he lost his passport. So please put him in our music textbook. What if our teacher is not here, the only thing we can rely on is the textbook." — Jean-Pierre R., 3rd grade
"Why won't you put Paul Robeson in your textbooks? If my music teacher did not teach us about Paul Robeson, I would not have even a clue who he is. I learned that he got his passport taken away. That does not mean he does not have to be in our textbooks. Kids need to learn who he is." — Clare H., 3rd grade
"We have been learning about Paul Robeson. There is nothing about him in our textbooks! He should be in there because he was an African-American who stood up for equal rights and I want to have me and other kids learn about him more in our music classes. If my music teacher didn't have any books or videos about Paul Robeson, we wouldn't have learned anything! Please put him in the textbooks you publish." — Keshav M-H., 3rd grade
"Paul Robeson is a great singer. I think he should be in the book because he is a great inspiration. Without him and other singers we would not be free. Without him I would not be able to send this to you. I would not be able to say what I want when I want to." — Tyler T., 5th grade
"I believe we should have Paul Robeson in our music textbooks. We have learned a lot about Paul Robeson, like he got his passport taken. He sang the song "Old Man River," and he changed the lyrics so they could say how he dislikes the segregation in our country. We are pleading for you to put him in our textbooks, do it for us, other teachers, other students, and people around the world. If I didn't have [our music teacher] I would not know a thing about Paul Robeson." — Masai J., 3rd grade

I am asking teachers and students to join this effort. If letters are sent to the publisher from across the country, maybe they will pay more attention.
Here is the address:
Pearson
K12 Customer Service
P.O. Box 2500
Lebanon, IN 46052
Regardless of the outcome, at least your students will learn about Paul Robeson and textbook censorship in the process.
---
Ken Giles is the music teacher at Shepherd Elementary School in Washington, DC. He teaches violin at the DC Youth Orchestra and sings with the DC Labor Chorus. He is a longtime member of Jewish Peace Fellowship and was a Conscientious Objector during the Vietnam War. Learn more about his "Songs of Freedom and Justice" music history program from the Labor Heritage Foundation.
Painting of Paul Robeson by Robert Shetterly from Americans Who Tell the Truth.
Resources for "teaching outside the textbook" about Paul Robeson on the Zinn Education Project website.
---
From Teaching for Change: If you write to Pearson, please send a copy of your letter(s) to us at tfc@teachingforchange.org. We will post excerpts from some of the letters on this page.