Pete Seeger, Presente!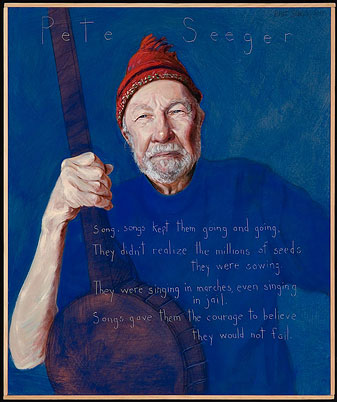 On January 27, 2014, the beloved musician, activist, and environmentalist Pete Seeger passed away.  His influence will carry on for generations to come. The breadth of his work and connections is extraordinary including Freedom Summer, the labor movement, the Weavers, the Hudson River, the peace movement, Paul Robeson, and much more.
Seeger inspired countless young people everywhere to sing folk music and influenced a wide range of  other musicians,  such as Bruce Springsteen, Dave Matthews,  Emmylou Harris,  Johnny Cash, and Rufus Wainwright.
Over the years, whenever we posted this portrait of Seeger in celebration of his birthday or stories of his work, we received an outpouring of comments from people he touched all over the world. And this was true once again with his passing. Here are just a few reflections from our January 28, 2014 post on the Zinn Education Project Facebook from the countless teachers and others he has inspired.
Joshua Edward Garrett Here in China, I've been participating in Opening Ceremonies for two new campuses of my school. Outside on large loudspeakers they have had Pete Seeger singing a track of children's songs.
Tim Joseph He has multiplied his voice and spirit in the most amazing way. Millions of people carry a hammer, and a bell, and sing a song all over this world.
Jody Isenberg Thank you Pete Seeger for lending your voice to us.
Dennis Doyle In 1960, the San Diego school board told Pete Seeger that he could not play a scheduled concert at a high school unless he signed an oath pledging that the concert would not be used to promote a communist agenda or an overthrow of the government. Seeger refused. The ACLU obtained an injunction against the school district, allowing the concert to go on as scheduled. In February 2009, the San Diego School District officially extended an apology to Seeger for the actions of their predecessors.
Kipp Dawson Presente. And always will be. "The key to the future of the world," he said in 1994, "is finding the optimistic stories and letting them be known."
Barbara Morey Thank you Pete for showing us what it means to be fully human–with laughter, tears, compassion, anger, love. Your music took us "there".
Louise Derman-Sparks To me, he was one of the most important leaders of the key social justice movements in his lifetime—including labor, civil rights, and peace environment. As he was for countless others, Pete was a significant influence on my thinking about the world, people, what to do to create change and how to treat people in the process of working for change. He taught us, perhaps more than anyone else, how important singing about ordinary people was to building the will and connection necessary for movement building.
Kate Kinser We were [are] all part of Pete's musical army of peace .
Seeger's connection to teachers and students dates back to the Freedom Schools of 1964 Mississippi. Free speech activist Mario Savio was a Freedom Summer volunteer when Seeger visited the Freedom School where he was working. Savio wrote in a letter on Aug. 4, 1964 from McComb, Mississippi:
Pete Seeger was here last night, and at the Freedom School this morning—wonderful. He sang a song for us that he'd seen for the first time about five hours before—a new song. He gave us the words and music, he wrote them out of his head on one of the girl's notebooks. He's simply a great man. He told all about his trip around the world this past year, about the new nations in Africa. He was in N[a]irobi … on the first day of Kenyan independence. That was the Negro history lesson for today, complete with South African freedom song.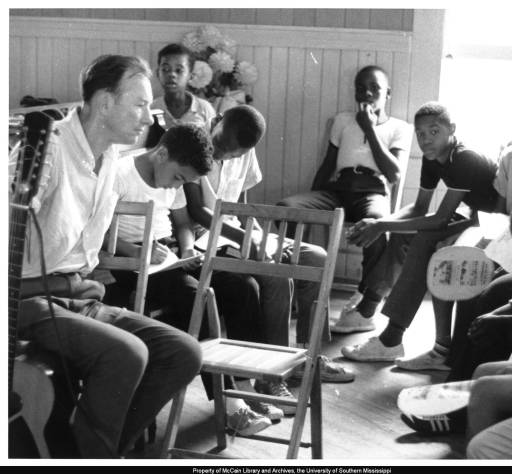 In this past month there have been many moving articles about Seeger's life and legacy. One we highly recommend is by Richard Flacks in Truthdig. Described as a book review, it is truly a political history of Seeger's "life project" as Flacks describes it. Flacks explains that the marginalization Seeger faced from the mainstream music industry for his politics did not derail him. "On the contrary," Flacks explains,"it compelled him to fulfill that [life] project rather than succumb to temptations or demands that might have come from more conventional commercial success. I want here to spell out what that project was, and how it affected history." Read the full article on Truthdig here.
Then join us as we continue marching and singing in Seeger's musical army of peace.
Posted: February 10, 2014