Polk Elementary School Hosts Teacher Mini-Conference on Central America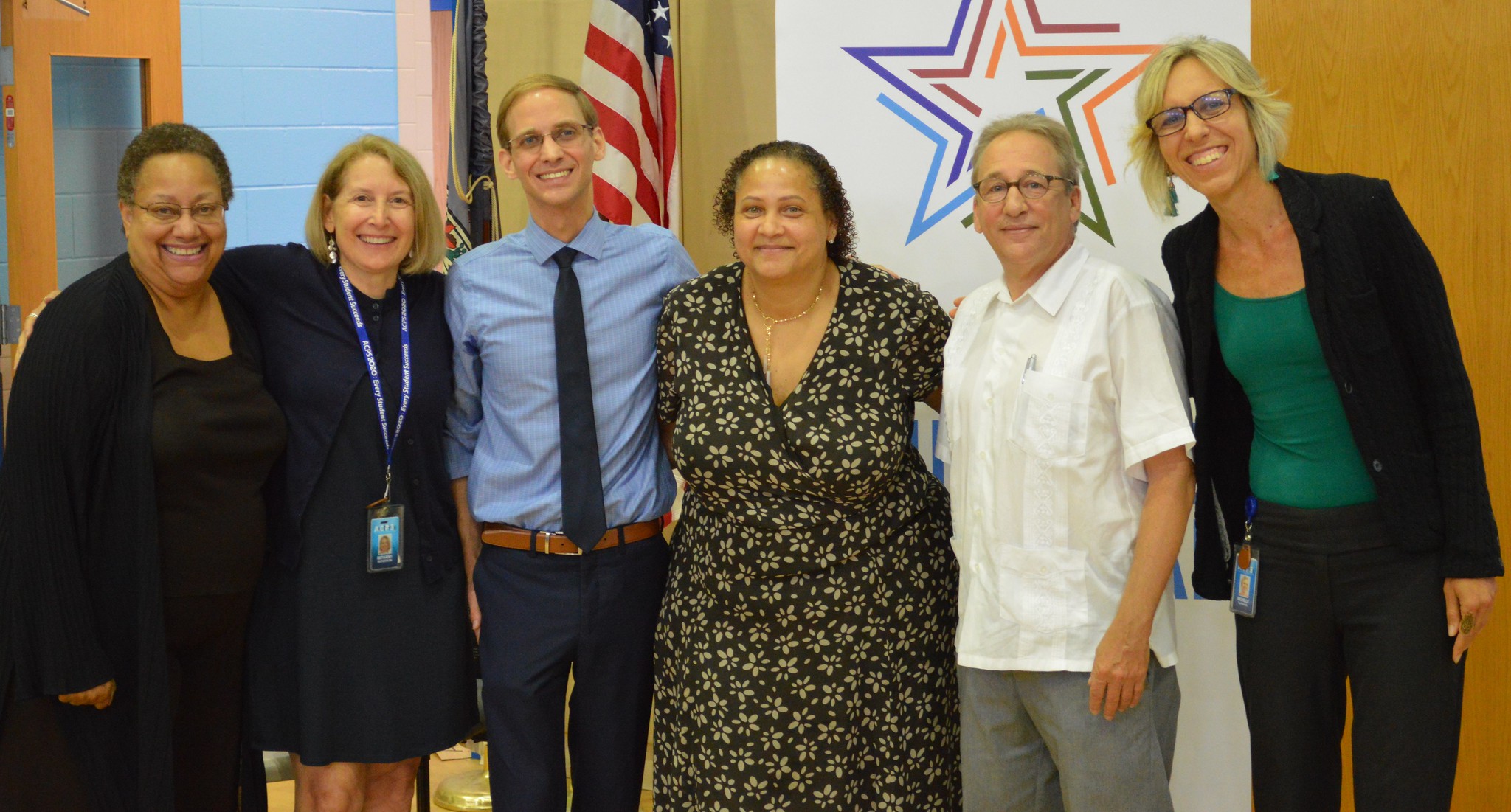 By Cierra Kaler-Jones
As the buzzing energy of a new school year filled the gym at James K. Polk Elementary School, staff arrived for a full-day professional development on Central America. On August 27, 2019, staff engaged in descriptive and informative sessions that detailed the history of Central America to provide background context about many of the students and families they serve, as well as interactive workshops with hands-on activities and strategies to teach Central America through art and children's literature. 
Principal PreeAnn Johnson requested the workshop to provide her staff with the awareness, knowledge, and skills required for effectively using culturally responsive and sustaining strategies that meet the needs of students from Central America.
Prior to this workshop, on May 14, the staff received an introduction to Polk Elementary's 2019-2020 professional development focus on equity and culturally responsive teaching. Using a framework designed by James A. Banks, which is outlined in the text Beyond Heroes and Holidays, staff members were introduced to the four levels of integrating cultural content into the curriculum. Through interactive exploration and discovery, Polk staff also familiarized themselves with important historical and current Central American figures, activists, and artists. This workshop built on the foundation of the fourth level of multicultural education, which is grounded in the idea that students, teachers, and administrators don't just discuss social justice issues, but work collectively to take action.
The morning of August 27 began with Eric Hershberg, director, and Dennis Stinchcomb, assistant director for research, of the American University Center for Latin American and Latino Studies offering an in-depth presentation about many of the causes, consequences, and challenges of the Central American youth refugee crisis. They shared facts and figures that stirred the group. One of the most jarring statistics was that the number of unaccompanied children spiked in 2013 and continues at increasingly high levels, with more than 20,000 unaccompanied minors coming to D.C. in recent years.
| | |
| --- | --- |
| | |
Many of the young people come to be reunified with family members, have experienced the crushing effects of disasters, such as climate change, in communities that are often not economically equipped or have the infrastructure to recover from disaster, or are leaving to escape violence. These are just a few of the major factors that contribute to young people leaving their home countries and enduring the arduous journey to come to the United States. As the presenters shared quotes from young people, the narratives they offered communicated that for many of the young people they interviewed, they had no choice but to migrate. One young person expressed,
[I migrated] first of all, to be with my mom…and also because I wanted to continue my studies here and to have a better life…[And] because there [in El Salvador], I couldn't go out. People would ask me where I was from, and if I said "from such and such a place" and they were from the rival gang, they would kill me.
Hershberg and Stinchcomb explained that family reunification is one of the most pressing needs of the population. While young people who come to the United States rejoin family members, it can often be a challenging process to form deep relationships and bonds when years have passed since spending significant time together. For teachers, administrators, and school-based staff, this is especially important to understand, recognize, and assist students and families who may have experienced extreme levels of trauma. Additionally, the presenters continued by mentioning that for some students entering local school districts in the United States, Spanish is their second language. In Guatemala, there are over twenty languages spoken, and students may be most fluent in their  Indigenous language. The presentation highlighted how it is vital to recognize that students and families migrating from Central America are not a monolithic population, but rather individuals with unique strengths, talents, and challenges.
In face of the heaviness of the situation, the panelists highlighted the positive impact schools can have on students' sense of belonging. Schools and school-based staff play a significant role in the success of Central American students, and as Hershberg and Stinchcomb cited, much of the research shows that mentorship and strong relationships in schools can be a protective factor. As participants reflected on the information, many had powerful and moving questions and comments about applying the information to practice, including,
What resources are available to students and their families migrating from Central America?
How can we ensure that we are helping students and families address and heal from trauma?
What are our children facing in terms of ICE threats?
I had not thought before about the relationship between climate change and immigration.
After the opening presentation, participants attended breakout workshops.
Teaching artist Karen O. Brown demonstrated hands-on arts activities that teachers could use in their classrooms to teach about Central America, focusing on the flora and fauna of the region. The walls of the classroom were decorated with informational sheets and photographs of birds, frogs, and butterflies. One of the birds participants learned about was the Motmot, the national bird of El Salvador. This bird is particularly striking because its tail is known as the "racket" because the bird plucks its own feathers to achieve a unique look with its tail feathers, which resembles a racket.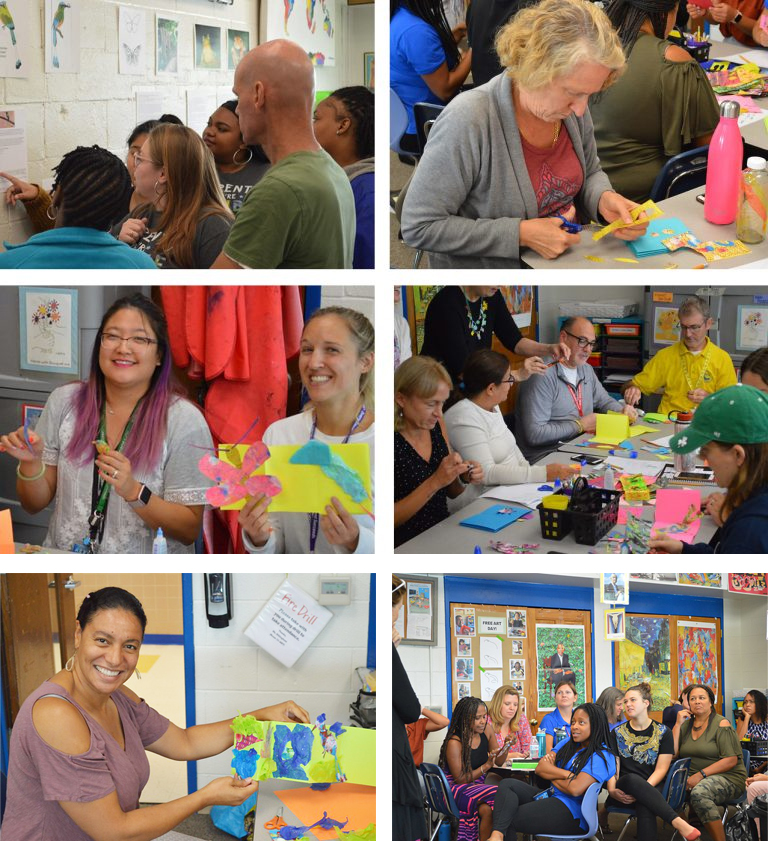 Participants had the opportunity to draw the animals, while Brown led them through how this lesson could be used in various content classes, including in math classes to teach about geometric shapes or a science class to talk about the factors that play a role in how the species interacts with its environment (including the threats caused by climate change.)
Brown challenged attendees to draw with their non-dominant hand, a technique that could be used with students to allow them to explore outside of their comfort zones. During the second half of the session, Brown led participants through bookmaking as a creative way for students to demonstrate new knowledge. Participants were encouraged to choose one of the animals they learned about to highlight in their book.
Muriel Hasbun gave a presentation on how to promote a culturally responsive curriculum through the work of Laberinto Projects, using works of art from Central America. Hasbun introduced her own photographic work exploring identity and memory, and facilitated a workshop where educators responded to a series of prompts, modeling exercises that can be applied by also including artworks from different cultures and to a variety of lessons, from writing, to science, to art. Through the art from Central America, teachers can help students reflect on what they can see, feel, remember, and wonder, while creating a culturally inclusive atmosphere in the classroom.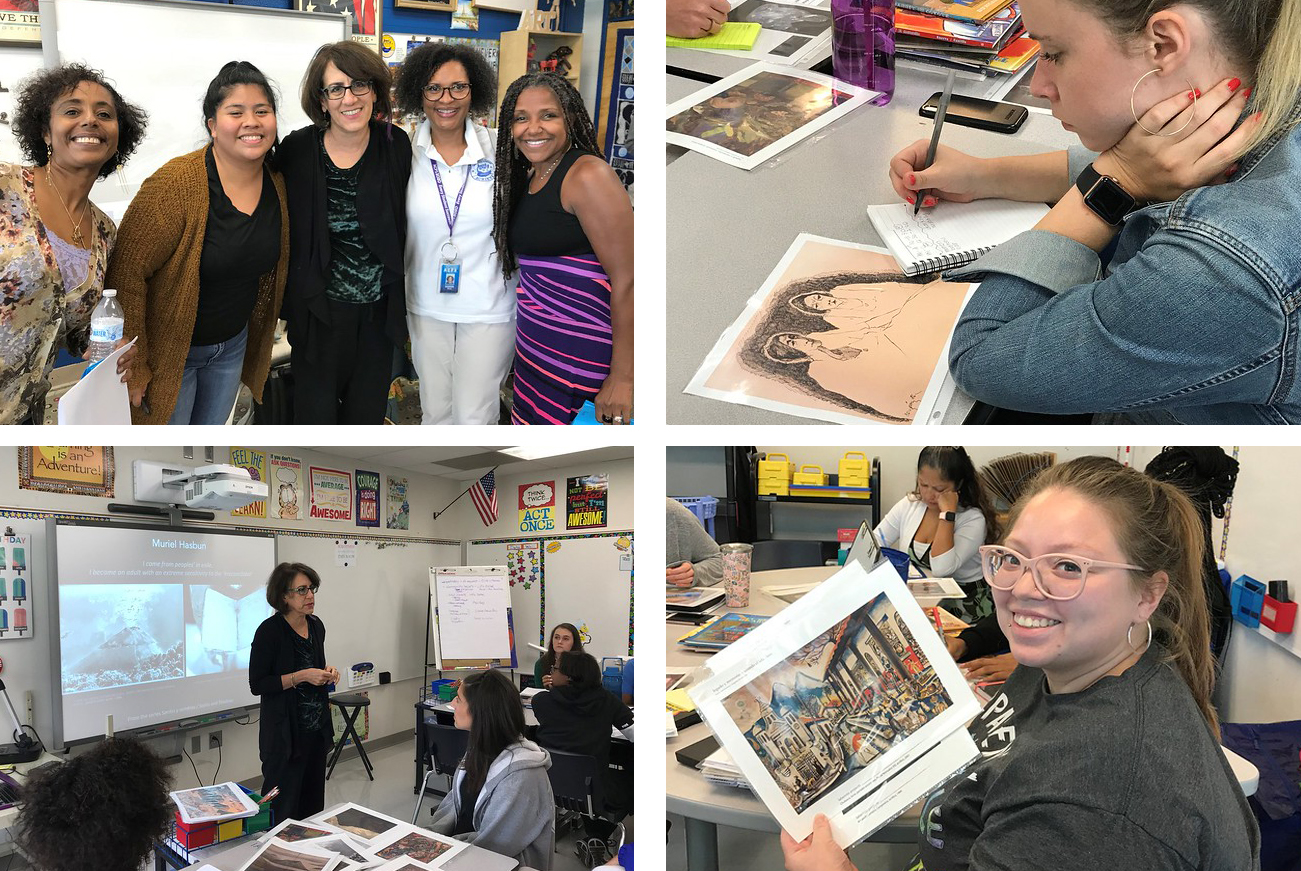 Deborah Menkart provided an opportunity for teachers to examine children's books about Central America and brainstorm ways that the stories or themes could be connected to the K-5 curriculum.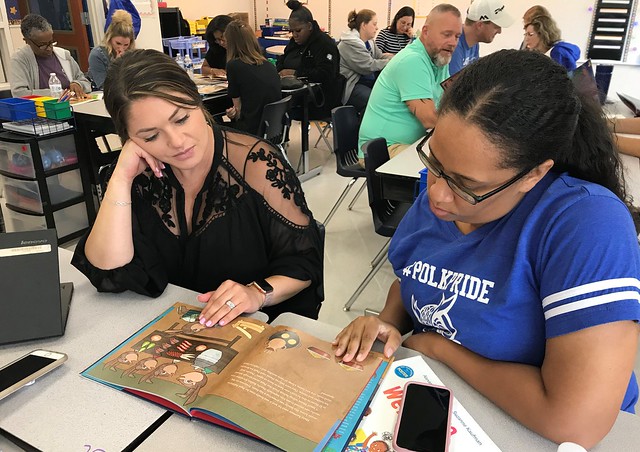 In the third workshop, Dr. Ana Patricia Rodríguez, associate professor in the Department of Spanish and Portuguese and U.S. Latina/o Studies at the University of Maryland, College Park, gave an overview of the history of Central America, including the Indigenous peoples, colonization, independence movements, and the role of the United States. Rodríguez began by asking participants for their questions about Central America.
Questions included,
How do we reach out to populations that come from Central America when we learned this morning that many students speak Spanish as a second language?
Why is there an influx of Central Americans coming to the D.C. Metro Area?

As Rodríguez delved into answering the questions, she noted that historically, the D.C. Metro area has been a place where there were many jobs. To answer the question about reaching students and families who may not have Spanish or English as their first or second language, Rodríguez highlighted the number of children's books either written by Central American authors or that center Central American culture and history, as a way to relate to and speak to students across language barriers.
At the end of the day, participants were given time to reflect on their learning throughout the day. Here are a few of their responses,
The most important things I gleaned from the presentations were learning about the factors that negatively impacted the regions such as climate change, civil war, and high poverty.
I learned a lot about the literature that we can incorporate into the classroom. More information on Central America that I did not know about regarding the history and statistics.
Ways to integrate Central American books without marginalizing. Using it to teach context.
Art can be an avenue for teaching / exposing multicultural identity in class.
Amazing to see personal connections morph into community or global connections!
Loved the purposeful steps of getting "into" art images. Good ways to keep an art class calm and peaceful.
Positive/valuable day in reconnecting with staff-across grades/disciplines.
Many of the conversations of the day centered around the lack of information that is generally shared about Central American populations in school curriculum, and the need for continued professional development that discusses and provides strategies for meeting the needs of the growing populations in local school districts. Students should be able to see themselves, their history, and their culture accurately and authentically discussed in the curriculum, so that they are not led to internalize the false narrative that their heritage is insignificant. Kudos to the administration and staff of Polk Elementary School for their dedication.
---
Video – LatinX Lessons: A glimpse into staff equity training
---
---
Cierra Kaler-Jones is the Education Anew Fellow with Communities for Just Schools Fund and Teaching for Change. She is also a Ph.D. student at the University of Maryland – College Park studying minority and urban education.
Photos by Diego Esparza.