Premiere of Dave Zirin's New Film a Fundraiser for Teaching for Change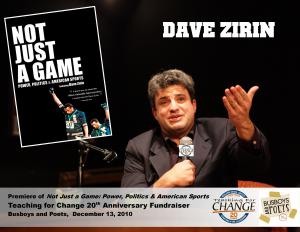 We were honored to host a premiere of Dave Zirin's new film, Not Just a Game, as a fundraiser for Teaching for Change on Dec. 13, 2010 at Busboys and Poets. Despite the frigid weather, there was standing room only for the film and live interview of Dave Zirin by literary activist E. Ethelbert Miller.
Not Just a Game, the powerful new documentary based on Zirin's bestselling book A People's History of Sports in the United States, argues that far from providing merely escapist entertainment, American sports have long been at the center of some of the major political debates and struggles of our time. Zirin first traces how American sports have glamorized militarism, racism, sexism, and homophobia, then excavates a largely forgotten history of rebel athletes who stood up to power and fought for social justice beyond the field of play.
Dave Zirin writes about the politics of sports for The Nation magazine and is a bestselling author of five books, including The People's History of Sports in the United States (The New Press).
This fundraiser was one of our 20th Anniversary celebrations. Photos from the event by Rick Reinhard. Full size flyer.
This event was cosponsored by Busboys and Poets, Haymarket Books, the Institute for Policy Studies, The New Press, and Scribner Publishing.
"Dave Zirin puts the politics back in sports and makes good sports of politics. Not since Hunter S. Thompson has a sports writer shown the right snarl for the job." – Naomi Klein
Posted: December 15, 2010