Principal Chit Chats Boost School Success
On October 2, 2015, Principal Carmen Shepherd of Thomson Elementary (DCPS) weaved excitedly around the tables in the crowded room, calling on parents at different tables.
"Eighty-five percent!" one table responded.
"Ninety-nine percent!" exclaimed another. In both English and in Spanish, proud parents aimed high with their goals for the percentage of students they hope will be reading at grade level by the end of the year.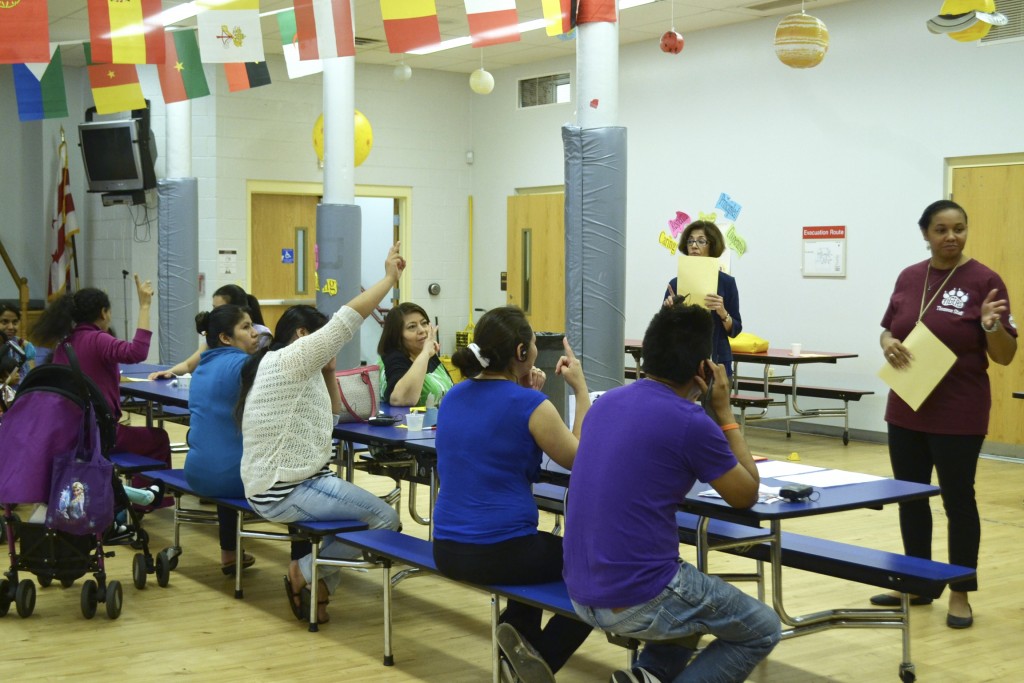 It was the first Principal Coffee of the year at Thomson, a fourth-year Tellin' Stories partner school located in downtown Washington, D.C. The monthly coffees are Thomson's version of Parent-Principal Chit Chats, a signature activity of the Tellin' Stories approach to family engagement. The chats strengthen the link between home and school, and foster relationship building among parents, and between parents and the principal.
The 35 Thomson parents who stayed on this rainy morning have come to expect this monthly meeting, during which they discuss issues affecting the school in a meaningful dialogue. Their guesses had come on the heels of a discussion of the latest reading data – Principal Shepherd was happy to report that Thomson had surpassed last year's goal for the number of students reading at grade level. After sharing the data breakdown and success from last year, she had given parents the floor to set the pace for this school year's goal.
Yenifer Diallo,* who has a first-grader at Thomson, attributed part of the success to the Roving Readers program, another Tellin' Stories signature activity. Teaching for Change partners with parents, Thomson's parent coordinator Olga Salazar, and school staff to organize monthly Roving Readers days in which parents like Ms. Diallo share books and literacy activities in English and Spanish. Ms. Diallo shared:
My daughter didn't like to read before, but when I started going into the classrooms and reading books, she became more interested. She changed how she thought about reading, and now she likes to read at home.
Parent-Principal Chit Chats at Thomson highlight the strengths of this particular Tellin' Stories signature activity: the meetings are for principals to not simply share data and information with parents, but to invite parents to share their perspectives and participate in decision making for the school.
When parents are offered the opportunity to give feedback, set school goals, and inform instruction, schools tap into a valuable resource and the results are clear – children perform better, not just on tests, but in their daily social, emotional, and academic well-being.
DC Public Schools recently recognized the power of Principal Shepherd's work with families and teachers, and awarded her a three-year contract to maintain it. Since Teaching for Change began partnering with Thomson in the 2011-2012 school year, Thomson's ESEA classification has moved from "Focus" (orange) to a "Reward" school (green).
The Tellin' Stories Project at Thomson Elementary is supported through generous grants from the W.K. Kellogg Foundation, Cafritz Foundation, DC Children and Youth Investment Trust Corporation, Mayor's Office on Latino Affairs, Open Society Foundation, and an anonymous foundation.
*Name has been changed