Puerto Rican Children's Literature and Environmental Literacy: Working with Children and Moving Towards a Sustainable Future
By Sujei Lugo Vázquez
I remember a childhood of family weekends traveling around and across the island, visiting plazas, parks, natural reserves, going to festivals, and stopping at local businesses. Through our car windows, we could see the different ecological systems that filled Puerto Rico and were taught and reminded to love our land, our flora and fauna. It amazed me how on a small island we could see rain forests, dry forests, coral reefs, mangroves, caves, sandy beaches, rocky shores, mogotes, all in a two- or three-hour car trip. In the north of the island we could stop by the Cavernas de Camuy and admire our unique caves and subterranean rivers that also contain a rich Taíno Indian history. In the south we could go from the Bosque Seco de Guánica and its dry soil, cactus, and limestone caves to La Parguera's bioluminescent bay, one of the unique places in the world with marvelous tiny creatures that light up the water during the night.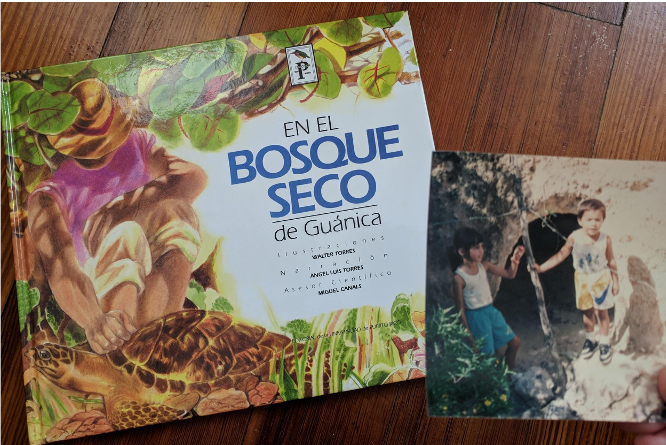 Through my eyes and my family's stories and conversations, I was also reminded, visually and historically, of illegal landfills, toxic waste, and pollution by chemical and pharmaceutical plants owned by U.S. companies; the presence of the U.S. Navy on the island of Vieques; coal ash deposits; and the impact of fast-growing housing development and industrialization to our land and coast. Histories of colonization, human disasters, and natural disasters had all affected and damaged the Puerto Rican environment, ecosystems, and communities.
Hurricane María initiated new and much-needed conversations between my family and Puerto Rican communities in the island and the diaspora about natural resources, food sovereignty, alternative energy systems, public and community education, and sustainability. It uncovered environmental injustices and revealed to me and many other Puerto Ricans the island's ecological crisis, as well as the environmental and colonial limitations regarding land control and ownership, political and economic power, and sustainability. On the other hand, this natural disaster also revealed the power of community building and support, intergenerational and diaspora solidarity, self-organized efforts and initiatives, and the potential to transform the island's present and future with decolonial practices, social justice, and education.
Children didn't shy away from post-María rebuilding efforts and were part of environmental, psychological, recreational, and educational activities, efforts, and support. In a picture shared by Twitter user @RubieMariela three days after Hurricane María, we clearly see children in Caguas, Puerto Rico, doing their part and playing an active role in cleaning and rebuilding their community.
¡Las Niñas y Niños de Barrio San Antonio, mi Caguas, Puerto Rico abriendo camino!¡Solidaridad Ahora! #HuracanMaria #PuertoRicoStrong pic.twitter.com/WWsq6CTe23

— Rubie M. Martínez-Horton (@RubieMariela) September 23, 2017
They were eyewitnesses to a natural phenomenon that impacted their lives, their family, their routines, their communities, their environment, and their sense of "normalcy." A fellow Puerto Rican school librarian told me about the effect that the hurricane had in his students: "Their houses got flooded and many lost their roofs and windows. Some students lost family members, grandparents, and uncles." Educators, families, activists, and community leaders across the island, created and took over spaces, developed projects and encouraged children to participate and play active roles in emotional and self-reflecting activities, art and creative writing projects, activism and environmental justice initiatives, and literacy projects that intersect social justice, children's literature, and storytelling. I had the opportunity to collaborate and chat with several of these local educators, sharing their work and words in a piece for School Library Journal.
My family, loved ones, and friends all live in Puerto Rico. My recent move to the United States to study and work strengthened my connection with my people and their efforts to rebuilding and organize communities towards a sustainable, decolonial, and transformative future for Puerto Rico. As a children's librarian, educator, and activist, I understand the role inclusive children's literature can play in empowering them to reflect and critique issues and experiences, to develop critical skills, and to envision and take action. I decided to collaborate with educators and support their work and efforts focused on youth activism, art therapy, environmental justice, and literacy. Book drives were an essential part of our efforts to acquire children's books to support these initiatives as well as children's recreational, educational, and informational needs. Although I was the main organizer of the book drive and in charge of the selection process, I asked children, educators, and communities the types of books, genres, themes, languages, and format they desired and needed. Centering children and the book readers in book drives is intrinsic to inclusive, social justice-oriented literacy projects that shy away from imperial and outsiders' takes. In addition to their petitions, titles that were culturally, historically, and socially specific to Puerto Rico were added to the book drive, as well as children's books written and illustrated by Puerto Ricans.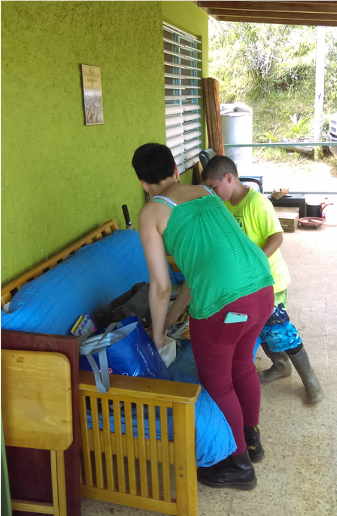 Puerto Rican children's literature can be a channel to learning and exploring Puerto Rican social, political, cultural, and environmental history. Hurricane María opened up possibilities for rethinking and reimagining a different environmental and sustainable future for Puerto Rico. Working with children and engaging them in critical analysis of environmental issues is intrinsic for this "natural consciousness" and applying an environmental literacy lens to Puerto Rican children's literature can lead the way for educators and children towards this path.
Introducing children to environmental literacy is critical to meeting current and emerging environmental changes and injustices. As conversations and teachings around race and social justice issues with children, environmental literacy must be taught at an early age and play a critical role in shaping long-term and lifelong knowledge, values, and behavior towards the environmental and human interactions. Environmental literacy is a learning process in which children make connections between humans, communities, and the natural world; learn and develop a sense of respect and caring for the environment; and intersect critical thinking with environmental and human social action. Some of the goals of environmental literacy are to develop critical decision-making, equitable opportunities, activism, and sustainability, making environmental education "a deliberative political act" (Cole, 2007). Given that the impact of natural disasters on Puerto Rico is enhanced by centuries of Spanish and U.S. colonization, industrialization, and human disasters, engaging children in environmental literacy is inherently a culturally specific political act and educators need to provide and develop tools for children to position this environmental teaching and learning in a Puerto Rican context.
Scaffolding is essential in social justice education. Teaching and learning environmental literacy must follow a progressive understanding of human and natural worlds in order to be effective. I modified and expanded Bastile and White's (2000) four critical environmental literacy components into a Puerto Rican political and environmental context for educators who want to incorporate environmental literacy into their curriculum.
For the development of a Puerto Rican environmental literacy lens, educators must learn and teach:
The history of colonization, exploitation of natural resources, and impact of the introduction of nonnative species.
Puerto Rico's various and unique ecological systems.
Puerto Rican endemic flora, fauna, and endangered species.
The impact of economic and political decisions and natural and human disasters to the environment.
Love and respect for Puerto Rican land, air and water environments, and its history and culture.
The process of assessing, critiquing, and acting on current environmental injustice practices.
The process of planning, organizing, and working towards a sustainable future for Puerto Rico
From my experience working with children in Puerto Rico and in United States, including them into local social justice-oriented activities gives them a sense of pride, a sense of belonging and knowing, that they have a voice and are contributors of a bigger picture that impacts their communities. Back in 2010, when I was working as a school librarian at the University of Puerto Rico (UPR) Elementary Laboratory School, it was a year of the Huelga UPR 2010 where students and workers went to strike for 80 days in protest of budget cuts, privatization, and tuition hike. Students from the elementary school and local children participated in rallies, march, and protests and expressed their voice and concern on an issue that pertains to them as well. Once the school was opened again, teachers created activities of "the future they envisioned" where students wrote their dreams and even created a school garden emulating the Huerto Huelga created at the UPR.
Children's literature serves as a medium to connect metaphors of the book stories with current social, cultural, and political situations children experience in their communities and surroundings. During my years at the elementary school, 3rd-graders read Toyita: aventuras de una hormiga by Puerto Rican author (and former educator at our school) Isabel Freire de Matos and illustrated by Sofía Sáez Matos. The picture book tells the story of Toyita, an adventurous ant who likes to travel and in one of her trips, makes a stop an island full of ants. Throughout the story, students learned about the life cycle of ants, their body parts, and the different roles they play in the ant colony. The tale provided a science-based reading and an introspection of the ups and downs of life in a "colony" and the importance of community work to thrive.
Revisiting Toyita and positioning it in a post-María context, educators can juxtapose Toyita's tale with activism, collective efforts, and roles we can all play to the benefit of the whole community and toward a sustainable future for Puerto Rico. A school project with 3rd graders can be developed with the following activities and questions.
Project: Toyita Comes Back to a Post-María Puerto Rico
Book: Toyita: aventuras de una hormiga by Isabel Freire de Matos; illustrated by Sofía Sáez Matos
Grade: 3rd
Activity:
Identify the different types of ants, their characteristics and roles.
Create a map of the different Puerto Rican ecosystems:

Which ones work better as a living environment for an ant colony?
Which ones work better as a living and environmentally responsible place for humans?

Identify and describe different community efforts developed after Hurricane María.

Name and purpose of community efforts.
Location and description of the environment.

Of the different roles ants play in their community:

How can we emulate those roles in our Puerto Rican community?
Differences and similarities between ants and the different community efforts?

Ants are hard-working social insects, and although they can cause damage, they provide benefits to our soil. They are also good at:

Building structures.
Dividing the work and running a society.
Sending messages.
Surviving.
What advice would Toyita have to the Puerto Rican community in the different areas mentioned above after the impact of natural and human-led disasters?
Environmental-focused activities are no different and educators can help develop observational and research skills, the ability to think critically about impact and change, and the notion of environmental change and long-term commitment towards sustainability. Several activities and exercises can be tied to environmental literacy using Puerto Rican children's literature.
Educators can use as a guide the following activities and questions and adapt them accordingly to their environmental curriculum objectives and goals.
What do we know about Puerto Rico's history and ecological systems? What have we learned about it?
Go around your neighborhood and take pictures or draw what you see. What works or what's wrong in terms of human-nature relations? How it can improve environmentally? How our ideas and plans can be adapted into a post-María Puerto Rico context?
Learn about Puerto Rico's endangered species and explore ways to help and encourage people and communities to protect their lives and ecosystems.
There was a massive food shortage after Hurricane María, how Puerto Ricans (on the island and the diaspora) got together to adapt and work around this issue? What can we learn about food rights? Create a community garden with children, featuring vegetables and other eating plants.
Identify figures, corporations, and politicians playing key roles in environmental injustices and write letters and petitions to them.
A bibliography of suggested Puerto Rican children's literature titles that can be included into classrooms, libraries, and community spaces is appended below. A series of selection criteria were considered to include book titles that are relevant, inclusive, accurate, and representative of Puerto Rico. The selection criteria include: books written and illustrated by Puerto Ricans; books that are racially inclusive and that neither romanticize nor whitewash our Taíno, Spanish, and African ancestry and history; books that are well researched and that provide additional information about environmental issues; illustrations that portray our rich and heterogeneous environments, landscapes, and regions of the island; books that provide a child's perspective and an insider's voice.
Educators and children can apply and develop an environmental literacy lens using these books and work together to recognize and amplify collaborations to work towards a sustainable future for Puerto Rico.
Puerto Rican Children's Literature For Environmental Literacy Bibliography
¡Achú, achú, Pirulo! by Pamy Rojas; illustrated by Christibiri López (Cuentos Verdes, 2017)
The story of a manatee that goes to a dolphin doctor because it was ill and injured by a boat. It discusses how trash, toxic waste, and water transportation affects the underwater fauna. It raises "natural consciousness" and present environmental injustices.
Ala y trino: pájaros de Puerto Rico para colorear by Ester Feliciano Mendoza; illustrated by Félix Rodríguez Báez (Editorial de la Universidad de Puerto Rico, 2007)
A coloring book of Puerto Rican birds, with each drawing being accompanied by a poem. The text is descriptive about the flora and fauna found in Puerto Rico.
El árbol de juguetes by Myriam Yagnam Lara; illustrated by María Antonia Ordóñez (Ediciones Huracán, 2002)
The story of an algarrobo tree who dreams of growing golden fruits like the mango tree. The tree interacts with different endemic animals and plants of Puerto Rico, to later learn that its fruits can be used as a toy for Puerto Rican children, juego de gallitos.
Los colores de mi isla by Editorial El Antillano; illustrated by Rosa Colón. (Editorial El Antillano, 2015)
A concept board book written for "los boricuas de aquí y pa' los de allá." Simple text that uses different colors to name and show Puerto Rican ecological systems, animals, food, and cultural traditions.
En el Bosque Seco de Guánica by Ángel Luis Torres; illustrated by Walter Torres (Editorial de la Universidad de Puerto Rico, 1994)
A book that, through long texts, includes important and specific facts about the flora and fauna that lives in Guánica's dry forest. It incorporates facts about the importance of the Bosque Seco to Puerto Rico's ecological systems, the human impact to the ecosystem, and a bibliography.
El huerto de mi casa by Tere Marichal-Lugo (Colección Pachamama, 2013)
Lola is amazed at how her family transformed their home backyard into a fructiferous community garden. Vivid illustrations showcase the process of gardening, composting, and bringing vegetables and food to our tables.
En la Bahía de Jobos: Celita y el mangle zapatero by Ana Lydia Vega; illustrated by Yolanda Pastrana Fuentes (Editorial de la Universidad de Puerto Rico, 1998)
A Puerto Rican girl living in New York, spends her summer vacation in Puerto Rico and goes fishing with her grandfather at Bahía de Jobos. The book provides information about the different types of mangroves and natural beings that are part of this ecosystem. It incorporates the history, work, and brutality faced by enslaved Africans in Puerto Rico. A glossary and additional information about mangroves is appended.
En las Cavernas de Camuy: Terón y su maravilloso mundo subterráneo by Wenceslao Serra Deliz; illustrated by Nívea Ortiz Montañez (Editorial de la Universidad de Puerto Rico, 2001)
A picture book that intersperses the fictionalized story of two friends learning about the wonders of the Camuy caves with facts and a bibliography about this ecosystem. It briefly includes Taíno connection with Puerto Rican caves and scientific terms.
Mi isla y yo: la naturaleza de Puerto Rico/My Island and I: The Nature of Puerto Rico by Alfonso Silva Lee; illustrated by Alexis Lago (Pangaea, 2002)
A book that describes how nature works and evolves, and how the origins of the island of Puerto Rico. Flora, fauna, fungi, and human presence are discussed, as well as how this all works together, the circle of life. A story to make the reader feel part of Puerto Rico's natural history.
Mi mar y yo: el mundo azul de Puerto Rico by Alfonso Silva Lee; illustrated by Alexis Lago (Ediciones Callejón, 2005)
A story about how the ocean and sea surrounding Puerto Rico came to be. It discusses in detail the different ecological systems surrounding Puerto Rico's water and its flora and fauna. It also incorporates human and natural disasters that impacts these ecosystems, such as toxic waste, pesticides, sewage water, and hurricanes.
¿Quién soy? by Isabel Freire de Matos; illustrated by Olimpia Anibaldi Sáez (Ediciones Cocolí, 2017)
The story follows the transformation of a caterpillar into a butterfly, and how the animal stops by different plants, fruits, and vegetables found in Puerto Rico. It discusses the relation of flora as food, but also as home to other animals.
Sueño en El Yunque by Graciela Rodríguez Martinó; illustrated by Anaida Hernández (Editorial de la Universidad de Puerto Rico, 1993)
A book that narrates the story of Hurricane Hugo's impact to El Yunque National Forest. Puerto Rican rivers, mountains, and endemic plants are mentioned. It also includes information about tropical rainforests, El Yunque, and hurricanes.
Toyita: aventuras de una hormiga by Isabel Freire de Matos; illustrated by Sofía Sáez Matos (Ediciones Cocolí, 2006)
Toyita is an adventurous ant who likes to travel and arrives at an island full of ants. The ant learns about different types of ants and the roles they play in the ant colony. A tale to introspect the ups and downs of life in a "colony" and community work to thrive as a collective.
¡Viva la tortuga! by Georgina Lázaro León; illustrated by Walter Torres (Ediciones Santillana, 2004)
A picture book in verse about the life cycle of sea turtles, mainly the carey de concha. It includes information about why they do specific things and why humans need to take care of sea turtles.
References:
Basile, Carole & Cameron White (2000). "Respecting Living Things: Environmental Literacy for Young Children." Early Childhood Education Journal 28(1):57-61. 
Cole, Anna Gahl (2007). "Expanding the Field: Revisiting Environmental Education Principles Through Multidisciplinary Frameworks." The Journal of Environmental Education 38(2):35-44.
---
Sujei Lugo Vázquez, a former elementary school librarian in Puerto Rico, is a children's librarian at the Boston Public Library. She holds an MLIS from the University of Puerto Rico, Río Piedras Campus and is currently a doctoral candidate at Simmons University, focusing on race and children's librarianship. She is an active member of REFORMA (National Association to Promote Library & Information Services to Latinos and the Spanish Speaking), ALSC (Association for Library Service to Children), and the We Are Kid Lit Collective.
| | |
| --- | --- |
| | This piece is from the upcoming third edition of Caribbean Connections: Puerto Rico, edited by Marilisa Jiménez García, which introduces students to the history, economy, environment, and culture of Puerto Rico through essays, poetry, and fiction. |