Putting the Movement Back Into Civil Rights Teaching
The Network of Educators on the Americas (now Teaching for Change), the Poverty and Race Research Action Council (PRRAC), and the Howard University History Department co-sponsored Putting the Movement Back Into Civil Rights Teaching, a free one-day institute that took place on October 30, 1999, at Howard University in Washington, D.C., funded in part by grants from the Fannie Mae and Freddie Mac foundations.
The objective of this institute was to offer educators the opportunity to rethink how they teach the history of the Movement and to explore new strategies and resources to enhance their curriculum. The sponsors sought to create an experience where educators could engage in a dialogue with organizers and scholars of the Civil Rights Movement and develop a deeper understanding of the complex vision that inspired ordinary citizens to become active agents of change.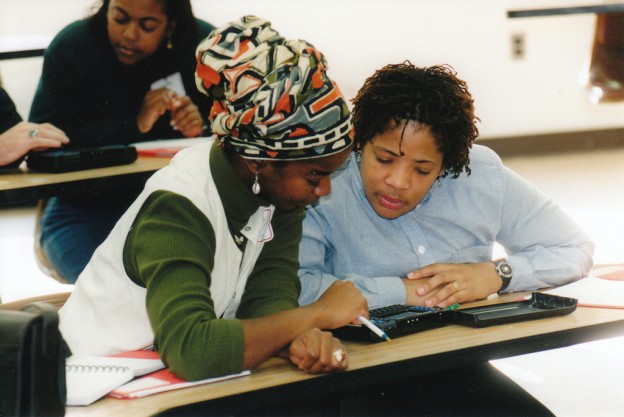 Of the three hundred participants who attended the institute, approximately half of them were K-12 public school teachers. Roughly half of the 150 teacher participants teach in the District, 35% teach in Maryland, 10% teach in Virginia, and the remaining 5% teach in Massachusetts, Pennsylvania, Illinois, and New York. Additionally, college professors as well as content specialists and equity directors from D.C., Maryland, and Virginia public school districts attended the institute.
The program consisted of two keynote speakers, Bob Moses and Howard Zinn, a poetry reading by Sonia Sanchez, and eleven workshops. The workshops focused on themes such as 'Women and the Movement,' 'Socratic Seminars: Using Photographs of the Movement,' the 'Puerto Rican and Chicano Movements,' and the 'Labor and Civil Rights Movements.'
Participants' evaluations were enthusiastic. One teacher wrote,
I now have ideas and desires that I did not before this day. . . [and] the discipline and commitment to act on them.
Another teacher wrote,
The institute reminded me of the importance of teaching students why and how to become guardians of civil and human rights. It's not enough for us to teach them their constitutional rights, but to teach them how and why we must challenge those who violate them.
Participants learned: 
…the differences between educating, organizing and mobilizing
…the history of African American women's activism
…that contemporary issues affecting Latinos today are relevant to their movements of the 1960's
…that art and creativity can inspire social consciousness, and that I must be brave and creative in my teaching
…how to teach about history and include the average person and his/her power
…the need for allowing students to participate fully in their own learning
Following the institute, NECA and PRRAC began work on a publication with the same name.