Breaking Barriers of Race, Class, and Language in Schools
On July 21, 2015, Teaching for Change hosted a special event, "Race, Class, and Language: Breaking Barriers to Family Engagement in D.C.," a briefing over breakfast with community stakeholders about the impact of gentrification and systemic inequities on full parental participation in schools. The event featured case studies from the 2015-2016 school year at schools partnering with the Tellin' Stories Project, Teaching for Change's nationally recognized approach to family engagement.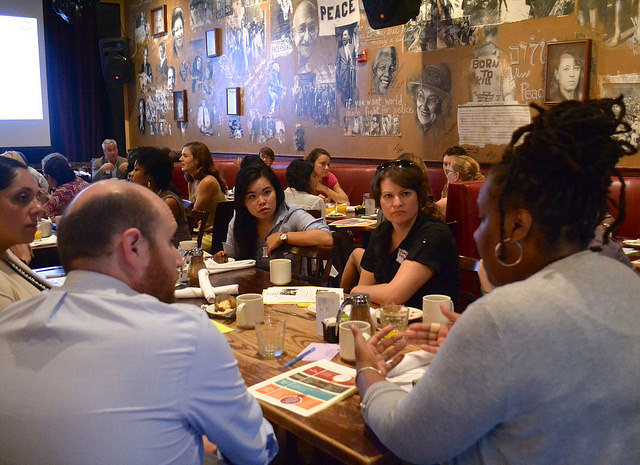 "A key focus of our work this year stemmed from the rapidly changing demographics in our partner schools," said Teaching for Change associate director Allyson Criner Brown. With several concrete victories at schools facing rising tensions due to gentrification, Teaching for Change decided to hold a community-wide conversation on addressing race, class, and language barriers to family engagement.
In Washington, D.C. and elsewhere, public schools that served predominantly low-income students and students of color are seeing massive demographic shifts as wealthier and more formally educated families are attracted to the school neighborhoods. Gentrification can add to the challenges traditionally marginalized families—namely those from Black, Latino, immigrant, and low income communities—face when engaging with schools.
"Gentrifying parents often come into schools and plan to start their own parent groups or initiatives without recognizing the important work that's already happening," said Iris Jacob from Teaching for Change. Though often well-intentioned, Jacobs said, such actions push out low-income families who can be excluded by the structures and power dynamics.
The presentation introduced four successful strategies Teaching for Change identified and is developing to address race, class, and language issues in public schools:
Create a welcoming school community
Link to learning
Intentionally build equitable relationships across race, class, and language
Increase access in schools for marginalized communities
All four strategies are in line with suggested best practices for family engagement in any school. The presentation showed how Tellin' Stories signature activities, particularly Parent-Principal Chit Chats and Grade Level Dialogues, open the school doors and invite marginalized parents to connect with principals, teachers, and their children's learning.
Greg Pugliese, a first-grade teacher from Tellin' Stories partner school Mount Rainier Elementary (PGCPS), smiled as pictures from his team's Grade Level Dialogues flashed across the screen during the segment on "link to learning." He commented, "Those dialogues were so great—and even better than giving the parents activities to take home were the bonds that were created between parents, and between parents and teachers," he said.
Teaching for Change also shared new developments in the latter two strategies created by the Tellin' Stories Project specifically to address gentrification at two schools—Powell Elementary (DCPS) and Bruce Monroe Elementary at Park View (DCPS).
At a critical moment in parent relations at Powell Elementary, Teaching for Change designed and facilitated Listening and Healing Circles to help parents get to the root cause of simmering tensions. The process helped unite parents just as they learned the principal was leaving. Building on the trust that began to develop in the Listening and Healing Circles, Teaching for Change facilitated a fully inclusive, equitable, and representative process to elect parents to the principal selection committees at Powell (DCPS).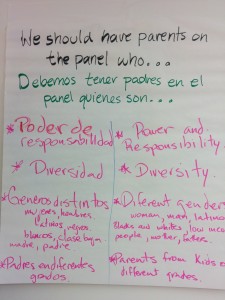 Bruce Monroe Elementary at Park View went through a similarly structured equitable process to elect parents to a representative panel. A key step in this process was leading parents through a conversation about what would comprise a parent panel that is "representative" of the school community. Teaching for Change also supported a multiracial, bilingual, cross-class group of nearly two dozen parents in forming their own "PTU" – Parents and Teachers United for Bruce Monroe at Parkview/Padres y Maestros Unidos por Bruce Monroe at Park View.
The volume at the July 21 briefing reached a boisterous level many times as a diverse group of community activists, researchers, school district officials, funders, teachers, and parents from Washington, D.C. and neighboring Prince George's County, Maryland engaged in small group discussion, wrestling the difficult issues at hand. The discussion evoked a number of reactions, from laughter to anger to curiosity.
"It was a terrific presentation," commented Anne T. Henderson, a Senior Fellow with Community Involvement Program at the Annenberg Institute for School Reform, and co-author of Beyond the Bake Sale: The Essential Guide to Family School Partnerships. "As always, Teaching for Change does such thoughtful and innovative work."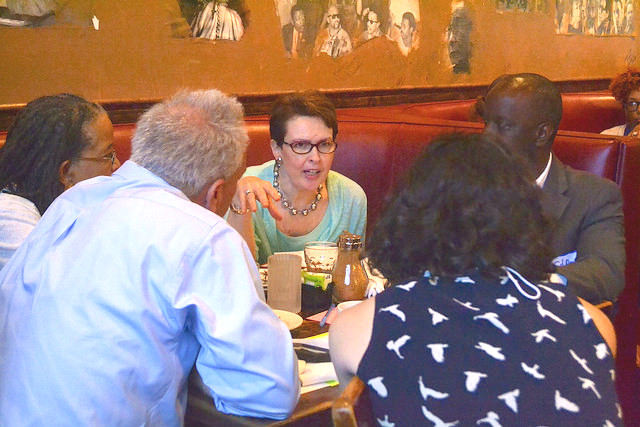 Resources
Watch the video for Roving Readers, a signature activity of the Tellin' Stories approach to family engagement that brings multicultural and anti-bias children's literature into the classroom through parent-led read alouds.
More photos from the event.