Race & Education: An A.C.T.O.R. Discussion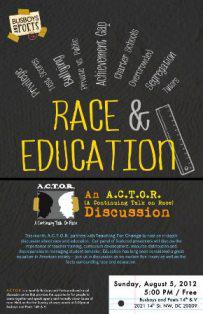 The Langston Room was full to capacity for the Race & Education discussion at Busboys and Poets on Sunday, Aug. 5, 2012.
Teaching for Change was pleased to serve as a partner for this event which was part of the monthly A.C.T.O.R. (A Continuing Talk on Race) series coordinated by Pamela Pinnock.
Over two-thirds of the attendees were teachers. A.C.T.O.R. regular Barbara Morland welcomed the participants and invited them to talk in small groups about the topic. The room was a-buzz with discussion. Here are some examples of their questions and comments:
How can we look at race and education in a community context?
My bi-racial child is at a school where even the counselor does not realize that racism an issue.
How do we make sure issues of race are addressed at largely white schools where staff often don't think it is an important topic?
Are we looking at education through a western lens?
In my school we had diversity worskhops, but there was not a lot of honesty so they were not very helpful.
And more.
The panelists, pictured below, addressed these questions and more.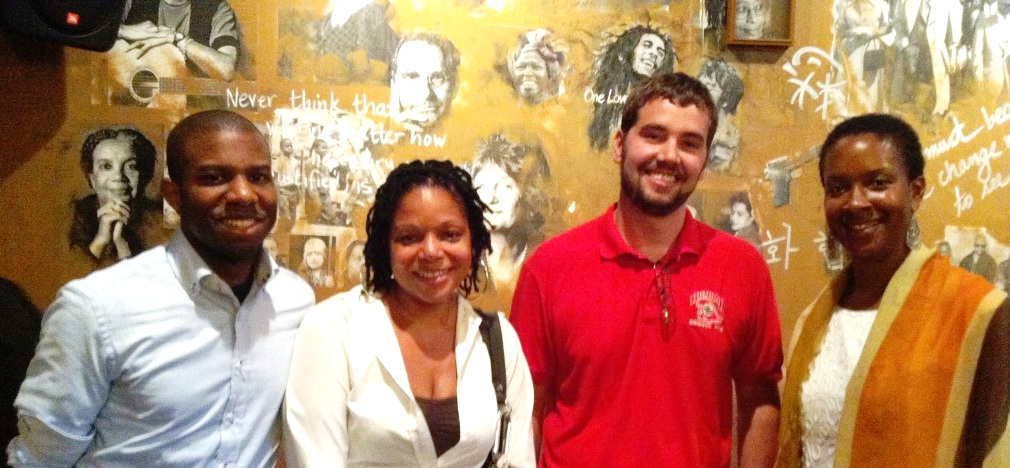 Pictured left to right:
Professor Ivory A. Toldson is an associate professor at Howard University, senior research analyst for the Congressional Black Caucus Foundation, and current editor-in-chief of The Journal of Negro Education. Read more.
Mariama Richards, a D.C. native and educator for the past 15 years, is co-director of the Georgetown Day School Office of Diversity.
David Tansey is a DCPS high school math teacher at Paul Laurence Dunbar H.S., the Washington Teachers Union building representative, and a Math for America Master Teacher Fellow.
Allison Brown, a former trial attorney for the U.S. Department of Justice in the Civil Rights Division's Educational Opportunities Section, is now an independent consultant.
The point was raised that these discussions among adults are vital if we are to be effective in addressing and challenging racism in education. In an impromptu survey, we asked for a show of hands among the teachers in the room as to how many are in schools where intentional discussions about issues of race occur. Less than a handful of arms were raised. We then inquired about the working environment for teachers and whether it models the conditions described by the panelists that students need to succeed. We asked for a show of hands from teachers who are working in schools where they are treated with respect and receive support to be effective. Not one hand was raised. We hope that one outcome of the A.C.T.O.R. event is an examination of the teaching and learning environment in schools for teachers and students.
The session ended with participants listing more topics related to race and education for follow-up discussions. So, stay tuned!