How Well Do You Know D.C.?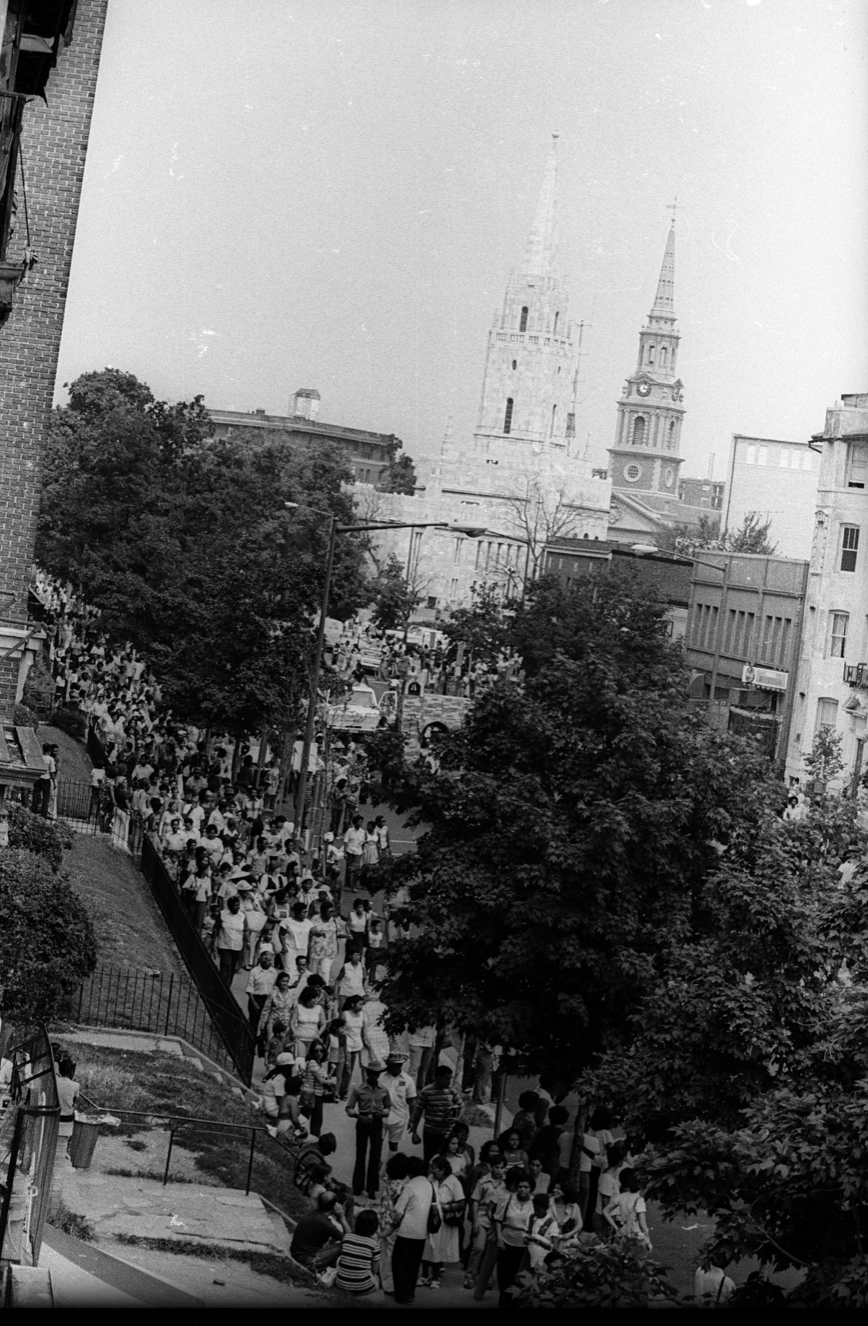 When most people think of Washington, D.C., what comes to mind are monuments, museums, and the federal government. Often overlooked is the local city, long shaped by issues of race, class, and colonial status.
Teaching for Change staff and advisers prepared this "learn-as-you-go" quiz about D.C. to help fill the gaps in the traditional textbooks and guided tours. We don't expect you to know all of the answers — this is designed to be a learning experience.
Also, there is much more to learn than we could address in 15 questions. That is why we provide links to recommended organizations and books throughout the quiz and at the end so you can continue to learn about the hidden history of D.C.
Once you have completed the quiz, we encourage you to share it, and we welcome your feedback.
You can also view a PDF version of the quiz.
---
Questions and Answers
Below are the questions and answers to our D.C. History Quiz.
---
Q1: Which of these indigenous groups lived in the area that is now Washington, D.C. when the first British colonizers arrived?
Answer: The Nacotchtank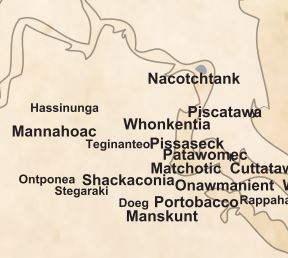 The Nacotchtank, called the Anacostans by the British, were an Algonquian-speaking people who lived in the area that is now Washington, D.C. They were prosperous farmers, gatherers, hunters, and traders. Their principal village was on the eastern shore of the Anacostia River, and was known as an important trading center.
When the British arrived in 1608, led by Captain John Smith, they brought with them deadly diseases from the unsanitary conditions in Europe. These, combined with direct warfare, had a swift and deadly impact on the Nacotchtank population, who were robbed of their land and life.
Approximately 40 years after first contact with the British, the remaining Nacotchtank relocated to Anacostine Island (present-day Theodore Roosevelt Island). It is believed that the Nacotchtank most likely merged with the nearby Piscataway. Children can learn about Piscataway life today from the book Meet Naiche: A Native Boy from the Chesapeake Bay Area (My World Young Native Americans Today).
---
Q2: What percentage of U.S. presidents owned and sold people?
Answer: 25%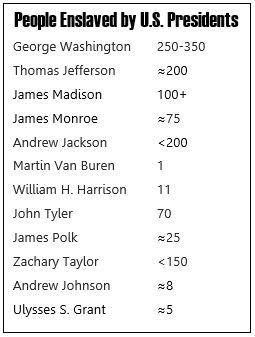 25% of all U.S. presidents were slaveholders and African Americans were held in bondage in the White House itself.
While the nation was born under the banner of "freedom and justice for all," the truth is that many colonists rebelled against England in order to protect their lucrative business in human trafficking from the growing threat of British abolitionism.
Read more in the articles Missing from Presidents' Day: The People They Enslaved and Presidents and Slaves: Helping Students Find the Truth. Also, see the books The Black History of the White House and Brick by Brick.
---
Q3: What was the Pearl Incident?
Answer: A large escape of enslaved persons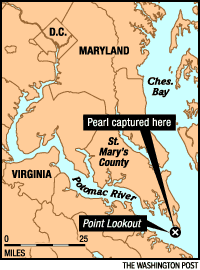 The Pearl Incident was a large escape of enslaved persons.
On the evening of April 15, 1848, 77 people in Washington, D.C. made a brave and carefully planned escape from slavery. They boarded a schooner called The Pearl to sail north to freedom. The runaways — old and young, male and female, mothers with children — had worked in homes, boardinghouses, and hotels. Most were enslaved descendants of Africans brought to the Tidewater area on Liverpool slave ships to be sold to tobacco planters in Maryland and Virginia.
Heavy winds made it impossible to sail up the Chesapeake Bay as planned, and two days later the Pearl was captured. The boat was towed back to D.C. Supporters of slavery were outraged by the attempted slave escape, and an angry mob of slave owners formed. For three days, crowds were riled in the "Washington Riot."
The pursuit of family freedom was stymied, but many of the families on The Pearl survived to see the abolition of slavery.
Read more about the Pearl Incident and visit the Pearl Coalition.
---
Q4: CHECK TWO BOXES: In the first half of the 19th century, which were the TWO largest sources of revenue in Washington, D.C.?
Answer: Federal government, The sale of people
Washington D.C.'s largest industry was the federal government. The second largest source of revenue was the sale of enslaved persons.
Several sites on and near our national monuments were slave markets. These include Decatur House (across from the White House) and Robey's Tavern and Yellow House (across the street from where the Smithsonian Air and Space Museum now stands). Solomon Northup, a free Black man who wrote the memoir Twelve Years a Slave, was sold into slavery at Yellow House after being kidnapped. He wrote,
Strange as it may seem, within plain sight of this same house, looking down from its commanding height upon it, was the Capitol. The voices of patriotic representatives boasting of freedom and equality, and the rattling of people in chains, almost commingled. Human beings were held in bondage within the very shadow of the Capitol.
The St. Charles Hotel, at Third and Pennsylvania, was popular with visiting human traffickers. Charles Cobb writes in On the Road to Freedom,
Its basement contained six thirty-foot-long arched holding cells that extended underneath Pennsylvania Avenue. Iron grates at street level provided air and a bit of sunlight. The hotel advertised the iron rings embedded in its walls and promised to reimburse guests the "full value" of any slave who managed to escape.
The Fugitive Slave Act of 1850 made helping enslaved people escape a federal crime, but it also ended the legal trade of enslaved persons from out of state in Washington, D.C.  Slavery and the sale of people did not end in Washington, D.C. until April 16, 1862, nine months before the Emancipation Proclamation.
---
Q5: Frederick Douglass' home is operated by the National Park Service and is a special place to visit. It is located in this area of the city:
Answer: Anacostia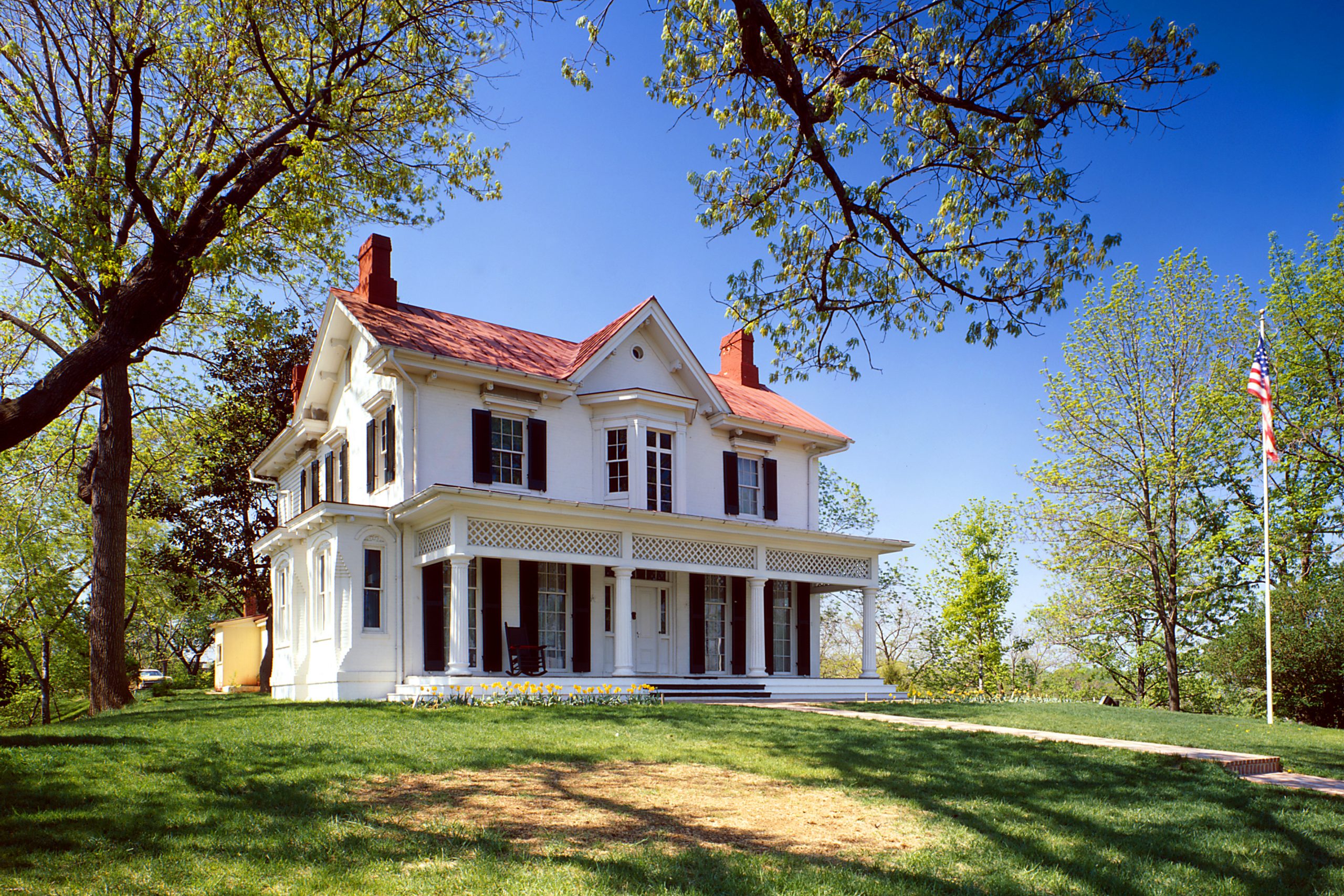 Frederick Douglass' home is located in Anacostia.
Born into slavery, Frederick Douglass escaped to spend his life fighting for justice and equality for all people. His best known works are his biography, Narrative of the Life of Frederick Douglass, and his speech, "The Meaning of the Fourth of July for the Negro."
As the National Park Service explains,
In 1877, Douglass purchased what would be his final home, an estate on a hill in Anacostia in southeast Washington, DC surrounded by cedar trees and with a commanding view of the river and city. Douglass named his home Cedar Hill. He paid $6,700 to the Freedman's Savings and Trust Company for the home and a little over nine acres of land. By purchasing the estate, Douglass became one of the first black men to break a covenant in Washington, DC. Even though the original deed prohibited blacks from purchasing the estate, Douglass was able to purchase the home.
He lived in his Anacostia home until his death in 1895. Douglass' home was acquired by the National Park Service in 1962, and became the first Black national historic site. The home is fully furnished and restored. We highly recommend the excellent tours of Cedar Hill. They are free and need to be booked ahead.
While you are in Anacostia, check out the Smithsonian Anacostia Community Museum and stop by the Big Chair.
Another museum we recommend is the African American Civil War Memorial and Museum in the U Street Corridor of D.C.
Learn about restrictive covenants in D.C. from Mapping Segregation.
---
Q6: Which of the following women of national note have lived or live in Washington, D.C.?
Answer: All of the above
Clara Barton ran the Office of Missing Soldiers at 437 ½ Seventh Street NW in Washington, D.C. to find or identify soldiers killed or missing in action. Barton and her assistants wrote 41,855 replies to inquiries and helped locate more than twenty-two thousand missing men. The office and some of her correspondence were only recently discovered and saved from demolition, and the office is now open for tours. Read more. Barton went on to found the American Red Cross.
---
Pauli Murray attended Howard University law school in 1941. She was the only woman in her law school class. In 1942 Murray joined the Congress of Racial Equality (CORE). She also participated in sit-ins challenging several Washington, D.C. restaurants with discriminatory seating policies. These activities preceded the more widespread civil rights movement sit-ins of the 1950s and 1960s. While she graduated top of her class, she was denied entry to Harvard because of her gender. Alluding to the double discrimination faced by African American women, she coined the term Jane Crow.
---
Anna Julia Cooper, an author, educator, and noted speaker, was born August 10, 1858 in North Carolina to an enslaved mother. In 1868, she won a scholarship to Saint Augustine's Normal School and Collegiate Institute in Raleigh, a school founded for the purpose of training teachers to educate the formerly enslaved. Cooper earned a B.A. and an M.A. in Mathematics from Oberlin College before taking a job teaching at D.C.'s M Street High School (Dunbar) settling in the LeDroit Park neighborhood.
---
Mary McLeod Bethune
was a nationally recognized educator. From 1943 to 1955 she lived in D.C. Her home served as the founding site for the National Council for Negro Women (NCNW). She was actively consulted by national (including the Roosevelts at the White House) and international leaders. She also played a role in local protests, including a
campaign to boycott People's Drug Store
until African Americans were employed as clerks. Now her
D.C. home belongs to the National Park Service
and is open to visitors.
Learn more
.
---
Suzan Shown Harjo (Cheyenne & Hodulgee Muscogee) is a poet, writer, lecturer, curator, and policy advocate, who has helped Native Peoples recover more than one million acres of land and numerous sacred places. She has developed key federal Indian law and has been a leading spokesperson in the fight to have the
D.C. football team change its name
.
---
Q7: What happened to WWI veterans when they came to Washington, D.C. to march to demand their promised wartime bonuses?
Answer: The U.S. Army, led by MacArthur, Eisenhower, and Patton, gassed and set fire to their encampment.
One little told story in U.S. history is of the thousands of WWI veterans who came as the Bonus Army to Washington, D.C. to make a demand for their promised wartime bonuses.
Although they may have fought in Europe as a segregated army, the Bonus Army was integrated. Black and white veterans arrived from all over the country , some with their wives and children. They formed camps, mostly across the Potomac River from the Capitol, in what were called "Hoovervilles," in honor of the president who adamantly refused to hear their pleas.
The U.S. government responded to their demands for bonuses due with tear gas, tanks, and fire under the leadership of textbook heroes MacArthur, Patton, and Eisenhower.
---
Q8: To protest police brutality in D.C., organizers held marches and mock trials of "killer police." In what decade did this take place?
Answer: 1930s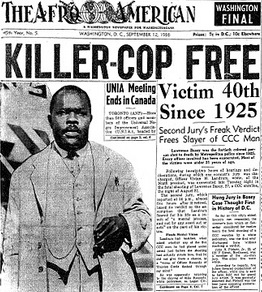 Sparked by shootings of African Americans by D.C. police, the National Negro Congress (NNC) built a broad-based coalition that fought against police brutality from 1936-41.
In 1937, the NNC held a public trial of Washington, D.C.'s "killer cops." Hundreds attended the mock trial, which was presided over by respected leaders from the African American community.
"Eyewitnesses to numerous unpunished police murders, citizens who have been beaten by the police and leaders of civic associations and newspaper men who have investigated police brutality gave evidence," according to the Chicago Defender.
On July 8, 1938, after two more unarmed African Americans were killed by D.C. police, over 2,000 people, of whom about 20% were white, marched and chanted "Major Brown Must Go," "Police Brutality Must Stop," "Everybody Join the Parade," and "Stop Legal Lynching." Estimates of those who lined the streets ranged from 10,000 to 15,000. They watched marchers carrying signs like "You May Be Next" and "Stop Police Murders."
The campaign won a sharp decline in the number of police shootings, a police review board, and new political power in an early civil rights struggle in the city. Read more about the campaign.
In May of 1991, there was a riot by members of the Latino community in the Mount Pleasant neighborhood of Washington, D.C. after a police officer shot a Salvadoran man during a Cinco de Mayo celebration.
Currently, Black Lives Matter DMV is organizing in the D.C. metro area to "combat anti-blackness and racialized oppression in all of its manifestations as experienced by Black and African diasporic people."
---
Q9: One of the school desegregation cases reviewed by the Supreme Court under Brown v. Board of Education originated in Washington, D.C.
Answer: True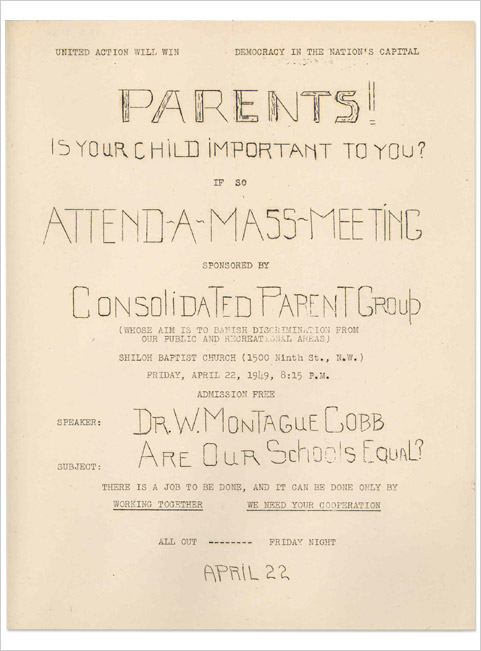 A group of working class African American parents organized a local movement that led to the end of legal segregation in Washington, D.C.
In 1947, Gardner Bishop, an African American barber living in Anacostia, sought to transfer his daughter Judine from the grossly overcrowded Browne Junior High to the elite African American Banneker School, where lawyers, ministers, and other professionals sent their children, but was turned down. He then tried to enroll Judine at Elliot Junior High, but she was denied entry because of her race. Said Bishop,
Segregation was not only white against black, but it was also upper class blacks against the lower class. We were on the bottom shelf. I'm black and I'm poor, so I'm segregated twice.
When students at Browne were forced to attend school in part-time shifts and shuttle between locations to relieve overcrowding, Bishop called a meeting of parents. The Consolidated Parents Group led a school strike and students stayed out of school from December 3, 1947 through February 3, 1948 when the Board of Education agreed to house the children in five separate buildings.
During the strike, Consolidated Parents Group decided to file a legal challenge to the unequal facilities of the segregated school system, and in 1950 they decided to challenge directly the "separate but equal" doctrine in Plessy v. Ferguson.
When Spottswood Bolling Jr., the African American son of a bookbinder for the federal government, was denied enrollment at the new John Phillips Sousa Junior High, the case Bolling v. Sharpetook shape. In 1954, the Supreme Court reviewed Bolling alongside Brown v. Board of Education and three other cases. The court found in the Bolling case that segregated schools denied African American children due process of the law because there was no legitimate government purpose to make school assignments on the basis of race.
The Brown v. Board case also has a long history in D.C. with the strategic leadership of Charles Hamilton Houston, Thurgood Marshall, and Howard University. Read more here.
For further reading on school desegregation:
---
Q10: Was the 1963 March on Washington for Jobs and Freedom the first national demonstration in Washington, D.C. led by civil rights organizations?
Answer: There were multiple national demonstrations by civil rights organizations in Washington, D.C. prior to 1963.
In 1913, 5,000 women marched on Pennsylvania Avenue for suffrage.
A. Philip Randolph, the organizer and leader of the Brotherhood of Sleeping Car Porters, founded the March on Washington Movement, a movement that was started in the early 1940s with the aim of desegregating the arms manufacturing industry during World War II.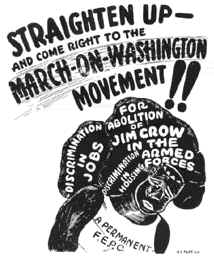 Mr. President, time is running on. You are quite busy, I know. But what we want to talk with you about is the problem of jobs for Negroes in defense industries. Our people are being turned away at factory gates because they are colored. They can't live with this thing. Now, what are you going to do about it?
Members of the March on Washington Movement planned for a national demonstration in Washington, D.C. in 1941, but called it off after President Roosevelt issued an executive order banning segregation in the arms industry. Roosevelt issued the order after a meeting with Randolph where he became convinced that Randolph could pull off the march, which threatened to bring 100,000 Black people to Washington, D.C., using civil disobedience to shut down the city.
In October of 1958, 10,000 people marched in Washington, D.C. as part of the Youth March for Integrated Schools. Harry Belafonte, renowned performer and activist, led a group of students during the march to picket at the White House. They intended to speak with President Eisenhower, but were denied access and instead left behind a list of demands for the president.
The following year another national youth march was organized, this time bringing out 26,000 people. Key organizers included Martin Luther King, Jr., Jackie Robinson, Ruth Bunche, Daisy Bates, Roy Wilkins, and Charles Zimmerman.
---
Q11: The heritage of the greatest percentage of Latinos in D.C. is:
Answer: Salvadoran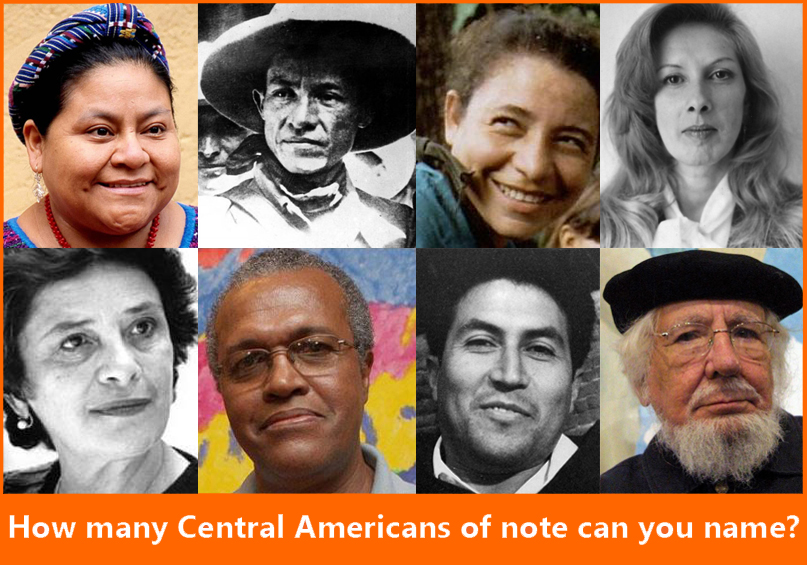 Approximately 30% of D.C.'s Latino population is Salvadoran.
More than seven million Central Americans reside in the United States today, yet the lack of resources in most schools on Central American heritage make the rich history and literature of the region invisible. Also missing from the curriculum is the direct connection between U.S. foreign policy and Central American immigration to the United States.
To help infuse Central American history into the curriculum, Teaching for Change offers lessons, book lists, biographies of noted historical figures, and readings for free use by classroom teachers.
---
Q12: D.C. has its own music form that has continued for generations. What is it called?
Answer: go-go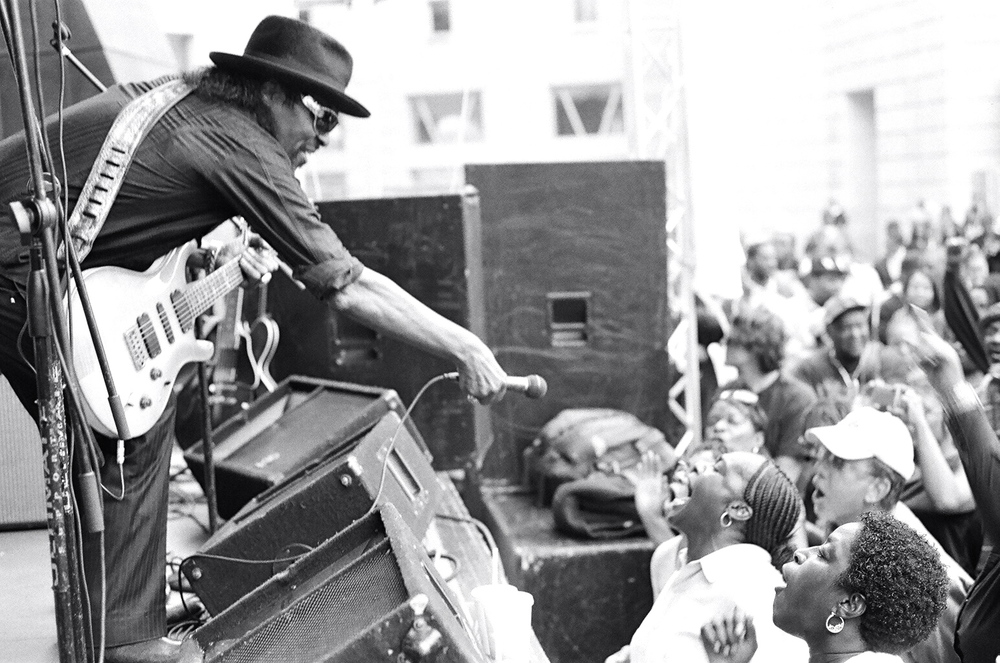 Go-go music originated in the Washington, D.C., area during the mid-to-late-1970s and continues today.
Although several bands contributed to the early evolution of the genre, singer-guitarist Chuck Brown is credited with having developed the foundations on which present-day go-go is built and created most of the hallmarks of the style. Brown, a fixture on the Washington music scene with his band the Soul Searchers as far back as 1966, developed a relaxed style of funk laced with Afro-Caribbean rhythms and instruments and performed non-stop to keep people on the dance floor.
Learn more about go-go at http://thebeatisgogo.com/
---
Q13: CHECK TWO BOXES: Many people who live in D.C. refuse to use the formal name for the Washington _______________.
Answer: Football team, National airport (in Virginia)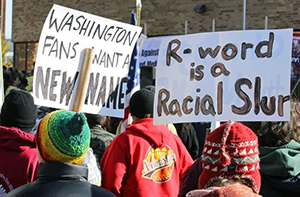 Many people refuse to call the Washington, D.C. football team by its official name, which is an offensive slur against American Indians. After many protests by Native Americans and others who reject the racist name, many news outlets and journalists, including the Washington Post editorial board, have stopped referring to the team by its official name. A federal judge has ruled that the team cannot register trademarks for the offensive name, but the team's owner has appealed that decision.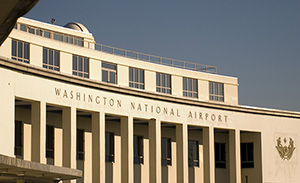 Many people will not call the D.C. airport by its official name, Ronald Reagan National Airport. Washington National Airport was renamed by an act of Congress in 1998, against the wishes of state and local governments and the Metropolitan Washington Airports Authority. The bill expressly stated that it did not require the expenditure of any funds to accomplish the name change; however, state, regional, and federal authorities were forced to change highway and transit signs at their own expense. Renaming the airport for Reagan was seen as particularly offensive considering his role in breaking the air traffic controller's union and firing more than 12,000 airport workers. An online poll found that most people who've lived in the D.C. area do not use the Reagan name, and more than 85,000 signed an online petition to change the name back to Washington National Airport.
---
Q14: Washington D.C. can best be described as a:
Answer: City and Colony
D.C. is both a city and a colony.
D.C. residents won "home rule" in 1973, but the 659,000 people within its borders do not have voting representation in Congress and are subject to laws imposed by people who reside outside the District.
In 1790, when the District of Columbia was established on land ceded by Maryland and Virginia to the federal government, only about 3,000 citizens lived in the area–far less than the 50,000 required to be a state. From 1820 to 1870, residents were allowed to elect a mayor and legislature, but in 1874 the elected officials were replaced by a three-member Board of Commissioners appointed by the president.
In 1963, District residents won the right to vote for president and vice president of the United States with the ratification of the 23rd Amendment to the Constitution. Four years later, citizens won the authority to elect a school board. In 1970, the District gained a nonvoting delegate to the House of Representatives.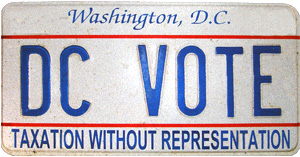 Finally, in 1973, the Home Rule Act passed in Congress, and District residents approved it in a special referendum the next year. In a historic leap for greater self-determination, District citizens elected a mayor and council in the fall of 1974. However, D.C. residents continue to fight for the right to self-government and "no taxation without representation" today.
Under the Home Rule government, Congress still reviews all legislation passed by the Council before it becomes law and retains authority over the District's budget. The President appoints the District's judges, and the District's elected representative in Congress cannot vote on legislation. Because of these and other limitations on local government, citizens continue to lobby for the authority held by all 50 states.
Local laws passed by D.C.'s citizens are subject to approval by Congress, and Congress can block laws from going into effect, such as a medical marijuana law passed by D.C. voters in 1998, and impose other laws, such as a proposed bill to "remove the authority of the D.C. Council to enact restrictive gun control measures."
D.C. residents continue to fight for statehood today.
Read more about D.C.'s fight for home rule. For a comedic take on the absurdity of D.C.'s lack of voting rights, watch this clip.
---
Q15: Some of the issues D.C. residents are organizing around today include:
Answer: All of the Above
Some of the issues D.C. residents are organizing around today include:
Gentrification
The demographics of the population of Washington, D.C. are rapidly shifting. In 1970, Washington D.C. was 71% African-American. In 2013, 49.5% of D.C.'s population was African-American. New D.C. residents tend to have higher incomes and are more likely to be white, single and have no children. These changes are affecting everything from the availability of affordable housing to longtime residents to schools. EmpowerDC is just one of the groups organizing on issues surrounding gentrification.
---
Immigrant Rights
Approximately 14% of  D.C. residents were born outside the United States, with large numbers coming from El Salvador, Honduras, Ethiopia, and Eritrea. D.C.'s Asian and Latino populations are growing faster than the nation as a whole.
Local immigrant rights groups are organizing to ensure that immigrants are treated fairlyand mobilizing to end family detention.
---
Workers' Rights
In 2013, D.C. passed a bill that ensures workers have access to paid sick leave. The Council is currently considering a bill that would grant 16 weeks paid leave upon the birth or adoption of a child. D.C. residents are also pressing for stable work schedules and hours.
---
#BlackLivesMatter
The DC #BlackLivesMatter movement has been organizing in solidarity with national struggles, but also around issues specific to D.C. The D.C. Police tactic known as "Jump Outs" has been a particular focus of organizing and protest. Organizers have also been active in analyzing
local crime laws for bias.
---
Learn more with these recommended books on Washington, D.C.
---
If you like this quiz, donate to Teaching for Change so that we can continue to develop and share resources on people's history. Contact Teaching for Change with corrections and/or additions.
---
© Teaching for Change
Posted: September 13, 2022