Free Book for Your Feedback on Resistance 101
In January, we published a new lesson, "Resistance 101: A Lesson on Social Justice Activists and Strategies" to help introduce a history of resistance to injustice.
We want to hear about your use of the lesson. In appreciation for your time, we will send you a free copy of your choice of Teaching for Change titles, Beyond Heroes and Holidays or Putting the Movement Back into Civil Rights Teaching.
Please submit your feedback to let us know the impact of using "Resistance 101" in the classroom.

About the free books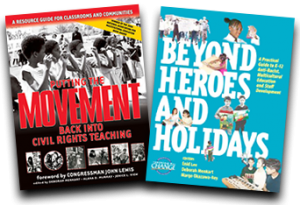 "Beyond Heroes and Holidays is a find. It provides a rich array of resources, models and strategies for promoting multicultural education. And it can be used by all teachers, new as well as experienced, K-12 as well as university-level." — David Stone, Ohio University
"This strong and moving book helps introduce, inform, and illuminate for a new generation the powerful lessons of the civil rights movement for our work today. Putting the Movement Back into Civil Rights Teaching helps teachers 'serve as midwives' for a more just and caring society." —Linda Darling-Hammond, Stanford University
About the lesson
Resistance 101 is an introductory lesson, allowing students to "meet" people from throughout U.S. history who have who used a range of social change strategies. The lesson features activists from the 1800s-present. Download lesson.