Despite National Outrage, Scholastic Defends Children's Books Celebrating Trump
UPDATE
– Scholastic's celebratory children's books about Donald Trump are finally OUT OF PRINT. After thousands of letters in an action campaign from teachers, parents, and students across the United States, Scholastic has stopped reprinting these two books.
In June of 2018, we published critical reviews of the Scholastic books for early and upper elementary students about the election of President Trump. Both books present Trump's life and the election in a celebratory tone, as summarized by this poem in the book for first and second grade.
More than 1,000 educators, parents, librarians, and concerned citizens took action by writing to Scholastic, demanding they recall the book and publish an accurate and age-appropriate biography of Donald Trump, while others took to social media to join the #StepUpScholastic campaign. Read the response from Louise Derman-Sparks, author of Anti-Bias Curriculum: Tools for Empowering Young Children. You can read additional letters from the public below and on Tumblr.
The public outcry over the book and the stories in ThinkProgress and Yes! magazine brought national attention to the controversy.
Still, Scholastic stayed silent.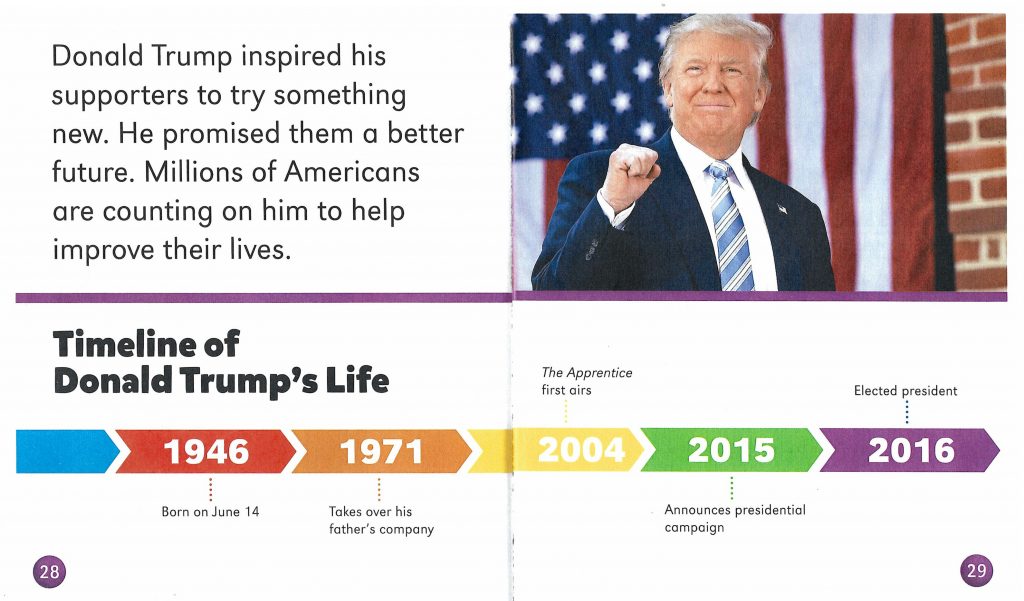 Eventually, the right-wing media picked up the story, eager to spin the call for an accurate portrayal of Trump into a partisan plea to censor any children's book featuring the President. Distorted coverage and attacks rolled in from The College Fix, The Blaze, Breitbart, Fox News, and Fox & Friends.
Only then, a week after the initial critique was published and with hundreds of letters unanswered, did Scholastic finally issue a statement from Chairman and CEO Richard Robinson.
Scholastic did not respond to any of the points made in our review, and instead claimed that:
Most of the teachers and librarians we serve would agree that discussing controversial aspects of any public figure's life isn't appropriate for our youngest readers.
Scholastic also argued that they "delve deeper into the controversial aspects of the Trump campaign and presidency" in their True Books biography of Trump for readers in grades 3-5. However, our own review of the misleadingly-titled A True Book: President Donald Trump shows this is not the case.
We responded in a Twitter thread that if Scholastic truly believes that controversy is inappropriate for younger readers, they would be wise to avoid publishing books about any public figures, since the goal of such books should be to learn about—not worship—public figures.
Most educators do not agree with the Scholastic statement, and many responded to Scholastic on Twitter. 
time & time again "age appropriateness" is used to keep chugging out content (curricula, books, media) that builds up superiority & dominance for kids who are members of oppressor groups, & gaslights kids who experience the -isms & -ias firsthand. https://t.co/xIyytFr0IB

— Elisa (@gallbrary) June 16, 2018
Read the rest of Elisa Gall's powerful response to Scholastic's statement. Read additional responses by Louise Derman-Sparks (Anti-Bias Curriculum) and Debbie Reese (American Indians in Children's Literature.)

Here are excerpts from a few of the letters:
From my work these past 35 years, in education and in film (the 14-hour PBS series, Eyes on the Prize), I know how critical truth-telling can be in the resources we offer our young people… how the facts an author *chooses* to exclude can be even more damaging than the facts he or she *chooses* to include.
In this, Scholastic has totally abrogated its important responsibility to our children.
The rosy picture of Mr. Trump that Scholastic has decided to foist on our young people is unconscionable!
---
Children, even kindergartners, deserve books that address challenging topics in a thoughtful, informative, and unbiased way. This book reads more like a propaganda piece.
I have books in my classroom that present different perspectives, some of which I do not agree with. This book crosses the line.
Please remove this book from your collection and publish a great book on this topic instead.
Thank you.
---
Children have far greater understanding than you are clearly giving them credit for and omitting critical information or whitewashing history only serves to maintain the status quo.  Children can understand and deserve to be taught to be critical thinkers and to be people who can recognize the seeds of unfairness and take action against them.
---
Regardless of politics, to deny the divisiveness of Trump's administration does no service to an understanding of current events, critical thinking, or the inevitable questions my children pose on a daily basis.
Your book says, "Many people think he'll do a good job" without any context regarding why so many DON'T, or why so many people are concerned.
My children, ages 5 and 7, are perfectly able to grasp the history of the man along with the context of the vitriol surrounding him. An accurate depiction of events is not only age-appropriate but required by a publisher with your reputation. Our children are owed, at a minimum, the truth about what is happening in their country, not a glossy fluff piece. Do better.
---
Dear Scholastic,
Today, more than ever, we owe our children an education that helps them think critically and suss out the truth from amidst a confusing array of half truths, manipulations, and outright lies. Just because someone has attained a position of power doesn't mean that person is above reproach. Our children should not be taught to follow anyone blindly, even the president. They deserve better.
---
The last line is unbelievable. Millions are counting on him to help improve their lives?! Millions more are fighting to even have lives as he threatens the ability of people to have healthcare.
Shame on you for white washing history and presenting a narrative that frankly smacks of propaganda. It almost sounds like you are afraid of telling the truth.
Read more
letters and tweets from across the country
.