Tellin' Stories Race, Equity, and Family Engagement Seminar – Spring 2020
Exciting, FREE opportunity for DCPS schools in Wards 7 & 8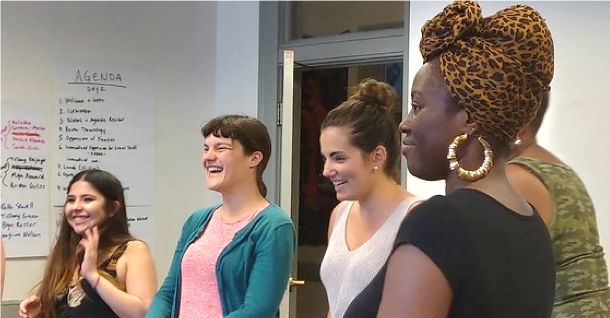 Two sessions held at Langdon Elementary (1900 Evarts Street NE)
Thursday, March 12
9:00am – 3:30pm
Thursday, April 2
9:00am – 3:30pm
Application Deadline Extended to February 28
Teaching for Change leads a professional development course for pre-K and elementary school educators to examine how race and class affect family engagement, and what equitable strategies can look like. The Tellin' Stories Race, Equity, and Family Engagement Seminar brings teachers, counselors, and support staff from local public schools together to learn about these issues and develop strategies to meaningfully engage families through an equity-based lens.
The goals of the seminar are for participants to:
Learn, share, and develop strategies, tools, and approaches to effectively engage families at their schools
Examine how race, class, and equity impact family engagement and their own practices as educators
Be prepared to be leaders and advocates for family engagement in their schools
Eligibility and Professional Learning Units:
DCPS participants who complete both sessions in full will receive 13 PLUs, per DCPS regulations. DCPS schools in Wards 7 and 8 may register 1-2 staff members for free until space is filled.
Target audience:
Teachers, parent liaisons, counselors, student deans, psychologists, and other school-based educators from DCPS elementary schools are welcome and encouraged to participate. Participants must be able to attend both sessions. The seminar is open to educators from Teaching for Change partner schools, as well as DCPS elementary schools in Wards 7 & 8. There is no cost for eligible participants.
What D.C. educators say about our trainings:
"To be given time, a space to reflect on how structural inequity impacts students, parents, and teachers – this training is priceless." – Tiffany K.
"The Tellin' Stories Race, Equity, and Family Engagement training provided me with tools and conversations that need to happen in our school communities. Community building, reflections, and concrete solutions that can help us as educators to advocate, support, and empower those that are often invisible."  — Pax W.
Points of contact:
Teaching for Change's family engagement approach appears in: