SNCC Workshop for DCPS Teachers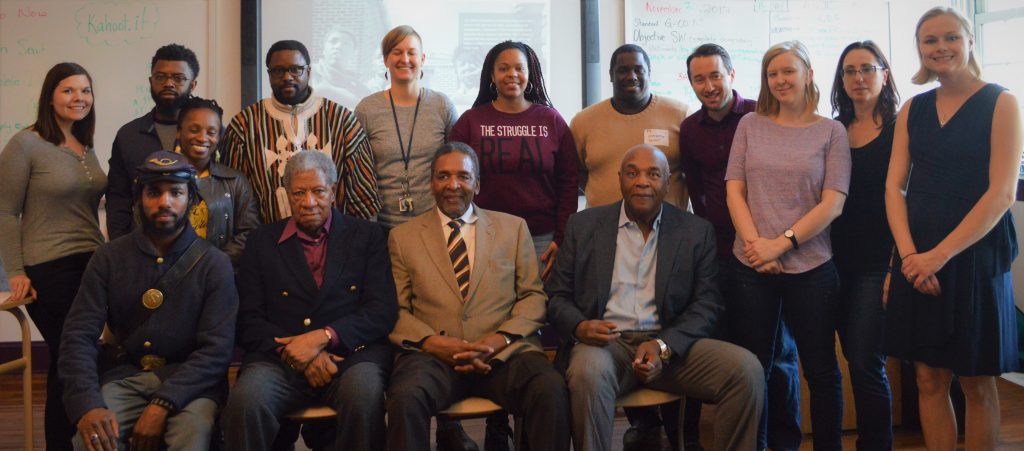 On December 1, 2017, Teaching for Change and the SNCC Legacy Project offered a workshop for 11th grade language arts and social studies teachers on the central role of the Student Nonviolent Coordinating Committee (SNCC) in the Civil Rights Movement. The workshop was hosted by the DCPS Division of Secondary Literacy in the Office of Teaching and Learning for teachers from across the city during a professional development day at Eastern Senior High School.
At the workshop, teachers participated in a new role play by Rethinking Schools editor Adam Sanchez, viewed the SNCC Digital Gateway website, and heard directly from the people who made the history. The special guest SNCC veterans were Courtland Cox, Tim Jenkins, and Frank Smith. Dr. Smith is the founding director of the African American Civil War Museum and Memorial. The museum's education director Dawn Chitty and historic interpreter Marquette Milton (a 2010 Eastern SHS graduate) also attended the session and encouraged teachers to bring their students to the museum.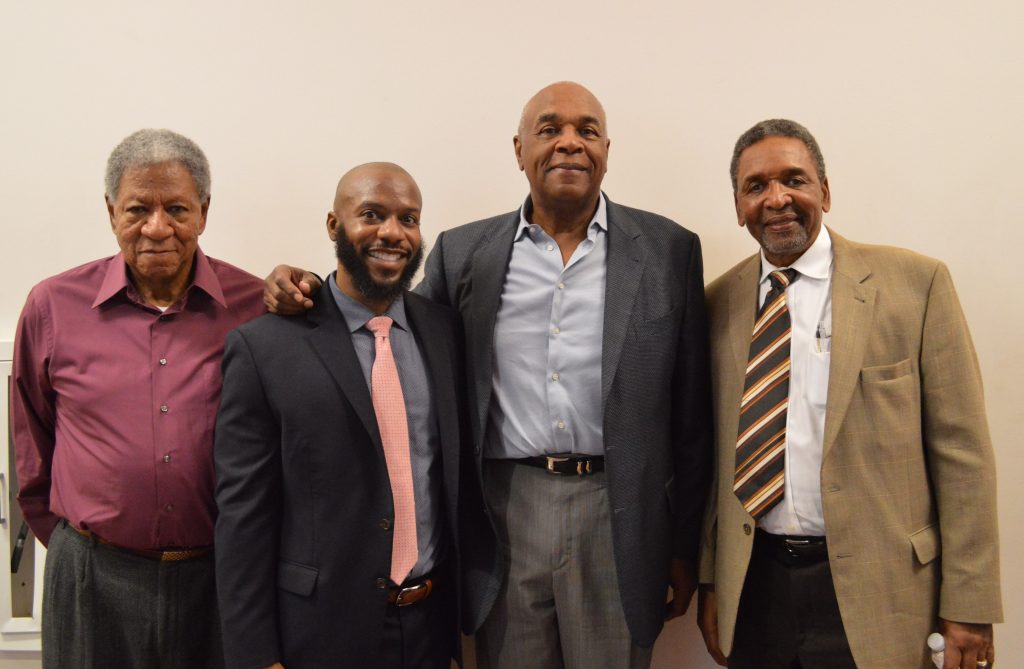 The role play by Sanchez (published in the winter issue of Rethinking Schools) posits three questions faced by SNCC in the early 1960s, such as whether to engage in direct action or voter registration. In small groups, the teachers grappled with the questions in the role play. Then the veterans went to one group each to reveal what SNCC decided at the time and respond to additional questions. The room was buzzing with conversation. There was also time for a full group Q&A where teachers asked a variety of questions, including about links to contemporary movements and organizations such as the Movement for Black Lives and the NAACP.
The group also viewed the SNCC Digital Gateway website and several participants signed up for an upcoming Teaching for Change dialogue to share ideas for using the website in their classrooms.
Photos
Here is an album with photos and a few short video clips from the session.

Reflections
Here are selected reflections from the teachers.
The SNCC veterans shed light on their organization and discussed present and past conflicts. They offered wonderful insight into movement strategy and tension and successes.
The first hand accounts were very memorable of the inner-workings and debates within SNCC on some of the most pressing issues during Civil Rights Movement.
I gained more insight into the decision process and the efforts that went into the events we remember today.
I appreciated the ability to get first-hand accounts of SNCC members' experiences.
The SNCC Digital Gateway would fit perfectly within the unit on Civil Rights by allowing students to take ownership over finding information.
I plan to use the SNCC role play when I introduce nonviolence as a tactic at the beginning of my Civil Rights Movement unit.
It was a great session.
More trainings like this are needed.
Thank you. It was an amazing experience.