Steve Early's call to "Save Our Unions"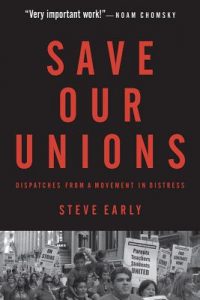 by Sarah Slichter
Steve Early, a long-time labor journalist and union activist, gave a rousing talk at the Teaching for Change Bookstore at Busboys and Poets on June 2. In attendance were over fifty activists, unionists, labor movement veterans as well as those who identified themselves as the "youth wing of the labor movement."
To start, Early touched on the main points of his new book, Save Our Unions: Dispatches from a Movement In Distress. He began with a caveat, noting that union struggles are "much easier to talk and write about than to do." The challenge he posed for his talk as well as his book was to make his work relevant to the people involved in the day-to-day grind of reviving the labor movement. In this he was more than successful.
Early noted that there are those who think that the way to strengthen the diminishing power of organized labor is to unite at all costs and feel that "critique has no place." However, he believes that the role of fired-up rank and file workers (rather than all-powerful leadership) is vital, and internal shakeups are what's needed most. He pointed to the Chicago Teachers Union, and their CORE caucus as an example of rank and file who are taking charge to engage their union in a fight that goes beyond union business, encompassing a broader vision of social change.
Additionally, Early mentioned alternatives to traditional, open-ended strikes, like one-day work stoppages or intermittent strikes, as strategies that workers in more precarious conditions (like fast food or Wal-Mart) have shown to be powerful mobilizing tools. He also advocated for unions to work collectively to demand a single-payer healthcare system for all, rather than negotiating only for their own employer-based coverage.
Early pointed to the need for teachers to inject labor history into their curriculum, connecting students to the spirit of the labor movement before they hit the job market. The Zinn Education Project (a joint venture of Teaching for Change and Rethinking Schools) provides many free resources for educators interested in teaching about the labor movement—one of which is Bill Bigelow's The Power In Our Hands: A Curriculum on the History of Work and Workers in the United States.
Early's calls for unions to focus their efforts toward social justice for all and his affirmation that teachers can help build the movement by incorporating histories of labor activism into their curriculums are important messages. Teaching for Change Bookstore is proud to have hosted events at Busboys and Poets for each of his last three books.
---
Sarah Slichter is a student at Vassar College and a social justice organizer. She is a volunteer at Teaching for Change.