Stories from Our Classrooms 2016
---
Join us for a Stories from Our Classrooms Celebration on June 11, 2017.
Learn more and RSVP here.
---
On Sunday, October 16, 2016, twenty D.C. area teachers gathered for the first session of Stories from our Classrooms 2016-2017, an annual course offered by Teaching for Change. The goals for this course are for teacher participants to deepen their own practice, build community among D.C. area social justice educators, and to contribute to the all-too-scarce collection of published descriptions of classroom practice by teachers themselves.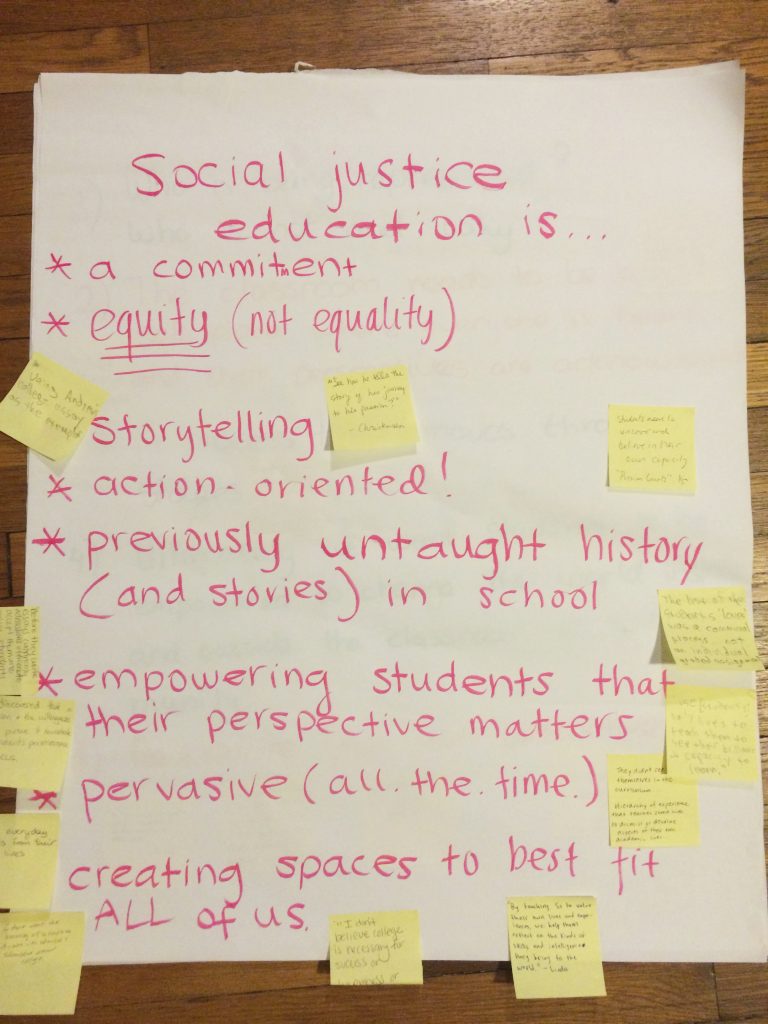 The instructor, Justin Sybenga, is an alumnus of last year's inaugural class. He opened the session by talking about Teaching for Change and the goals for the course. Throughout the evening, participants got to know one another through a variety of small and whole group activities, balanced with time for individual introspection and journaling. The first session modeled the norm for the course – sacred time to write, reflect, share, and write again. Using the prompt of a popular vignette from House on Mango Street by Sandra Cisneros, each teachers wrote a history of his or her own name. Four participants read their histories in a round robin, one sentence at a time. The stories wove together, with identity and family relationships as the common threads.
Two alumni from the 2015-2016 class, Amy Rothschild and Ellen Royse, joined the session to share their experiences from the previous year. Participants wanted to know about their experiences trying to get their work published. Rothschild shared that it had been very helpful to have a portfolio of previously published writing, such as book reviews on the Teaching for Change blog, to share with publishers. Her article, Beyond the Word Gap: Are efforts to boost kids' vocabularies before kindergarten missing the mark?, was published in The Atlantic. Participants also wanted to know more about the editing process. Royse, who has an article forthcoming in Rethinking Schools, shared that the editing process caused her to reflect more deeply on her teaching practice. The feedback from the Rethinking Schools editors became a form of professional development she wasn't expecting.
Throughout the evening, participants explored the idea of what social justice is and how that looks within education systems and in their classrooms. Teachers said they appreciated the opportunity to build relationships with like minded educators. They also valued the safe space to explore what it means to be a social justice teacher and to explore the challenges of honoring truth in teaching. One participant shared:
As a first-year teacher, I have been feeling overwhelmed and anxious about teaching, particularly because I feel that I have now joined an oppressive system with a majority of policies I don't agree with … It was rewarding for me to join today's class because it reminded me of my reasons why I teach and renewed my commitment to social justice education. I liked the structure a lot–the time to journal and write without judgment, and the time to share and collaborate with peers.
By the end of the session, participants were excited about the course and truly looking forward to the next gathering. Some of their evaluation comments were: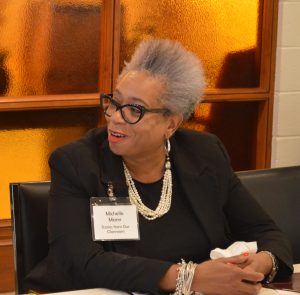 The session just flowed. I am very excited to be part of such a talented group of individuals committed to this work and learning experience.
I appreciated the in-class writing time and opportunity to hear the writing of others as we prepare to draft written works of our own.
I loved the chance to talk to other teachers informally. I really crave hearing about the experiences of other people, and the informal dinner discussions were very helpful.
I really liked the group work and the time with other students over dinner to get to know the others in the class.
We are looking forward to another successful year.
See more photos from the session on Flickr.