Strengthening Parent Engagement in Two Schools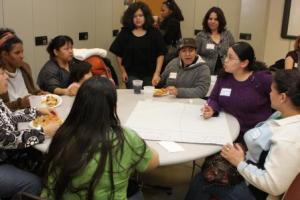 In the spring of 2011 we held community building sessions at two schools in D.C. – Orr Elementary School (DCPS) and EL Haynes Public Charter School (grades 3-8). In each school parents met for six sessions to create a quilt of family stories. While working on the quilt, there were structured opportunities to discuss joys and concerns about their respective schools and their children's education. At E.L. Haynes Public Charter School the parents formed four working committees to address the concerns they raised.
At Orr Elementary School parents planned daily activities for Teacher Appreciation Week. This lays the groundwork for classroom visits and other teacher-parent collaborations they are planning for next school year.