Summer 2022 Teaching for Change Intern Blog
May Kotsen, Maddy Kessler, Tayna Mía Rivera Rodríguez, and Hannah Grace Howell interned with Teaching for Change in the summer of 2022. They each wrote a blog about their experiences and what they learned. 
---
May Kotsen
---
On my first Thursday, I went to the National Museum of African American History and Culture (NMAAHC) and explored the special exhibit on Reconstruction. The exhibit was cool because it touched upon a lot of what I've been learning about in the office with the recently released Reconstruction report. I also was able to see the main exhibition at the museum, which started with the history of enslaved Africans being kidnapped and brought over to the Americas and ended with the Black Lives Matter protests of 2020. The exhibitions felt very relevant to me after the classes I had taken this last year, including "The Black Freedom Struggle" and "Africa and the U.S."
On a Friday, I was able to go to the National Museum of the American Indian (NMAI). There were a few interesting exhibitions and I was excited to see the Seneca Nation, which is where I worked last summer. It was also interesting to be able to visit a museum I had read so extensively about throughout my courses for my Museum Studies certificate. I also took some notes for events I might want to talk about for my #TDIH (This Day in History) posts. 
On this day, Tayna and I walked around U Street NW and took photos at historically significant markers with our Teach Truth posters, including in front of the African American Civil War Memorial.
Tayna and I at the Teach Truth event which happened on Saturday, June 11. The interns made the posters and frames that people were able to use at the event, and we also had a luncheon with DC area educators for social justice at Teaching for Change headquarters. It was amazing to hear from local educators and activists about why #TeachTruth is so important, especially from Dr. Frank Smith, a former SNCC activist. 
On the day of the #TeachTruth event, I got to meet Michelle Coles, the author of Black Was the Ink, which  I had written a book review about for Social Justice Books. It was amazing to be able to meet her and talk with her about the book and my review. I also got to meet the illustrator of the book, Justin Johnson. 
For Juneteenth, I attended an event at NMAAHC. I was able to explore the exhibitions without a ton of people, which was very cool. I also got to see this portrait of Breonna Taylor by Amy Sherald on the third floor. 
On this day, we went down to the Library of Congress to get a copy of a petition we needed for a lesson plan. We got our library cards and found an online copy of the petition, and we were able to spend the extra time looking at all of the beautiful architecture and checking out some of the nearby exhibitions. 
Three of our summer interns went on a mission to find a document from the 1837 Civil Rights Movement.

Anyone recognize what building they are in? (And once they return, we'll share the document they found.) pic.twitter.com/pN2hHPlkrI

— Teaching for Change (@teachingchange) June 21, 2022
On this day, Deborah, Tayna, and I went to a workshop for teen moms over at Trinity. The workshop was centered around helping teen moms write children's books for their kids. Deborah gave a mini presentation on the importance of things like representation, language, images, and implicit biases in children's books. Deborah's lecture was very powerful and touched upon why certain choices authors make are so important. 
Last week some of our team facilitated a workshop on bias in children's literature for @shoutmousepress with @SupportGenHope and @_inspired_child.

They're running 2-week institute on writing books for 1- to 3-year-olds! We can't wait to read them.

See: https://t.co/W9DJWVQNAn pic.twitter.com/Wmio79vpZK

— Social Justice Books (@sojustbooks) June 28, 2022
On June 18, Tayna, Vanessa, and I attended a D.C. teachers union strike for new contracts and increased pay. Maddy saw one of her favorite teachers there and it was great to be able to support teachers across the D.C. area.
On June 24th, the Supreme Court released its decision to reverse Roe v. Wade. Tayna and I went down to the Supreme Court and participated in protests that evening. 
Before heading down to the Supreme Court to get microfilm copies of the petitions we needed, the interns got lunch together!
The interns navigated the Library of Congress a few different times, as we were trying to find a copy of this petition in a newspaper from 1837. 
Maddy and I went to Planet Word, a museum about words. They had a karaoke station where they broke down lyrics. Maddy and other museum guests sang "God's Plan" by Drake.
Hooray. Print copies of "Erasing the Black Freedom Struggle: How State Standards Fail to Teach the Truth About Reconstruction" have arrived!!

We'll mail them to advisors, open letter signers, media, curriculum specialists, donors, & more.
Read in full: https://t.co/Tpw5OLkDuE pic.twitter.com/5vRK6P7M7u

— Zinn Ed Project (@ZinnEdProject) June 28, 2022
In this picture, members of the office are holding up the Reconstruction reports that just got printed! 
We went to the Anacostia Community Museum and saw their latest exhibition on food justice and talked with the director about everything that goes into being a community museum!
I went to more than a dozen museums. Here is the list:
National Museum of African American History and Culture
National Museum of the American Indian
National Museum of African Art
Smithsonian American Art Museum
National Museum of American History
Anacostia Community Museum
National Zoo
National Museum of Natural History
National Portrait Gallery
Renwick Gallery of the Smithsonian American Art Museum
Smithsonian Institution Building
National Gallery of Art
National Building Museum
Art Museum of the Americas
National Archives Museum
United States Holocaust Memorial Museum
Planet Word Museum
 Library of Congress
---
Maddy Kessler
---
I came into the office confident I knew my hometown, D.C. Through serving at Teaching for Change, however, I got to know D.C. on a different scale and was brought closer to my city and the greater D.C. community.
On my first day on the job, Tayna and I visited the Korean Legation House in Logan Circle. Our tour guide was incredibly kind and knowledgeable. We learned about Korean diplomacy with the U.S. and about the house itself. The house's history reflected the legacy of Japanese colonialism in Korea, as the house was seized for $5 by the Japanese government during its imperial era and was resold for $10. The house retained its original floor plan and was kept in historic condition and was later restored. It was a great trip and introduction to Teaching for Change's engaging approach to their summer internship opportunities.
During my first week, Keesha, May, and I went to a demonstration led by the Bethesda African Cemetery Coalition (BACC), who have been fighting to save Moses Cemetery on River Road from desecration for years. It was an absolute treat to see my D.C. history teacher and Jackson-Reed HS building union representative Michelle Bolinger playing the guitar and friend of TFC Marc Minsker singing backup and shredding on bass. In preparation for the big curriculum fair in August, I got to reach out to my former teachers and BACC to work with us to bridge the struggle at River Road to local educators.
On June 6th, Tayna, May, and I met up for Capital Pride! We gathered in our funky clothes at the Dupont fountain and visited my old job, Pizzeria Paradiso, for antipasti. We then walked to Chinatown to go to Reren for their delicious lamen (Chinese pulled noodles), a personal favorite that I visit at least once whenever I am back home. This was my first D.C. pride as a participant, since last summer I had to work in Dupont during the parade. It was so fun to share this special moment with the team. Everyone in attendance had such a good time and was so friendly. I saw queer UPS workers and firefighters on their trucks going crazy. That made my day. 
One sunny day, Tayna and I attended a go-go children's show with Vanessa, who knew the performer, Uncle Devin from TFC's Teach the Beat. The Grammy-nominated artist performed with a six-piece band with three vocalists, with Devin as the MC and lead drummer/percussionist. The show was at the beautiful Wolf Trap National Park amphitheater, which made for a gorgeous drive and walk through the woods to the stage.
The Uncle Devin Show is described as "a dynamic cross between Trouble Funk and Schoolhouse Rock", a mission he exceeds. Devin's brother, one of the two vocalists, called for the kids to fill up the front. It was so fun to watch all the kids, excited to form a mosh pit and be steps away from the artists. One of the drummers was "Swamp Guinee", who was a part of the Wailers. After the show, Vanessa introduced us to him and I silently lost my mind at how crazy it was to meet someone who had known and performed with Bob Marley. Devin showed his students, the crowd, how to hand bone and detailed the history of African diasporic drumming.
One lunch break, Tayna and I saw a friend of TFC, Swamp Guinee's Crank LuKongo, perform a two-man set at Franklin Park! It was a lovely lunchtime vibe, the audience enjoyed the acoustic duo's songs about "love, like, and revolution." I've become Tayna's go-to selfie taker.
I supported Teaching for Change's Teach Central America campaign and the DC Area Educators for Social Justice group. I researched and wrote a lesson plan about Haitian-U.S. relations and migration; wrote this day in history posts about Latin America and the Caribbean; and provided organizational support for the 2022 DC Area Educators for Social Justice curriculum fair, among many other tasks.
While preparing mailouts for the Reconstruction Report, I joked with Tayna how this was a "real" traditional intern job. However, in such a collaborative workplace, the whole team hopped in to chat and help. Serving at TFC has been such an honor and I am grateful for the friends and comrades I made along the way.
---
Tayna Mía
---
Weaving the best version of ourselves
Before coming to D.C., one of my best friends (Nakel O. Meléndez) wrote me a poem that said: ". . . thank you, Tayna, for teaching me that these bonds of love are the thread to weave the best version of ourselves. . . " Bonds of love (lazos de amor) are what define my entire journey through Teaching for Change.
AMOR
(love)
Acción/aprendizaje
(action/learning)
Since my first week, my internship was full of learning and action. Combining learning and action is essential to advance the construction of a just and equitable world. Being part of the #Teachtruth rally and having lunch with the DC Area Educators for Social Justice (DCAESJ) team allowed me to see the struggle, resistance, and sense of community in D.C. It showed me our mission as an organization.
Highlights:
#Teach truth rally

Lunch with DC Area Educators for Social Justice at Teaching for Change headquarters

Pride Parade

Roe v Wade protests
A Different Mirror by Ronald Takaki discussion
Children's literature has always fascinated me. I have been assembling my book collection for several years now. When I arrived at Teaching for Change, I fell in love; children's books were everywhere on numerous topics. At Teaching for Change, I learned more about biases in children books and had the opportunity to review and read multiple titles. These stories taught me about life, ethnicities, cultures, myself, and many others things.
Some of my favorites:
M

emorias/museos/música
(memories, museums, music)
Collective memory, culture, art, and music are infinite sources of CHANGE. During the past few weeks, I have had the opportunity to visit many museums and other spaces that allowed me to see the immense cultural diversity that is located and created in this space that we know as the United States. However, they also allowed me to see the tremendous inequality and injustice that exists in the United States and the importance of continuing to take action.
Museums and Exhibitions that I had the opportunity to visit:
National Museum of African Art

Asian Art Museum 

Futures exhibit

National Museum of African American History and Culture 

Old Korean Le

gation

Library of Congress

Anacostia Museum

National Museum of the American Indian

National Gallery of Art: Afro Atlantic Exhibit

National Council of Negro Women (Mary McLeod Bethune house)
Martin Luther King Jr. Memorial Library – Central Library

Go-go exhibit

Migrants exhibit

All together: A convening of Contemporary Black Women Artists

National American History Museum

¡Presente!- Latino exhibit

Girlhood (It's complicated) exhibit

¡Pleibol!: In the Barrios and the Big Leagues

Holocaust Museum
Teaching for Change showed me go-go music for the first time at an Uncle Devin Show. By listening to go-go (which has Latin heritage), I found a piece of home (Puerto Rico) in D.C. In our office and at the The Latino Exhibit: ¡Presente! and ¡Pleibol! exhibit, I concretely found parts (art, pictures, books) of Puerto Rico that were meaningful to me. I found photos of Puerto Rico that I had not seen before.
O

bservar/oportunidades 
(observe/opportunities)
Before starting and throughout my entire internship, Keesha Ceran and Deborah Menkart offered me different opportunities to participate in workshops and seminars. Thanks to this, I participated in workshops on diverse topics, having experiences that made me grow as a person and educator. 
Workshops and discussion groups that I attended: 
The 1910 Mexican Revolution with Kelly Lytle Hernández (breakout rooms facilitator) 
A Different Mirror book discussion

Shout Mouse Press workshop 

DC History Center educator workshop

In the Classroom with Voices of a People's History — New York Public Library
Highlight: NMAAHC Workshop on Teaching Reconstruction
In the workshops and most classes I had the opportunity to participate in, it was always challenging to balance content and methodology. Many of these try to be engaging but leave aside the possibility of going more indepth into the issues discussed.
As described by another of the teachers who participated, the NMAAHC Workshop on Teaching Reconstruction is "teacher heaven." This space allowed me to know, understand, and analyze Reconstruction. The workshop always held our attention and desire to ask questions and learn more. Additionally, I met a lot of extraordinary teachers. Among these are Mansur Buffins and Hannah Russell-Hunter, who interned at Teaching for Change in previous years. Undoubtedly, this is a highlight because it allowed me to fulfill the (endless) quest to be a better teacher. 
In these past two months, I observed and learned from many extraordinary beings. I learned extensively about social change, history, humbleness, and empathy from all my colleagues and leaders in the office. I take a piece of each person with me while I continue to weave my best version.
Risas/reflexión
(laughter and reflection)
Laughter, smiles, and happiness, I would say, are the essential part of the bonds of love. That is why I finish reflecting on my experience in Teaching for Change, thinking how fortunate I am to have arrived at the 1832 building on 11th Street in D.C. Since my first day here, I knew I would be happy. (Well, I knew that since my interview with Keesha). 
On my first day, Vanessa welcomed me with a smile; the books, the walls, and the physical space also gave me a warm welcome.
Having lunch with the "Zinnterns," the greeting when I arrived from my graduation, the attention to detail, and the conversations made me feel that my voice (even in Spanglish) mattered. 
Thanks to everyone who was part of this journey; thanks for the new bonds of love. 
Eternally grateful for my time at Teaching for Change.
¡Eternamente agadecida!
🧵¡Lucha por tu educación!
Translation: Fight for your education!

Meet @taynamia a @TrumanApp 2022 Summer Institute Scholar serving w/ @teachingchange as an aspiring secondary educator hailing from Puerto Rico 🇵🇷, Tayna is fired up to join the #TeachTruth movement! (1/) pic.twitter.com/70a9rja12K

— Register for August 20th DCAESJ Curriculum Fair! (@dcaesj) June 10, 2022
Hannah Grace Howell
I am so grateful for the opportunity to intern virtually with Teaching for Change this summer. Everyone was so welcoming and always made me feel connected and included despite being thousands of miles away! 
During my first week, I learned about the Virginia Interscholastic Association (VIA) and attended a Teaching for Black Lives study group celebration on Zoom. It was great to see, hear, and learn from so many educators across the United States who are committed to teaching truth. They talked through the joys and challenges of their study groups, and I learned more about the current discourse and laws attacking CRT. It was inspiring to see how the Zinn Education Project (coordinated by Rethinking Schools and Teaching for Change) supports educators across the country in their efforts to teach truth. During this event, I also had the privilege of hearing from SNCC veterans Charlie Cobb, Judy Richardson, and Courtland Cox, who talked about the importance of education for liberation.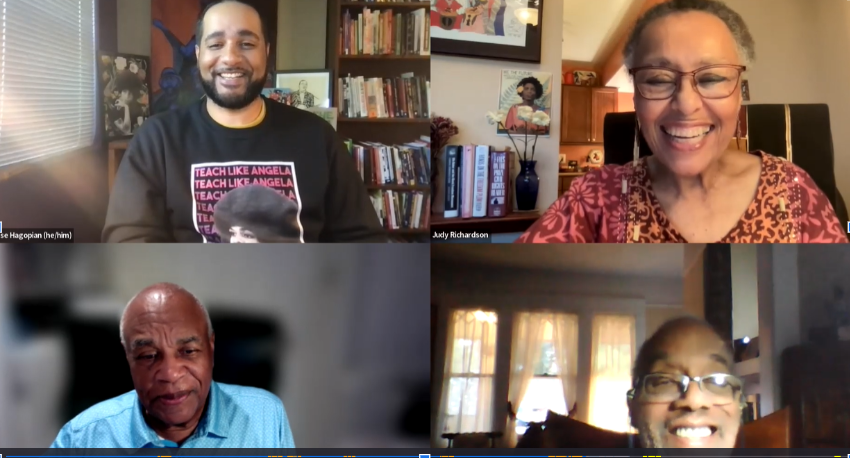 Later in my internship, I had the chance to listen to twelve interviews from educators who participated in Teaching for Black Lives study groups. As someone who wants to pursue a career in education, I loved listening to these educators sharing their experiences in the classroom and how they commit themselves to teach for Black lives. Many of the educators said these groups serve as a place of solidarity where they work together to develop empowering curriculum in resistance to current histories. Some shared what it means to them to teach for Black lives and the actions they take to #TeachTruth. 
After becoming more familiar with the VIA, I drafted a Wikipedia page to bring more awareness to the association. Because I go to the University of Richmond, I appreciated the chance to familiarize myself with a part of Virginia's history that rarely enjoys the limelight. I had never created a Wikipedia page before, but I played around with the technology and watched a couple of tutorials. Using the information from the VIA site , I designed a draft which is still waiting for review. I really hope it gets published so more people can learn about the important role the Virginia Interscholastic Association played in students' lives from 1954-1970 in Virginia.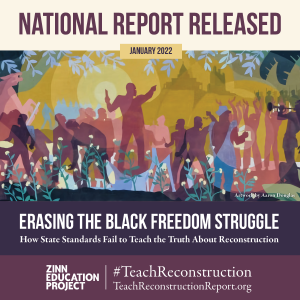 Throughout my internship, I spent a significant amount of time reading and analyzing U.S. history textbook chapters on Reconstruction. Using the Zinn Education Project's 2022 report, Erasing the Black Freedom Struggle: How State Standards Fail to Teach the Truth About Reconstruction as my guide, I got to see if and how the report's findings in relation to state standards held true at the textbook level. I'm so grateful to Mimi for all of her help and knowledge she imparted to me throughout my internship, especially in relation to the textbook analysis. I loved getting to learn from her each week, and I feel my written communication skills and critical lens of history have improved as a result. She shared about the process of writing the report, and Teaching for Change kindly sent me a copy in Tennessee!
I loved that Teaching for Change includes its interns in all staff meetings and the vetting process Zoom calls for Social Justice Books. Being included in these meetings introduced me to the compassionate, committed, and inspiring community that the staff at Teaching for Change has built collectively. 
This community-oriented work environment I was welcomed into inspires me and gives me hope that a positive and uplifting community can exist at work. Thank you, especially to Keesha for teaching me so much about Teaching for Change, giving me this opportunity, and helping me build connections with educators in my community, at school, and at home. This internship was such a joy, and I am so inspired by the work that Teaching for Change does every single day.
More Photos