Teaching About Haiti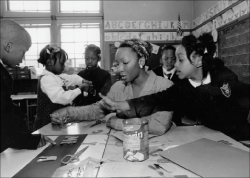 Our Teaching about Haiti web page continues to be widely used by educators across the country, with over 20,000 page views since we launched days after the earthquake in January, 2010. The page offers a free downloadable version of a teaching guide we produced on Haiti in the 1990s. We added a new, carefully reviewed resource guide with a focus on K-12 books and films, an updated interview with Haitian-American teacher Marie Lily Cerat (in photo), and a poem on the earthquake, Quaking Conversation, by Lenelle Moise.
We worked closely with Rethinking Schools to include many of these resources in their Spring 2010 edition of the Rethinking Schools journal which reaches 15,000 in the print edition and many more online. We continue to add new resources and promote the site to ensure that attention to Haiti lasts beyond the earthquake. New titles of note are a collection of essays by Haitian-American teenagers called Haiti on My Mind and the Images of Haiti poster set from the Syracuse Cultural Workers.