Teaching About Haiti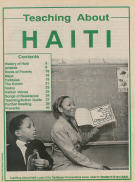 Teaching About Haiti has been posted online as a free, downloadable resource, along with a list of more than 40 recommended books for books, films, and organizations for classrooms.
The Teaching for Change board and staff believe that while students should be encouraged to contribute to relief efforts, it is also important to gain a deeper understanding of the history and the roots of the poverty in Haiti. The U.S. has been involved with Haiti for centuries, yet it has received little attention in textbooks or the curriculum. Part of our commitment to the people of Haiti at this time can be to not only increase our support but also our awareness. As informed citizens, we can advocate for respectful and constructive relations with Haiti in the months and years ahead.